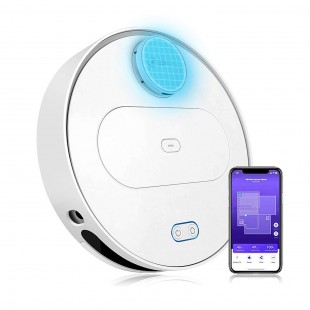 Reasons to buy 360 S5 Robot Vacuum:
Robot Vacuum and Mop Cleaner
Works with Alexa
Automatic recharge and resume
Multiple map saving
Check price here....
summary Review:
PERFORMANCE

360 S5 Robot Vacuum

CLEANS UNDER FURNITURE
COVERAGE
SUCTION POWER
IDEAL FOR HOMES WITH PETS
CLEAN CORNERS AND ALONG WALLS
BATTERY LIFE
CHARGE TIME
MULTI-FLOOR CLEANING
FOR LARGE ROOMS
AUTO DOCKS AND RECHARGE
RESUMES AFTER AUTO RECHARGING
MULTI-ROOM NAVIGATION
AVOIDS STAIRS AND OBJECTS
QUIET OPERATION
BOOSTS SUCTION POWER
HEPA FILTER
MAPS & PLANS ROUTE
SWEEPS AND MOPS
CONCENTRATED CLEANING
EMPTIES ON ITS OWN

USABILITY

360 S5 Robot Vacuum

HASSLE FREE OPERATION
REMOTE CONTROL WITH MOBILE APP
WIFI CONNECTED
CAN BE SCHEDULED
WORKS WITH ALEXA
ZONE CLEANING

DESIGN

360 S5 Robot Vacuum

LOW PROFILE DESIGN
BOUNDARY STRIPS INCLUDED
BATTERY CAPACITY
DUST BIN CAPACITY
FULL BIN INDICATOR
PRODUCT DIMENSIONS
WEIGHT

CONCLUSION
CLEANS UNDER FURNITURE
Yes
3.9 inches tall only – can clean under kickboards, sofas and beds above 3.9 inches tall. Might not enter under furniture below its height.
COVERAGE
Yes
Room coverage is 1615 square feet working area. While mopping it covers about 430 square feet
SUCTION POWER
Yes
Up to 1800 Pa suction power – provides enough suction power to lift up debris and dust from multiple floors.
IDEAL FOR HOMES WITH PETS
Yes
Features a washable filter suitable for homes with pets. Lifts up all pet dander and saves you from pet allergies.
CLEAN CORNERS AND ALONG WALLS
Yes
Inbuilt with wall sensors – lets 360 S5 Robot thoroughly clean along the walls and corners.
BATTERY LIFE
Yes
Runs roughly for 90 – 120 minutes depending on the cleaning mode.
MULTI-FLOOR CLEANING
Yes
Nylon brush bristles cleans all kinds of hard floors and low to medium pile carpets.
DEEP CLEANS THICK CARPETS
FOR LARGE ROOMS
Yes
Auto resume suitable for large rooms – cleans through using the 24 precise sensors. Cleans for 120 minutes and if not complete, recharges and resumes automatically
AUTO DOCKS AND RECHARGE
Yes
Heads back to the dock and automatically charges when battery is low
RESUMES AFTER AUTO RECHARGING
Yes
Resumes cleaning automatically after it has finished recharging
MULTI-ROOM NAVIGATION
Yes
Smartly navigates from room to room. can climb doorsills and elevated areas at a 25 degree angle or 0.7 inches high.
AVOIDS STAIRS AND OBJECTS
Yes
Features multi sensor coordination system. Anti drop sensors stop the robot from falling off stairs. Anti-collision prevent furniture and other object damages.
QUIET OPERATION
Yes
Quiet operation on low suction power. 65 db noise level on max mode
BOOSTS SUCTION POWER
Yes
Max mode – automatically recognizes carpets and then increases suction power to maximum. Deeply cleans carpets
HEPA FILTER
Yes
High filtration system – destroys up to 99.96% of household dust, plant pollens, mold spores and pet dander.
MAPS & PLANS ROUTE
Yes
Generates maps using LDS LIDAR – utilizes the highly accurate HD maps to plan the best cleaning routes with a SLAM algorithm. It cleans even dark rooms without omission.
SWEEPS AND MOPS
Yes
2 in 1 mopping and sweeping ability
CONCENTRATED CLEANING
Yes
Spot mode and proprietary floating main brush for concentrated cleaning. Maintains close contact on messy places and thoroughly cleans them.
HASSLE FREE OPERATION
Yes
Allows you control the unit from wherever you are through mobile app. Can be scheduled in advance or simply use the buttons on the robot.
REMOTE CONTROL WITH MOBILE APP
Yes
Features an app – features multi map management, multi mode options, scheduling, off-limit areas, positioning, do not disturb etc. Download the mobile app to your Android of iPhone.
WIFI CONNECTED
Yes
Connects to home WIFI
CAN BE SCHEDULED
Yes
Daily cleaning can be scheduled – use the mobile app to schedule the time of cleaning and return to a clean home.
WORKS WITH ALEXA
Yes
Compatible with Alexa – voice command the robot
ZONE CLEANING
Yes
Off limit areas can be defined – use the app to specify or draw which areas the robot should clean and it's restricted. It will skip the restricted areas.
LOW PROFILE DESIGN
Yes
3.9 inches low profile design enters hard to reach areas without any hassle
BATTERY CAPACITY
Yes
3200 mAh powerful in-built lithium ion battery
DUST BIN CAPACITY
Yes
0.4 L dust bin capacity – requires regular emptying in messy homes
PRODUCT DIMENSIONS
Yes
13.8 x 13.8 x 3.9 inches
PROS
Yes
• Features a number of cleaning modes –silent, standard and max modes • Has a climbing elevation of up to 25 degree angle • Automatically identifies carpets and boost suction power • Off limit areas can be easily redefined using app • Daily cleaning programme can be scheduled • High efficiency filter – can be washed • Resumes cleaning assignment after recharging automatically • Wide sweeping and mopping room coverage • Up to 24 precision sensors
CONS
Yes
• Fails to deep clean thick carpets • Small dust bin capacity – only 0.4 L
WAS THIS REVIEW HELPFUL TO YOU? IF YES, PLEASE SHARE IT WITH A FRIEND.