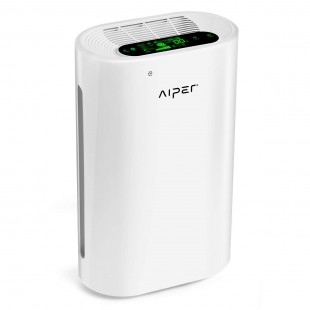 Reasons to buy AIPER Air Purifier:
Quiet & Good for Large Rooms
Relieves Asthma Symptoms
Indicates the Surrounding Air Quality
Easy to Change Filters
Check price here....
summary Review:
PERFORMANCE

AIPER Air Purifier

HEPA FILTER
TIMER
FOR LARGE ROOMS
REMOVES CIGARETTE ODOR
ROOM SIZE AND AIRFLOW
FIGHTS GERMS
ELIMINATES DUST MITES
REMOVES PET DANDER
GETS RID OF POLLEN
REMOVES SMOKE
REMOVES MOLD
TRAPS ALLERGENS
QUIET OPERATION
WASHABLE PRE-FILTERS
EASY FILTER REPLACEMENT
AUTOMATICALLY DETECTS AIRBORNE PARTICLES
SLEEP MODE
WATTAGE
ENERGY STAR

USABILITY

AIPER Air Purifier

CONTROLS AND MODES
FILTER REPLACEMENT REMINDER
ECONOMICAL
AFFORDABLE
IDEAL FOR ASTHMATIC PEOPLE
REMOTE CONTROL
FILTER LIFE - BASED ON USE

SAFETY
APPEARANCE

AIPER Air Purifier

DESIGN
SIZE AND APPEARANCE
WEIGHT
HEPA FILTER
Yes
Features a True Hepa filter plus activated carbon filter. Can remove up to 99.97% of particles that are as small as 0.2 microns.
FOR LARGE ROOMS
Yes
Cleans large rooms within coverage of 322 square feet or 30 meters.
REMOVES CIGARETTE ODOR
Yes
Able to remove cigarette odor and other strong odors. Created to maintain the freshness of indoor air regardless of situation.
ROOM SIZE AND AIRFLOW
Yes
Maximum room capacity is 322 square feet. However it's ADR is rated 135 + CFM of 233 square meters. Cleans indoor air within 10 minutes only.
FIGHTS GERMS
Yes
Fights germs using Hepa and activated carbon filters. Trap and fights every kind of germs to a size of 0.3 microns.
ELIMINATES DUST MITES
Yes
Eliminates dust mites in less than 10 minutes. Dust mites usually hide in materials like carpets and door rugs.
REMOVES PET DANDER
Yes
Easily gets rid of pet dander. Pet dander can cause stuffiness and allergy. Makes living with pets enjoyable.
GETS RID OF POLLEN
Yes
Uses smart sensor to detect pollen and get rid of them. Air congested with pollen leads to shortness of breath, wheezing and sneezing.
REMOVES SMOKE
Yes
Removes smoke without difficulty. Leaves the air healthier to inhale. Cleans indoor air of kitchen and cigarette smoke.
REMOVES MOLD
Yes
Up to 99.97% of mold is removed. Indoor mold is dangerous to people with allergic conditions.
TRAPS ALLERGENS
Yes
Traps allergen in a 3 filtration technology. Each layer grabs and traps allergens and bacteria from the air.
QUIET OPERATION
Yes
Cleans air quietly – lowest noise level is 30 db at sleep mode. Maximum is 50 db at high speed level.
WASHABLE PRE-FILTERS
Yes
Pre-filters constructed to be washed when dirty. Rinse with some water to remove dust and other particles.
EASY FILTER REPLACEMENT
Yes
Simple to make a filter change. Start by eliminating the filter plastic bag of the before its first use in the air purifier.
AUTOMATICALLY DETECTS AIRBORNE PARTICLES
Yes
Smart sensor technology – will detect the indoor air quality and then display in real time the results. No need to agonize if it's really working.
SLEEP MODE
Yes
Sleep mode – senses the level of ambient light in the room and adjusts the fan speed. Dims the indicator lights and runs quietly as it cleans. Ideal for peaceful rest.
WATTAGE
Yes
Makes use of 45 watts – enough power consumption. Won't cause an alarm for high bills.
ENERGY STAR
Yes
Is certified by energy star.
CONTROLS AND MODES
Yes
Built with controls and modes. Features a remote control, sleep mode and Auto mode.
FILTER REPLACEMENT REMINDER
Yes
Alerts you once the filters require replacement.
ECONOMICAL
Yes
Certified by energy star – power bills will not consume much of your money even when this air purifier is used 24/7.
AFFORDABLE
Yes
It is priced below $150
IDEAL FOR ASTHMATIC PEOPLE
Yes
Suitable for people with asthmatic conditions. Removes 99.97% of particles that cause coughing, congestion, stuffy nose, sneezing, allergy etc
REMOTE CONTROL
Yes
Built with a remote control – lets you operate the air purifier from the comfort of a distance away without moving an inch closer.
FILTER LIFE - BASED ON USE
Yes
Filters should be replaced at 6 months. Replacement may also be sooner or later depending on usage and air quality.
OZONE FREE
Yes
100% ozone free – will not produce any amount of ozone into the atmosphere. Breath in safe air.
DESIGN
Yes
Contemporary and smooth design. Built with indoor space in mind. Suitable for most decor and small storage space.
SIZE AND APPEARANCE
Yes
25.5 x 16 x 9.8 inches
WAS THIS REVIEW HELPFUL TO YOU? IF YES, PLEASE SHARE IT WITH A FRIEND.