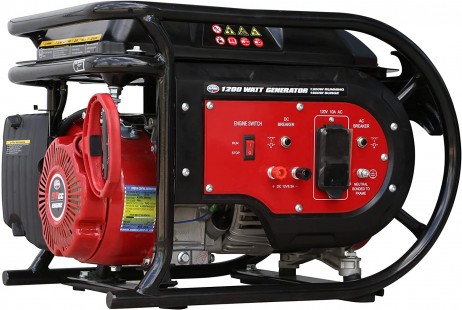 Reasons to buy All Power America G1200:
Has a peak power of 1600 watt
Up to 1.3 gallon fuel capacity
Long runtime – 9 hours on half tank
Quite operation of 65 db
Check price here....
summary Review:
PERFORMANCE:

All Power America G1200

Portable
Starting Watts
Running Stats
Run Time on Full Tank
Recoil Start
Electric Start
AMPERAGE
VOLTAGE
FREQUENCY
HORSEPOWER
ENGINE TYPE
ENGINE SPEED
EPA Certified
Cold Start Technology
Easy to Start
Fuel Tank Capacity (Gasoline)
Runtime (Gasoline)
Low Oil Shut-Off
Air Cooled
Engine Capacity
Noise Level (dBA)
Multi-Purpose
Heavy Duty
Framed for Durability
Starting method
RV Ready
Gas Powered
FUEL TYPE

DESIGN:

All Power America G1200

Open Frame
Outlets
Portable
Handle style
Warranty
Dimensions
Included Accessories
Weight

SAFETY:

All Power America G1200

Low Oil Indicator
Low oil shutdown
Noise Level

CONCLUSION
Portable
Yes
69 pounds – can be easily carried both indoors and outdoors by a single person.
RV Ready
Yes
Comes with solid handle and dual outlets – G1200 is RV ready
Run Time on Full Tank
Yes
18 hours on a full tank load and 9 hours on half a tank load
Recoil Start
Yes
Can be electrically / manually powered on
Electric Start
Yes
Built with an easy to use electronic start button on it
VOLTAGE
Yes
120 V 10 A AC and 12 V8.3A
ENGINE TYPE
Yes
Features a OHV air cooled engine
EPA Certified
Yes
Has been certified by EPA – safe to be used
Easy to Start
Yes
Very easy to start – doesn't require complicated startup. Just click on the button for power on or off
Fuel Tank Capacity (Gasoline)
Yes
Has a 1.3 gallon fuel capacity
Suggested Tank Size (Propane)
Runtime (Gasoline)
Yes
Runs for 9 hours at a 1/2 load
Low Oil Shut-Off
Yes
Built with a low oil shut –off. Automatically powers down the generator once low oil has been detected in the fuel tank.
Air Cooled
Yes
OHV air cooled engine – prevents G1200 from overheating after running for long hours
Engine Capacity
Yes
Features 98cc OHV engine capacity – able to run nonstop for long hours
Noise Level (dBA)
Yes
65 db – will operate quietly not to disturb your peace at home or work
Multi-Purpose
Yes
Has a multi-purpose ability – can be used at home and workplaces
Heavy Duty
Yes
Ability to perform heavy duty. Will work as emergency power at home. Also powers up the jobsite during blackouts.
Framed for Durability
Yes
Has been Neutral bonded to frame – built to a long time
Starting method
Yes
Electric and manual starting method – easy to use button for on and off
Open Frame
Yes
Designed with an open frame
Outlets
Yes
2 x 120 V AC Outlet and 1 x 12 V DC output outlets
Portable
Yes
Compact and lightweight – easily moved to multiple locations
Weight
Yes
69 pounds in total weight – easy to transfer to another location
Handle style
Yes
Metallic handle type – easy to carry during movement
Warranty
Yes
Tagged with warranty on purchase – date and model
Dimensions (LxWxH, inches)
Low Oil Indicator
Yes
Its engine will shut down once it detects low oil level
Low oil shutdown
Yes
Yes - Shuts down instantly on low oil to protect the engine from harm
Noise Level
Yes
65 db noise level – very low noise level that goes unnoticed most times
Pros
Yes
• Heavy duty for home and workplace light up • Suitable for transportation from one place to another due to low weight • Contains a high peak power of up to 1600 watts and 1200 watts of rated power • Certified by EPA • Compact size that fits in small spaces with 21 x 16 x 16 inches • Features a low oil level shut down when fuel tank is low • Long run time of up to 9 hours at half load • 1.3 large fuel gallon capacity • Mild operating noise of only 65 db • 98 CC OHV air cooled engine • Built with 2 x 120 V AC outlet and 1 x 12 V DC Output • Simple to start – comes with owner's manual • Has been framed for durability • High quality handle type for strong support • Provides warranty after purchase • Portable during transportation • Choke lever with open and close function
Cons
Yes
• Not built with foldable handles and sometimes hard to store • It is Non- CARB complaint • Generator is not able to use solar – requires high fuel maintenance • Not an entire quiet generator • Doesn't have wheels built to it
WAS THIS REVIEW HELPFUL TO YOU? IF YES, PLEASE SHARE IT WITH A FRIEND.