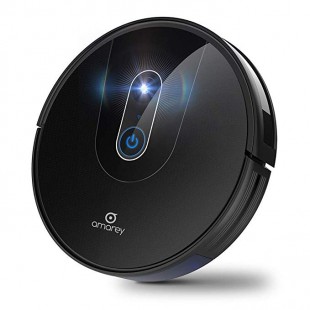 Reasons to buy Amarey Robot Vacuum:
1400Pa Strong Suction
Works with Alexa
Best for Pet Hair and Hard Floors to Carpet
Wi-Fi Connected
Check price here....
summary Review:
PERFORMANCE

Amarey Robot Vacuum

CLEANS UNDER FURNITURE
COVERAGE
SUCTION POWER
IDEAL FOR HOMES WITH PETS
CLEAN CORNERS AND ALONG WALLS
BATTERY LIFE
CHARGE TIME
MULTI-FLOOR CLEANING
FOR LARGE ROOMS
AUTO DOCKS AND RECHARGE
RESUMES AFTER AUTO RECHARGING
MULTI-ROOM NAVIGATION
AVOIDS STAIRS AND OBJECTS
QUIET OPERATION
BOOSTS SUCTION POWER
HEPA FILTER
MAPS & PLANS ROUTE
SWEEPS AND MOPS
CONCENTRATED CLEANING

USABILITY

Amarey Robot Vacuum

HASSLE FREE OPERATION
REMOTE CONTROL WITH MOBILE APP
WIFI CONNECTED
CAN BE SCHEDULED
WORKS WITH ALEXA
ZONE CLEANING

DESIGN

Amarey Robot Vacuum

LARGE DEBRIS BIN
LOW PROFILE DESIGN
BATTERY CAPACITY
DUST BIN CAPACITY
PRODUCT DIMENSIONS
WEIGHT

CONCLUSION
CLEANS UNDER FURNITURE
Yes
Has a height of 2.99 inches only – short enough to fit and clean under sofa, beds and kickboards above its height. Might not clean under furniture below 2.99 inches.
COVERAGE
Yes
Cleans an average area of 1292 square feet. Suitable for small to medium sized home and indoor spaces.
SUCTION POWER
Yes
1400 Pa suction power – more effective at multi floor dirt and dust removal.
IDEAL FOR HOMES WITH PETS
Yes
Powerful suction power suitable for homes with pets. Quickly gathers and removes pet hairs and dander
CLEAN CORNERS AND ALONG WALLS
Yes
Features dual side brushes – channels all dirt and dust from the corners and along the walls into the dust bin
BATTERY LIFE
Yes
Cleans up to 100 minutes after a full charge.
MULTI-FLOOR CLEANING
Yes
Has a barrier cross height of 15 mm suitable for multi floor cleaning. Will clean ceramic tile, vynil, linoleum, marble tile, wood and climb over to low pile carpets
DEEP CLEANS THICK CARPETS
FOR LARGE ROOMS
Yes
Automatic resume suitable for large rooms. cleans large rooms without missing a spot using the camera mapping technology
AUTO DOCKS AND RECHARGE
Yes
Amarey A900 returns to the charging dock automatically once low on battery or after a cleaning session. Automatically recharges
RESUMES AFTER AUTO RECHARGING
Yes
Resumes cleaning automatically once the battery is fully charged, heads back to where it has stopped and continues cleaning
MULTI-ROOM NAVIGATION
Yes
Creates an efficient cleaning path to move from room to room on one floor. Smartly navigates through without skipping some areas.
AVOIDS STAIRS AND OBJECTS
Yes
Anti drop and anti obstacle sensors – guides Amarey A900 to only clean around objects or besides them and turn away from stairs after automatic detect.
QUIET OPERATION
Yes
40 db noise operation – extremely quiet operation. Suitable for bedrooms and quiet resting times in homes.
BOOSTS SUCTION POWER
Yes
Carpet boost ability – maximizes suction power automatically when it detects carpeted floors.
MAPS & PLANS ROUTE
Yes
Uses a camera technology to scan and map through rooms. Creates a very efficient cleaning path throughout the house so it won't skip spots
SWEEPS AND MOPS
Yes
2-in1 cleaning ability – sweeps and mops
HASSLE FREE OPERATION
Yes
Automatic hassle free operation – will recharge, resume and cleaning automatically once scheduled. Does all the work for you without much control from the app or device
REMOTE CONTROL WITH MOBILE APP
Yes
Amarey home app – lets you control the robot even while away from home. View cleaning status, schedule cleaning, start or stop robot, customize cleaning etc. Use Google play to download app onto your Android and iPhone
WIFI CONNECTED
Yes
Connects to WIFI using a 2.4 GHz WIFI frequency bands
CAN BE SCHEDULED
Yes
Sets Amarey A900 to clean automatically at a specified time. Choose between regular, weekly and weekend cleanings.
WORKS WITH ALEXA
Yes
Works with Alexa enabled devices – you can voice command the robot conveniently
ZONE CLEANING
Yes
Home app can be used to restrict the robot to clean specific areas. Guide it away from the areas you don't want cleaned.
LARGE DEBRIS BIN
Yes
500 ml large dust bin capacity – can take in pet dander and tiny food crumbs
LOW PROFILE DESIGN
Yes
Ultra slim 2.99 inches low profile design. Can enter beneath most hard to reach areas.
BATTERY CAPACITY
Yes
2600 mAh battery capacity – can provide about 100 minutes of nonstop run time
DUST BIN CAPACITY
Yes
500 ml dust bin capacity
PRODUCT DIMENSIONS
Yes
12.7 inches D x 2.99 inches H
PROS
Yes
• Increases suction power on carpets automatically • Can mop and sweep multiple floors • Cleans corners and along walls effectively • Automatically docks, recharges and resumes cleaning • Camera mapping technology • Allows scheduled cleaning • WIFI and Alexa voice compatible • Long run time – 100 minutes
CONS
Yes
• Dust bin and water tank cannot automatically empty • Not suitable for deep cleaning thick carpets • Virtual walls are not included • No full bin indicators
WAS THIS REVIEW HELPFUL TO YOU? IF YES, PLEASE SHARE IT WITH A FRIEND.