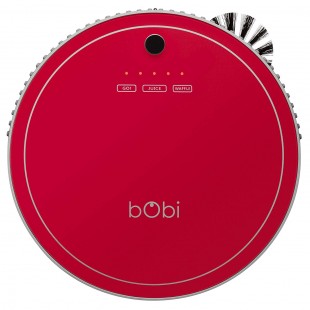 Reasons to buy BObsweep b0bi pet hair:
Ideal for fur filled homes
Larger dust bin capacity – cleans longer without filling up
Low profile compact design – easily cleans under furniture
Highly responsive infrared edge sensors
See price on Amazon
summary Review:
PERFORMANCE

BObsweep b0bi pet hair

CLEANS UNDER FURNITURE
COVERAGE
SUCTION POWER
IDEAL FOR HOMES WITH PETS
CLEAN CORNERS AND ALONG WALLS
BATTERY LIFE
CHARGE TIME
MULTI-FLOOR CLEANING
FOR LARGE ROOMS
AUTO DOCKS AND RECHARGE
MULTI-ROOM NAVIGATION
AVOIDS STAIRS AND OBJECTS
QUIET OPERATION
HEPA FILTER
SWEEPS AND MOPS
CONCENTRATED CLEANING

USABILITY

BObsweep b0bi pet hair

HASSLE FREE OPERATION
CAN BE SCHEDULED
ZONE CLEANING

DESIGN

BObsweep b0bi pet hair

LARGE DEBRIS BIN
LOW PROFILE DESIGN
BATTERY CAPACITY
DUST BIN CAPACITY
VIRTUAL WALL INCLUDED
PRODUCT DIMENSIONS
WEIGHT

CONCLUSION
CLEANS UNDER FURNITURE
Yes
Will only clean under furniture above 8.6 cm in height and may fail to clean under furniture below 8.6 cm in height
IDEAL FOR HOMES WITH PETS
Yes
Easily sucks up and sweeps all the pet furs from different floors using the 5 in 1 cleaning modes
CLEAN CORNERS AND ALONG WALLS
Yes
Features multi tier brushes with a side brush that expands its cleaning path to remove particles from along the walls, corners and other hard to reach areas
BATTERY LIFE
Yes
90 minutes – approximately enough time to clean a small and medium sized room
CHARGE TIME
Yes
240 minutes – fairly a short time as compared to other robots
MULTI-FLOOR CLEANING
Yes
It is able to clean marble tile, linoleum, hardwood, ceramic tile and vynil efficiently.
DEEP CLEANS THICK CARPETS
FOR LARGE ROOMS
Yes
One hour and 30 minutes of runtime is adequate to clean large rooms
AUTO DOCKS AND RECHARGE
Yes
Robot automatically runs to charging station when it reaches 15% to recharge
RESUMES AFTER AUTO RECHARGING
MULTI-ROOM NAVIGATION
Yes
This BObsweep robot features up to 80 touch sensors and highly responsive infrared sensors – allows it move from room to room without knocking obstacles on its way.
AVOIDS STAIRS AND OBJECTS
Yes
Makes use of the edge sensors to prevent falling off stairs and the obstacle sensors to prevent knocking furniture and other objects on the way
QUIET OPERATION
Yes
65 db – not very quite like some of its competitors
HEPA FILTER
Yes
Has a highly efficient filter that is anti-allergen and gets rid of almost 99% of particles from the air
SWEEPS AND MOPS
Yes
Will mop, sweep and vacuum - suitable for hard floors making them dry and soft floors making them clean
CONCENTRATED CLEANING
Yes
Concentrated cleaning through its waffle cleaning mode – will aim at areas dense with dirt and clean them perfectly
HASSLE FREE OPERATION
Yes
Constructed with touch screen buttons and full command remote that lets you manually control your robot for a hassle free operation
REMOTE CONTROL WITH MOBILE APP
CAN BE SCHEDULED
Yes
Make use of the robot to schedule your cleanings – it will automatically start on the scheduled times for 7 days
ZONE CLEANING
Yes
Use the bObi Block to create smart boundaries – it will create an invisible linear block to section off the areas you choose. It will clean along the areas you want and ignore the ones you don't.
LARGE DEBRIS BIN
Yes
large dust bin capacity – 880 ml can accommodate large debris bin
LOW PROFILE DESIGN
Yes
Only 3.39 inches tall – able to clean under beds, sofas and tables above its height
DUST BIN CAPACITY
Yes
880 ml – requires less emptying
VIRTUAL WALL INCLUDED
Yes
Yes, lets you restrict the robot from accessing some areas
PRODUCT DIMENSIONS
Yes
12.6 x 12.6 x 3.4 inches
PROS
Yes
• Waterproof and fully submergible dust bin • Highly responsive infrared edge sensors • Can be scheduled • Up to 80 touch sensors • 5 in one cleaning modes • Ideal for fur filled homes • Back to back brushes • Long run time – 90 minutes • Automatic dock and charging once battery is low • Low profile compact design – easily cleans under furniture • Larger dust bin capacity – cleans longer without filling up • Multi tasking ability - Can mop, sweep, vacuum, filter and disinfect • High efficient hepa filter • Beautiful design and smooth texture • Hassle free use through touch screen and remote control • Suitable for small and medium sized rooms • Easy to operate and set up
CONS
Yes
• Without a mapping feature • Can't automatically resume cleaning • Nosier than some competitors • Can't be controlled using mobile phone • Doesn't support the Amazon Alexa • Wont clean thick carpets and rugs • No full dust bin indicator • Cannot support Wifi connection
WAS THIS REVIEW HELPFUL TO YOU? IF YES, PLEASE SHARE IT WITH A FRIEND.