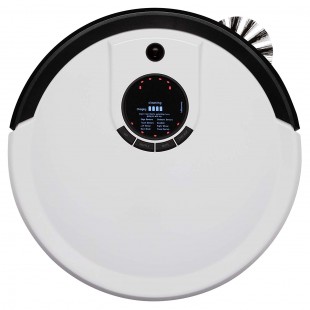 Reasons to buy BObsweep juniOr:
Bigger dust bin capacity – 1100 ml
Hassle free operation - Can be remote controlled
Suitable for small and medium sized homes
High efficient filtration system
See price on Amazon
summary Review:
PERFORMANCE

BObsweep juniOr

CLEANS UNDER FURNITURE
COVERAGE
SUCTION POWER
IDEAL FOR HOMES WITH PETS
CLEAN CORNERS AND ALONG WALLS
BATTERY LIFE
CHARGE TIME
MULTI-FLOOR CLEANING
FOR LARGE ROOMS
AUTO DOCKS AND RECHARGE
MULTI-ROOM NAVIGATION
AVOIDS STAIRS AND OBJECTS
QUIET OPERATION
HEPA FILTER
SWEEPS AND MOPS
CONCENTRATED CLEANING

USABILITY

BObsweep juniOr

HASSLE FREE OPERATION
CAN BE SCHEDULED

DESIGN

BObsweep juniOr

LARGE DEBRIS BIN
LOW PROFILE DESIGN
BATTERY CAPACITY
DUST BIN CAPACITY
PRODUCT DIMENSIONS
WEIGHT

CONCLUSION
CLEANS UNDER FURNITURE
Yes
9.9 cm in height – this makes this robot a bit raised from the ground. Only has the capacity to clean under furniture above 9.9 cm and will not clean under furniture below 9.9 cm
IDEAL FOR HOMES WITH PETS
Yes
Features an extra long main brush that specifically takes hold of pet hairs and fur from the floors and low pile carpets
CLEAN CORNERS AND ALONG WALLS
Yes
The bristles of the extra long main brush will reach corners and along the walls as it cleans
BATTERY LIFE
Yes
60 to 75 minutes – enough to clean small and medium sized rooms
CHARGE TIME
Yes
240 minutes – relatively a long time to fully charge for its size
MULTI-FLOOR CLEANING
Yes
Will clean multiple floors including all kinds of hard floors, tiles and low pile carpets.
DEEP CLEANS THICK CARPETS
FOR LARGE ROOMS
Yes
Operates for 1 hour and 15 minutes before recharging - enough to clean a large room
AUTO DOCKS AND RECHARGE
Yes
Runs to its station and then recharges when battery is low without a command from you
RESUMES AFTER AUTO RECHARGING
MULTI-ROOM NAVIGATION
Yes
BObsweep juniOr will randomly move from one room to the other cleaning and self dock when battery is low
AVOIDS STAIRS AND OBJECTS
Yes
Has powerful wall and edge sensors – detects stairs and objects early and will not fall off or bump into objects. Turns away from stairs and moves around the objects
HEPA FILTER
Yes
Makes use of the high efficient HEPA filter to do away with allergens and other particles in the air. The air you breath in the room will be clean
SWEEPS AND MOPS
Yes
It can sweep, vacuum and mop – leaves floors and air clean
CONCENTRATED CLEANING
Yes
Utilizes the waffle cleaning mode for concentrated cleaning. It will pay more attention on areas with concentrated particles
HASSLE FREE OPERATION
Yes
Comes with BObsweep juniOr remote system – effortlessly lets you control the cleaning in an instant. Just click go and it will clean floors, tiles and low pile carpets
REMOTE CONTROL WITH MOBILE APP
CAN BE SCHEDULED
Yes
The remote lets you create a cleaning schedule of up to 7 days a week
LARGE DEBRIS BIN
Yes
1100ml – very large dust bin capacity and able to take in large debris and other particles
LOW PROFILE DESIGN
Yes
It is 9.9 cm in height – higher than most robots
DUST BIN CAPACITY
Yes
1100 ml dustbin – can clean a small or medium sized room with being emptied
PRODUCT DIMENSIONS
Yes
13.8 x 13.8 x 3.9 inches
PROS
Yes
• High efficient filtration system – is anti allergen and eliminates up to 99.97% of particles in air • LCD display – shows additional information • Wall sensors – prevents it from knocking walls and objects • Custom scheduling – up to 7 days • Ideal for homes with pets • Suitable for small and medium sized homes • Three cleaning modes – waffle, juice and go • Cleans multiple surfaces like linoleum, hardwood, rugs and carpets • Effective corner and along walls cleaning • Self charging when low on battery • Powerful edge sensors • Simple to operate and set up • Hassle free operation - Can be remote controlled • Bigger dust bin capacity – 1100 ml • Worth the price
CONS
Yes
• Does not map the floor • Batter only lasts 60 to 75 minutes • Long recharge time – up to 240 minutes • Cannot be voice commanded using Amazon Alexa • Won't be controlled from anywhere using mobile remote control • Not compatible with mobile apps and Wifi • Difficult to clean under low sofas, tables and beds • Without a virtual wall function • Hard to tell when dust bin is full • No carpet boost function – cant clean thick carpets • Wont auto resume after recharge
WAS THIS REVIEW HELPFUL TO YOU? IF YES, PLEASE SHARE IT WITH A FRIEND.