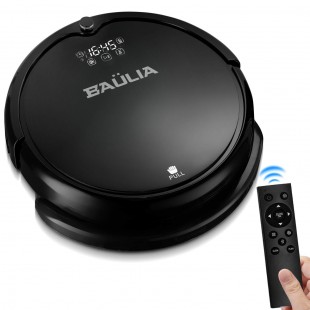 Reasons to buy Baulia Automatic Robot:
Sweeping & Mopping Robot Vacuum
Self Cleaning
Self Charging
Ideal for Hard floors and carpets
See price on Amazon
summary Review:
PERFORMANCE

Baulia Automatic Robot

CLEANS UNDER FURNITURE
COVERAGE
SUCTION POWER
IDEAL FOR HOMES WITH PETS
CLEAN CORNERS AND ALONG WALLS
BATTERY LIFE
CHARGE TIME
MULTI-FLOOR CLEANING
FOR LARGE ROOMS
AUTO DOCKS AND RECHARGE
RESUMES AFTER AUTO RECHARGING
MULTI-ROOM NAVIGATION
AVOIDS STAIRS AND OBJECTS
QUIET OPERATION
BOOSTS SUCTION POWER
HEPA FILTER
MAPS & PLANS ROUTE
SWEEPS AND MOPS
CONCENTRATED CLEANING

USABILITY

Baulia Automatic Robot

HASSLE FREE OPERATION
REMOTE CONTROL WITH MOBILE APP
WIFI CONNECTED
CAN BE SCHEDULED
ZONE CLEANING

DESIGN

Baulia Automatic Robot

LARGE DEBRIS BIN
LOW PROFILE DESIGN
BATTERY CAPACITY
DUST BIN CAPACITY
VIRTUAL WALL INCLUDED
PRODUCT DIMENSIONS
WEIGHT

CONCLUSION
CLEANS UNDER FURNITURE
Yes
Measures 5.7 inches in height – can clean below sofas, beds and kickboards above 5.7 inches tall. May fail to clean under furniture above 5.7 inches tall.
IDEAL FOR HOMES WITH PETS
Yes
Pet hair care technology ideal for homes with pets. Suctions all the pet hairs and other dander from multiple floor surfaces.
CLEAN CORNERS AND ALONG WALLS
Yes
Edge cleaning mode – built to specialize in cleaning corners and along walls. Provides a deep reach into corners and walls for efficient cleaning.
MULTI-FLOOR CLEANING
Yes
Has an excellent off-ROAD ability – lets the device transverse easily across multiple floors without difficulty. Ideal for tiles, hard floors, wood and carpets
DEEP CLEANS THICK CARPETS
AUTO DOCKS AND RECHARGE
Yes
Goes back to the charging station intelligently on its own. Happens when battery is low or after finishing a task.
RESUMES AFTER AUTO RECHARGING
MULTI-ROOM NAVIGATION
Yes
Intelligently moves from room to room on a single floor automatically. Uses a 360 degree technology to scan through the entire home and create a cleaning pattern.
AVOIDS STAIRS AND OBJECTS
Yes
Has inbuilt anti fall and gap sensors – carefully moves only in open spaces as it avoids objects. Turns away from stairs on it cleaning path.
QUIET OPERATION
Yes
Built with an advanced brushless motor – automatically minimizes the vacuuming noise. Runs at a low noise level that wont interrupt you peaceful time.
BOOSTS SUCTION POWER
Yes
Features power boost technology – will automatically increase the suction power once extra power is required.
MAPS & PLANS ROUTE
Yes
Uses 360 degree angle to Intelligently navigate the entire home. Creates and stores memory of areas it has cleaned and where it should clean next.
SWEEPS AND MOPS
Yes
2 in 1 cleaning system – sweeps and mops all floors
CONCENTRATED CLEANING
Yes
Spot cleaning mode – built to deliver concentrated cleaning. Deals with stubborn dirt and areas with high concentration of debris.
HASSLE FREE OPERATION
Yes
It is a self cleaning unit with remote control and LED touch screen. You can select multiple cleaning modes or schedule cleaning automatically from across a room. Or connect to WIFI for Smartphone control
REMOTE CONTROL WITH MOBILE APP
WIFI CONNECTED
Yes
Allows a WIFI connection – use a 2.4 GHz network for first time connection
CAN BE SCHEDULED
Yes
Accepts scheduled cleaning – set up daily and weekly cleaning with a time period. Automatically cleans without anyone at home.
ZONE CLEANING
Yes
Single room cleaning mode – and be activated to restrict the unit to only clean a specific room without crossing to others.
LARGE DEBRIS BIN
Yes
Large capacity dust bin – only takes in large particles to a size of bread and food crumbs
LOW PROFILE DESIGN
Yes
Compact low profile design – easily cleans below small and other cramped spaces without getting stuck
VIRTUAL WALL INCLUDED
Yes
Includes a single room cleaning mode – restricts the robot from moving out of the restricted room.
PRODUCT DIMENSIONS
Yes
17.8L X 14.4W X 5.7H inches
PROS
Yes
• Includes multiple cleaning modes – edge, spot, single room and zigzag • Avoids knocking obstacles and stairs • Automatically increases suction power • Runs on very low noise level • Low profile and compact design • Automatically docks and recharges on low battery • Can be set to clean in advance • Remembers where it has cleaned and hasn't • Cleans multiple floors • Allows a WIFI connectivity • Features a remote control and LED touch screen • Can sweep and mop floors • Can only clean specific areas • Easily cleans corners and along the walls • Intelligent 360 degree navigation system • Has a time set cleaning • Large capacity dust bin • Multiple smart features
CONS
Yes
• Dust bin cannot be automatically emptied • No full bin indicator • Not entirely a quiet device • Not suitable for dark colored floors
WAS THIS REVIEW HELPFUL TO YOU? IF YES, PLEASE SHARE IT WITH A FRIEND.