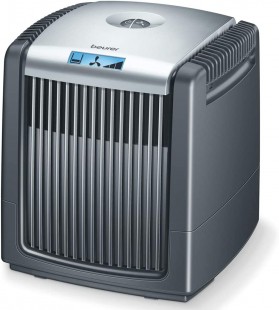 Reasons to buy Beurer Air Purifier:
3 fan power levels
2 in 1 air humidifier and purifier.
Energy efficient
Water level indicator.
Check price here....
summary Review:
PERFORMANCE

Beurer Air Purifier

HEPA FILTER
TIMER
FOR LARGE ROOMS
REMOVES CIGARETTE ODOR
FIGHTS GERMS
ELIMINATES DUST MITES
REMOVES PET DANDER
GETS RID OF POLLEN
REMOVES SMOKE
REMOVES MOLD
TRAPS ALLERGENS
QUIET OPERATION
EASY FILTER REPLACEMENT
AUTOMATICALLY DETECTS AIRBORNE PARTICLES
SLEEP MODE
WATTAGE
ENERGY STAR

USABILITY

Beurer Air Purifier

FILTER REPLACEMENT REMINDER
ECONOMICAL
IDEAL FOR ASTHMATIC PEOPLE

SAFETY
APPEARANCE

Beurer Air Purifier

DESIGN
SIZE AND APPEARANCE
WEIGHT
HEPA FILTER
Yes
True hepa filtration removes up to 99.97% of airborne particles as small as 0.3 microns such as allergens, pollen, dust, mites, pet dander, odour, mould spores, and smoke.
TIMER
Yes
This air purifier has a programmable timer.
FOR LARGE ROOMS
Yes
This air purifier covers a room as large as 390 sq. feet.
REMOVES CIGARETTE ODOR
Yes
This unit's filtration system consists of a carbon filter that is well proven to get rid of odors.
FIGHTS GERMS
Yes
The HEPA filter is good for fighting and cleaning out 99.97% of germs from a room.
ELIMINATES DUST MITES
Yes
The unit has got a pre filter that captures larger particles like dust mites.
REMOVES PET DANDER
Yes
This device's filter is powerful enough to get rid of pet dander in a room.
GETS RID OF POLLEN
Yes
This air purifier is powerful enough to remove 99.97% of pollen that is brought about by flowers in the premises.
REMOVES SMOKE
Yes
This unit has a filtration system that consists of a carbon filter whose job is to get rid and clean out smoke plus other associated fumes from the house.
REMOVES MOLD
Yes
Mold is a form of fungus that when lands on a damp spot in your home can produce spores which can easily be inhaled. This problem has been taken care of by this air purifier as it cleans 99.97% of the mold in your home.
TRAPS ALLERGENS
Yes
The unit's true HEPA system is capable of removing and trapping 99.97% of allergens in the house preventing allergic attacks.
QUIET OPERATION
Yes
This unit is capable of working quietly due to the help of its three fan speeds with fan number one being the quietest while delivering quality air.
EASY FILTER REPLACEMENT
Yes
This device has an easy filter replacement.
AUTOMATICALLY DETECTS AIRBORNE PARTICLES
Yes
Device has a particle sensor with indicator base light which automatically detects airborne particles.
SLEEP MODE
Yes
Device comes with a sleep mode which can turned be turned on to have the fans at low speed and the light goes out.
ENERGY STAR
Yes
Energy Star approved.
FILTER REPLACEMENT REMINDER
Yes
Lights indicate exactly when you need to change filters.
ECONOMICAL
Yes
Sleep mode efficiently clears the air of allergens and pollutants at a low fan speed – a cost-saving solution for air purification.
IDEAL FOR ASTHMATIC PEOPLE
Yes
It is safe and ideal for use by asthmatic and allergic people as it wipes and cleans out all the asthma triggers in the room while clearing the air in the room.
FILTER LIFE - BASED ON USE
CHILD LOCK
Yes
Device has a child lock that puts into account safety measures.
OZONE FREE
Yes
Ozone-free so you can breathe easier.
DESIGN
Yes
This unit has a sleek unique design
WAS THIS REVIEW HELPFUL TO YOU? IF YES, PLEASE SHARE IT WITH A FRIEND.