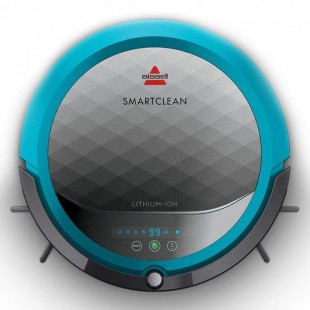 Reasons to buy Bissell SmartClean 1974:
Invisible wall technology
Triple action cleaning system
Multi surface adaptability
Cliff sensors
See price on Amazon
summary Review:
PERFORMANCE

Bissell SmartClean 1974

CLEANS UNDER FURNITURE
COVERAGE
SUCTION POWER
IDEAL FOR HOMES WITH PETS
CLEAN CORNERS AND ALONG WALLS
BATTERY LIFE
CHARGE TIME
MULTI-FLOOR CLEANING
AUTO DOCKS AND RECHARGE
MULTI-ROOM NAVIGATION
AVOIDS STAIRS AND OBJECTS
QUIET OPERATION
HEPA FILTER
MAPS & PLANS ROUTE
SWEEPS AND MOPS
CONCENTRATED CLEANING

USABILITY

Bissell SmartClean 1974

HASSLE FREE OPERATION
CAN BE SCHEDULED
ZONE CLEANING

DESIGN

Bissell SmartClean 1974

LARGE DEBRIS BIN
LOW PROFILE DESIGN
BATTERY CAPACITY
DUST BIN CAPACITY
VIRTUAL WALL INCLUDED
PRODUCT DIMENSIONS
WEIGHT

CONCLUSION
CLEANS UNDER FURNITURE
Yes
At only 3.4 inches height above the ground - It will clean under furniture above 3.4 inches and will not clean under furniture below 3.4 inches
COVERAGE
Yes
Small sized rooms and apartments
SUCTION POWER
Yes
Features a strong suction that collects loose dirt and puts it in the dust bin – when it detects high concentration of dust, it switches cleaning mode
IDEAL FOR HOMES WITH PETS
Yes
Constructed with a rotating brush roll specially purposed to unseat and lift embedded hair and debris hence ideal for homes with pets
CLEAN CORNERS AND ALONG WALLS
Yes
Its dual spinning edge brushes lets it clean corners and edges successfully
BATTERY LIFE
Yes
80 minutes of run time on hard floor surfaces. Suitable for small rooms
CHARGE TIME
Yes
4 hours of full charge – lengthy period of charging
MULTI-FLOOR CLEANING
Yes
The multi-surface adaptability feature automatically adjusts to easily cover hard floor, carpets, laminate and tiles for perfect cleaning
DEEP CLEANS THICK CARPETS
AUTO DOCKS AND RECHARGE
Yes
Will automatically go back to the dock station and self charge when its lithium ion battery is low
RESUMES AFTER AUTO RECHARGING
MULTI-ROOM NAVIGATION
Yes
Can clean for 80 minutes with a single charge – therefore it can move from room to room for small apartments
AVOIDS STAIRS AND OBJECTS
Yes
Its cliff sensors will detect cliffs such as stairs and prevent the vacuum from falling off and from getting stuck in objects
HEPA FILTER
Yes
High efficiency filtration system that will remove particles from floor and air
MAPS & PLANS ROUTE
Yes
This robot will randomly navigates the room
SWEEPS AND MOPS
Yes
Bissell SmartClean 1974 only sweeps the floors and carpets
CONCENTRATED CLEANING
Yes
With Opticlean optical sensors it will look out for dirt and debris and perform concentrated cleaning on the areas with heavy traffic of debris
HASSLE FREE OPERATION
Yes
Just schedule this robot to clean your floors using the 4 different cleaning patterns while you are not around and it will do it effortlessly
REMOTE CONTROL WITH MOBILE APP
CAN BE SCHEDULED
Yes
Smartclean programs scheduled cleaning over your floors while you are not around
ZONE CLEANING
Yes
Bissell SmartClean 1974 invisible wall technology will keep the robot in the rooms you want cleaned and out of the ones you don't want cleaned.
LARGE DEBRIS BIN
Yes
Has a small debris bin of 0.1 gallon capacity
LOW PROFILE DESIGN
Yes
Low profile deign of only 3.4 inches tall makes it easily navigate under and around tables, chairs and beds
DUST BIN CAPACITY
Yes
0.1 gallon, very small bin capacity that requires regular emptying
VIRTUAL WALL INCLUDED
Yes
This can be used to prevent/stop the robot from accessing specific rooms
PROS
Yes
• Scheduled cleanings while away – convenient and flexible cleaning • Detects cliffs and objects – avoids them • Multi surface adaptability/cleaning • Automatic return to charge • Finds hidden dust • Built with zone cleaning ability • Invisible wall technology – allows zone cleaning • 4 different cleaning patterns • Programmable LCD display • Powerful lithium ion battery • Two edge cleaning brushes • Easy to empty dust bin • 360 degree complete rotation • Hands free cleaning • Low profile design – will clean under furniture and match with interior decor • Awesome for cleaning corners and edges • Hassle free operation • Easy to use and set up
CONS
Yes
• Doesn't include WIFI support or mobile apps connection • Small dust bin capacity – cant accommodate large debris • Isn't compatible with Alexa - no voice control • Not built with mapping features – random navigation • Not suitable for large rooms or apartments • A short battery life – 80 minutes and a long full recharge period • Cant clean thick carpets • Small LCD display window • Does not wet mop floors • Loud operation • Doesn't resume after automatic recharge • Short period of run time – 80 minutes
WAS THIS REVIEW HELPFUL TO YOU? IF YES, PLEASE SHARE IT WITH A FRIEND.