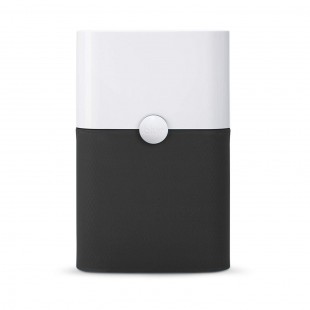 Reasons to buy Blue Pure 211:
User-friendly one-button control.
Covers room-sizes of up-to 540sq.ft.
It features a 3-stage filtration system.
3 fan-speeds & whisper-silent operation.
Check price here....
summary Review:
PERFORMANCE

Blue Pure 211

FOR LARGE ROOMS
REMOVES CIGARETTE ODOR
ROOM SIZE AND AIRFLOW
FIGHTS GERMS
ELIMINATES DUST MITES
REMOVES PET DANDER
GETS RID OF POLLEN
REMOVES SMOKE
REMOVES MOLD
TRAPS ALLERGENS
QUIET OPERATION
WASHABLE PRE-FILTERS
EASY FILTER REPLACEMENT
SLEEP MODE
WATTAGE
ENERGY STAR

USABILITY

Blue Pure 211

CONTROLS AND MODES
FILTER REPLACEMENT REMINDER
ECONOMICAL
AFFORDABLE
IDEAL FOR ASTHMATIC PEOPLE
FILTER LIFE - BASED ON USE

SAFETY
APPEARANCE

Blue Pure 211

DESIGN
SIZE AND APPEARANCE
WEIGHT
FOR LARGE ROOMS
Yes
Designed to purify air within medium to large rooms between 400 and 600sq.ft and AHAM rated at 540 sq. ft.
REMOVES CIGARETTE ODOR
Yes
It uses an ACTIVATED CARBON filter to remove common odors caused by cigarette-smoke and even eliminates other gases (VOCs).
ROOM SIZE AND AIRFLOW
Yes
Covers room-sizes of up-to 540sq.ft coupled with a unique 360° air-intake and air-outlet at the top-section.
FIGHTS GERMS
Yes
This device uses a Particle-filter to trap and eliminate germs and other irritants within your home environment.
ELIMINATES DUST MITES
Yes
It uses a washable Fabric Pre-filter to capture large particles such as dust-mites.
REMOVES PET DANDER
Yes
It uses a particle and activated carbon filter to capture virtually every airborne-contaminant including pet-dander.
GETS RID OF POLLEN
Yes
Uses a Particle-filter to trap and eliminate airborne-pollutants including pollen.
REMOVES SMOKE
Yes
The ACTIVATED CARBON filter helps to remove different types of smoke from your home-environment.
REMOVES MOLD
Yes
Uses a Particle-filter to eliminate air-pollutants including mold-spores.
TRAPS ALLERGENS
Yes
The Particle-filter helps to trap and destroy Allergens and other airborne-pollutants.
QUIET OPERATION
Yes
It ensures silent-operation at all-times because it uses advanced filters that allow for a higher air flow at a lower noise level between 31-to-56 dB(A).
WASHABLE PRE-FILTERS
Yes
Features a washable pre-filter which captures larger particles like dust and pet hair.
EASY FILTER REPLACEMENT
Yes
You can Simply click the side buttons to lift off the top, replace the filters and after put back the top onto the new filter until it clicks.
AUTOMATICALLY DETECTS AIRBORNE PARTICLES
SLEEP MODE
Yes
You can set it to a low-speed-setting before you sleep and after 15-seconds the blue diode lights will indicate highly efficient quiet-operation with a dim soft glow.
WATTAGE
Yes
Uses 60-watts on the highest fan-speed and 31-watts on the lowest fan-speed.
ENERGY STAR
Yes
Its Energy star rated for using just 60-watts on the highest fan speed and 31-watts on the lowest fan-speed.
CONTROLS AND MODES
Yes
It features an easy one-button control that can be pressed to set the unit to 3 different fan-speeds.
FILTER REPLACEMENT REMINDER
Yes
When it's time to change the filters, the indicator light will turn red to notify you.
ECONOMICAL
Yes
It's very energy-efficient and economical because uses same amount of power like a light-bulb.
AFFORDABLE
Yes
It has a fair price tag and great features just like most advanced air-purifiers on the market today.
IDEAL FOR ASTHMATIC PEOPLE
Yes
It will work perfectly in homes with asthmatic people because it features an advanced 3-stage filtration-system that can eliminate various airborne-contaminants.
FILTER LIFE - BASED ON USE
Yes
It's recommended to replace all filter every 6-months or depending on use. Additionally, all filters are recyclable to make this device environmentally friendly.
OZONE FREE
Yes
All Blueair air purifiers have been tested for their ability to reduce ozone-pollutants. So, this makes the unit ozone-free and safe for use any home.
DESIGN
Yes
It features a box-shape, tower-shaped body with a one-button control, LED-light, 360° air-inlet and top-section air-outlet.
SIZE AND APPEARANCE
Yes
It features dimensions of: 13"D x 13"W x 20.4"H coupled with a tower-shaped body, one-button control and 5 interchangeable colors so as to match your interior-design.
WEIGHT
Yes
5.7-kg (13-lbs) which makes it very lightweight and compact for easy movement.
WAS THIS REVIEW HELPFUL TO YOU? IF YES, PLEASE SHARE IT WITH A FRIEND.