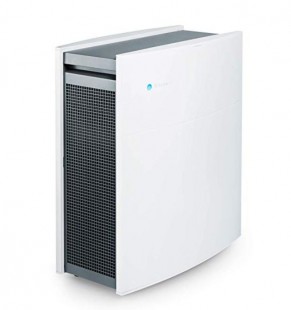 Reasons to buy Blueair Classic 48oi:
Ideal for Medium to Large Rooms
DualProtection Filters for relief from Allergies
Easy to control - Wi-fi enable through Blue-air friend app
Alexa compatible
Check price here....
summary Review:
PERFORMANCE

Blueair Classic 48oi

HEPA FILTER
TIMER
FOR LARGE ROOMS
REMOVES CIGARETTE ODOR
ROOM SIZE AND AIRFLOW
FIGHTS GERMS
ELIMINATES DUST MITES
REMOVES PET DANDER
GETS RID OF POLLEN
REMOVES SMOKE
REMOVES MOLD
TRAPS ALLERGENS
QUIET OPERATION
WASHABLE PRE-FILTERS
EASY FILTER REPLACEMENT
AUTOMATICALLY DETECTS AIRBORNE PARTICLES
SLEEP MODE
WATTAGE
ENERGY STAR

USABILITY

Blueair Classic 48oi

CONTROLS AND MODES
FILTER REPLACEMENT REMINDER
ECONOMICAL
IDEAL FOR ASTHMATIC PEOPLE
ALEXA COMPATIBLE
REMOTE CONTROL
FILTER LIFE - BASED ON USE

SAFETY
APPEARANCE

Blueair Classic 48oi

DESIGN
SIZE AND APPEARANCE
WEIGHT
HEPA FILTER
Yes
True hepa mechanical filtration system – removes 99.97% of all airborne pollutants down to 0.1 sizes. Teams up with activated coconut carbon filters for thorough freshness.
TIMER
Yes
Uses Blue-air friend app to schedule timer. Set the timer that suits your schedule. You can operate and monitor it from wherever you are.
FOR LARGE ROOMS
Yes
400 square feet with AHAM rated at 434 square feet. Suitable for medium to large sized rooms like living rooms, offices, bedrooms and kitchens.
REMOVES CIGARETTE ODOR
Yes
Removes cigarette, pets, perfume odors etc. Clears odors in the air and freshens it. Enjoy comfortable breathing and stay.
ROOM SIZE AND AIRFLOW
Yes
Has a room size of 400 square feet. Airflow covers this entire range without missing a spot.
FIGHTS GERMS
Yes
Fights germs down to a size of .005-.1um – captures bacteria and viruses from food, dirty floors and air. No room for germ causing illnesses.
ELIMINATES DUST MITES
Yes
Eliminates dust mites – captures every size as little as 0.03-1000um of dust mites. delivers you from constant allergies caused by dust mites
REMOVES PET DANDER
Yes
Easily removes pet dander – skin flecks and hairs that fall off pets. Improves relationship between you and your pets.
GETS RID OF POLLEN
Yes
Gets rid of pollen indoors – fine powdery grains of plants. Causes adverse immune reaction when inhaled.
REMOVES SMOKE
Yes
Filters all kinds of smoke in air – cigarette, fireplace, stove and wildfire smoke. Uses Hepa silent technology to filter smoke to the size of .005 – 1um particles.
REMOVES MOLD
Yes
Removes mold common in humid, damp and damp areas. Un removed indoor mold will cause nasal congestion, inflame the airways, cough, chest tightness etc.
TRAPS ALLERGENS
Yes
Traps allergens with dual filtration filters. Created to get rid of various sizes of allergy causing particles. Reduces on chances on asthmatic attacks by 99.97%.
QUIET OPERATION
Yes
Minimum noise level of 32 decibels. Provides a whisper quiet operation
WASHABLE PRE-FILTERS
Yes
Pre-filters can be cleaned once dirty. Dry it before reusing it.
EASY FILTER REPLACEMENT
Yes
Unlock the air purifier and take out the filter after powering it off. Cautiously replace with new filters and close device. Restart device to purify indoor air.
AUTOMATICALLY DETECTS AIRBORNE PARTICLES
Yes
Air quality sensor – automatically monitors the air quality in actual time. Will adjust the speed of the fan according to air quality once set to Auto mode. Measures PM2.5 and VOC levels then shows them on a digital control panel.
SLEEP MODE
Yes
Blue-air friend app schedules night mode. Emits no light and lowers the noise level for whisper silent cleaning.
WATTAGE
Yes
Lowest level is 15 and maximum of 90 watts
ENERGY STAR
Yes
Rated by energy star – consumes the standard amount of power and saves energy.
CONTROLS AND MODES
Yes
Built with some controls and modes that make it successful. Has a sleep mode, Auto mode, wi-fi enable and Alexa compatible, 3 fan speeds and easy to use control panel.
FILTER REPLACEMENT REMINDER
Yes
Filter change indicator – eliminates speculation. Starts indicating nonstop once either filter require replacement.
ECONOMICAL
Yes
Cheap to maintain overtime – energy star rated. The power bills will not become alarming regardless of use.
IDEAL FOR ASTHMATIC PEOPLE
Yes
Dual protection filters ideal for asthmatic people. Eliminates dust, pollen, dander, smoke etc that trigger allergy.
ALEXA COMPATIBLE
Yes
Works with Alexa – you can add your personal voice control and combine with Alexa device
REMOTE CONTROL
Yes
Remote control through Blue-air friend app. Download onto your Smartphone. Remote control from where ever you are. Lets you schedule, monitor and view.
FILTER LIFE - BASED ON USE
Yes
Both filters should be replaced approximately after 6 months. Can be recycled. Replacement varies according to use and air quality.
OZONE FREE
Yes
Ozone free – has been certified by California Air Resources Board. Will not emit ozone.
DESIGN
Yes
Compact and durable steel body – constructed with quality sleek material to last the test of time and match other interior components.
SIZE AND APPEARANCE
Yes
15.5 x 25 x 28.4 inches
WAS THIS REVIEW HELPFUL TO YOU? IF YES, PLEASE SHARE IT WITH A FRIEND.