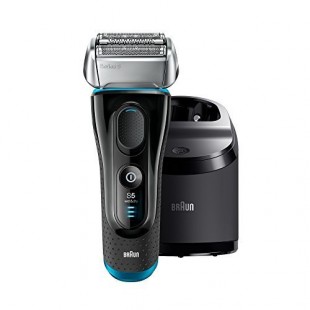 Reasons to buy Braun Series 5 5190cc:
Auto senses beard density for efficient shaving
Great performance and excellent skin comfort
Ultra ActiveLift lifts and cuts flat-lying hairs
3X better adaptation than other Series 5 shavers
Check price here....
summary Review:
PERFORMANCE

Braun Series 5 5190cc

WORKS WITH GEL OR FOAM
CPM
CONTOUR ADAPTABILITY
BEARD DENSITY SENSOR
FOR ALL SKIN TYPES
WORKS ON 3 DAY STUBBLE
FLEXIBLE HEAD
GOOD ON THICK BEARDS

USABILITY

Braun Series 5 5190cc

ERGONOMIC HANDLE
FULLY WASHABLE
CLEANING MACHINE
CHARGING TIME
CORDLESS

DESIGN

Braun Series 5 5190cc

TYPE
MECHANISM
DISPLAY
BUILD UP
TRIMMER
BATTERY LIFE
ACCESSORIES
WORKS WITH GEL OR FOAM
Yes
This model is Wet and Dry.It is designed to be safe to use under the shower or with gel or foam.This will give you a chance to enjoy a comfortable moisturized grooming experience.
CPM
Yes
Makes 30,000 cuts per minute just all the other Braun Series 5 models. 30,000 cuts per minute is quite fast and efficient.
CONTOUR ADAPTABILITY
Yes
It adapts to your facial contours using its 8-D flexible head and MicroMotion function which enables individual suspension of cutting elements to respond to facial contours.
BEARD DENSITY SENSOR
Yes
With the AutoSensing motor, this shaver can sense the density of your beard and adapt to its thickness for efficient performance.
FOR ALL SKIN TYPES
Yes
Since it is a Wet and Dry shaver, it can be used by people of all types of skins. Those with good skins can opt for dry shaving while those with sensitive skins should opt for wet shaving.
WORKS ON 3 DAY STUBBLE
Yes
Using its AutoSense technology and an ActiveLift trimmer, the shaver can easily pickup the shortest hair without irritating your skin.
FLEXIBLE HEAD
Yes
8 Direction Comfort head can move up to 8 directions reaching all hard-to-shave areas. But has the head moves, it maintains skin contact responding to all facial contours and picking up each and every hair on the skin.
GOOD ON THICK BEARDS
Yes
The AutoSensing Motor keeps on reading your beard density thus adjust its motor speed to shave a thick beard effectively without pulling or nicking your skin.
ERGONOMIC HANDLE
Yes
Features a textured rubberized ergonomic handle with a better grip and slim in size. This shaver fits both small and large hands. Its light weight so you won't get tired holding it for longer hours.
FULLY WASHABLE
Yes
Fully washable. It can be immersed into 5 meters of water. So enjoy shaving while in the shower and always wash it with tap water and a brush.
CLEANING MACHINE
Yes
It comes with a clean and charge station which cleans, lubricates and dries the shaver. This cleaning station will always keep your shaver new year-after-year.
CHARGING TIME
Yes
Use a Li-Ion battery which charges for 1 hour and will last for up to 50 minutes. But unlike the other Series 5, this model can't be used while plugged into power, you have to wait for it to charge
CORDLESS
Yes
It is a fully cordless shaver. Charge it for 1 hour and always get 50 minutes of grooming time.
TYPE
Yes
This is a Foil Shaver with 2 SensoFoil blades featuring 899 unique apertures that shave as close as 0.058mm. These SensoFoil blades are tough on beards but gentle on skin.
MECHANISM
Yes
Its mechanism is made up of the following features:2 SensoFoil blades, AutoSensing motor the detects beard density, ActiveLift Trimmer that lifts and cuts flat lying hair and beards that grow in different directions, 8 Direction Comfort head that pivots and follows facial contours while keeping skin contact and the Wet & Dry function.
DISPLAY
Yes
Features a very small display which shows battery status. You will always know when to recharge your shaver.
BUILD UP
Yes
Premium build-up finished in black and blue, features a MultiHeadLock with 5 adjustable angles to help you achieve a comfortable shave.
TRIMMER
Yes
Features a Precision Trimmer that slide out from the back of the shaver. Use this trimmer for sideburn and moustache shaping.
BATTERY LIFE
Yes
50 minutes of run time once fully charged for 1 hour.
ACCESSORIES
Yes
Clean & Charge station,Cleaning cartridge,Protection cap,Charging cord,Cleaning brush
WAS THIS REVIEW HELPFUL TO YOU? IF YES, PLEASE SHARE IT WITH A FRIEND.