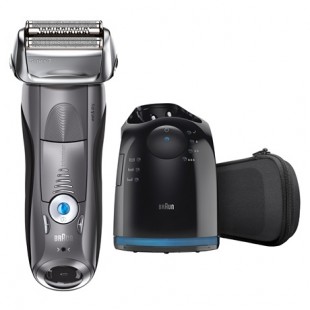 Reasons to buy Braun Series 7 7865cc:
It is a Wet and Dry Shaver
You will achieve a close shave with a few strokes
Choose from 5 personalized modes
It adapts to your facial contours
Check price here....
summary Review:
PERFORMANCE

Braun Series 7 7865cc

WORKS WITH GEL OR FOAM
CPM
CONTOUR ADAPTABILITY
BEARD DENSITY SENSOR
FOR ALL SKIN TYPES
WORKS ON 3 DAY STUBBLE
FLEXIBLE HEAD
GOOD ON THICK BEARDS
CAN SHAVE HEAD

USABILITY

Braun Series 7 7865cc

ERGONOMIC HANDLE
SPEED SETTINGS
FULLY WASHABLE
CLEANING MACHINE
CHARGING TIME
CORDLESS

DESIGN

Braun Series 7 7865cc

TYPE
MECHANISM
BUILD UP
TRIMMER
BATTERY LIFE
ACCESSORIES
WORKS WITH GEL OR FOAM
Yes
This is an upgrade of Braun Series 7-790cc. It is a wet and dry electric shaver designed to shave either dry or with shaving gel
CPM
Yes
Makes over 30,000 Cross-cuts per minute and 10,000 microvibrations which help the shaver to capture and cut even the shortest beards of 3 days
CONTOUR ADAPTABILITY
Yes
The shaver uses a built-in responsive intelligence technology to automatically adapt and follow different contours on your face thus offer you with a clean close shave. In addition to that, the shaver has a Contour Flex Shaving Head which moves up to 8 directions reaching all hard-to-shave areas.
BEARD DENSITY SENSOR
Yes
Uses its AutoSense Technology to shave denser beards efficiently than any other shaver without pulling or nicking your skin.
FOR ALL SKIN TYPES
Yes
It can be used on all skin types. It is a Wet and Dry model so those with sensitive skins can opt for wet shaving.Choose from 5 personalized shaving settings modes.It also features a Skin Guard which protects the skin as you're shaving
WORKS ON 3 DAY STUBBLE
Yes
The combination of 3 cutting elements, Intelligent Sonic and Autosense Technology, the shaver will be in position to capture even the shortest hairs.
FLEXIBLE HEAD
Yes
8-D Contour Adaptation shaving head will reach all hard-to-reach areas. The head features 3 shaving elements and 1 SkinGuard which floats gently onto your facial skin capturing hair with ease.
GOOD ON THICK BEARDS
Yes
It is very effective on thick beards. The Autosense technology will sense a difference in beard density thus adjusts the shavers speed and power to clear off a thick beard.
CAN SHAVE HEAD
Yes
With the 10,000 microvibrations, autosense technology, 5 shaving modes that include a turbo shaving mode and 3 shaving elements
ERGONOMIC HANDLE
Yes
Well shaped ergonomic handle with a textured rubber on the sides to improve on the shavers grip so that it does not slip out of your hands when wet shaving.
SPEED SETTINGS
Yes
For custom results, choose from 5 shaving modes and the most popular ones include; Normal Mode, Sensitive Mode and the Turbo Mode
FULLY WASHABLE
Yes
The shaver is 100% Waterproof, it can be submerged into water up to 5 meters. This makes it easier to clean even when you don't have cleaning cartridge
CLEANING MACHINE
Yes
You will get a clean and recharge machine. It is the only 4-action alcohol based shaver cleaning machine. It automatically cleans charges and lubricates the shaver
CHARGING TIME
Yes
Its State of the art LiIon Battery charges fully in 1 hour and this will give you 50 minutes of charging time.
CORDLESS
Yes
True, this is a cordless foil shaver belonging to the Series 7 class. The only wet & dry Braun Series 7
TYPE
Yes
This is a foil shaver belonging to the Braun Series 7 class. But unlike other Braun series 7 models,it is a Wet and Dry
MECHANISM
Yes
Its having mechanism features; An Active Lift trimmer which captures flat lying hairs,AutoSense Technology which shaves denser beards and Sonic Technology which Helps capture more hair in every single stroke,
BUILD UP
Yes
This model maintains the Series 7 design, ergonomic handle, flexible pivoting head, pop-up trimmer, shaving mode buttons at the front, thin optifoils, a skin guard and a premium finish
TRIMMER
Yes
Features a built-in precision trimmer for grooming your moustache and sideburns
BATTERY LIFE
Yes
50 minutes of shaving time on a fully charged battery. Charging time is 1 hour.
ACCESSORIES
Yes
Clean & Charge Station, Cleaning cartridge, SmartPlug, Travel pouch and a Cleaning brush which you can use when cleaning the shaver with tapo water & soap
WAS THIS REVIEW HELPFUL TO YOU? IF YES, PLEASE SHARE IT WITH A FRIEND.