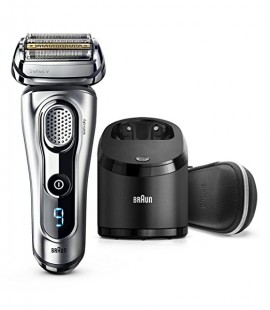 Reasons to buy Braun Series 9 9290cc:
It is a Wet and Dry Shaver
Exceptionally gentle to your skin.
Captures more hair in just one single pass
It is very effective on 3 day stubble
Check price here....
summary Review:
PERFORMANCE

Braun Series 9 9290cc

WORKS WITH GEL OR FOAM
CPM
CONTOUR ADAPTABILITY
BEARD DENSITY SENSOR
FOR ALL SKIN TYPES
WORKS ON 3 DAY STUBBLE
FLEXIBLE HEAD
GOOD ON THICK BEARDS
CAN SHAVE HEAD

USABILITY

Braun Series 9 9290cc

ERGONOMIC HANDLE
FULLY WASHABLE
CLEANING MACHINE
CHARGING TIME
CORDLESS

DESIGN

Braun Series 9 9290cc

TYPE
MECHANISM
DISPLAY
BUILD UP
TRIMMER
BATTERY LIFE
ACCESSORIES
WORKS WITH GEL OR FOAM
Yes
This shaver is designed to wet or dry shave. You can use the wet shaving option if your skin is too sensitive. In addition to that, you can shave while in the shower, water won't damage the shaver
CPM
Yes
It is a very efficient shaver making 40,000 Cross-cuts per minute and 10,000 microvibrations that capture more hair in every stoke made
CONTOUR ADAPTABILITY
Yes
Features a 10-D contour adaptation system which moves to shavers head up to 10 directions with floating shaving elements that gently follow and adapt to your skin.
BEARD DENSITY SENSOR
Yes
Uses an Intelligent AutoSense Technology to detect a change in beard density thus increase the shavers power 13x per second. This is enough power to clear a dense beard.
FOR ALL SKIN TYPES
Yes
Since it is a wet and dry shaver with smooth foils and a skin guard which protects the skin when shaving, Braun 9 9290cc is ideal for all skin types
WORKS ON 3 DAY STUBBLE
Yes
Yes, it has been tested on a 3-day stubble beard and results were good. It has a HyperLift and Cut trimmer which lifts flat laying hairs for thorough shaving
FLEXIBLE HEAD
Yes
Features a very flexible shaving head which moves up to 10 directions. More flexible than all shavers on the market.
GOOD ON THICK BEARDS
Yes
The Intelligent Sonic and AutoSense Technology and 5 shaving elements will ensure that no thick beard remains on your face. You can shave a thick beard with gel/foam; this will make it soft and easy to cut.
CAN SHAVE HEAD
Yes
You can use this model to shave your head. It features AutoSense Technology which detects hair density thus increase on the power of the shaver making it possible to shave hair on the head
ERGONOMIC HANDLE
Yes
Well built with an ergonomic handle tailored to fit in your hands. The shaver is slim in size and light weight so you won't get tired when shaving for longer hours
FULLY WASHABLE
Yes
By default, all Braun shavers are waterproof up to 5 meters. This means you can use this shaver while in the shower or wash it with running tap water
CLEANING MACHINE
Yes
It comes with a clean and charge station which cleans, lubricates, charges and keeps your shaver new all the time. The LED display will always notify you on when to use this cleaning station
CHARGING TIME
Yes
Features a Li-Ion battery which charges fully in 1 hours and this will give you 50 minutes of shaving time
CORDLESS
Yes
Yes, this is a cordless foil shaver. It won't work when plugged into power
TYPE
Yes
Foil shaver with an active lift trimmer which captures flat lying hair. Its blades are beneath the foil so they never get in contact with the skin
MECHANISM
Yes
Its mechanism is made up of the following features.2x Opti-Foi,Protective SkinGuard,HyperLift&Cut trimmer,Direct&Cut trimmer which aligns hair that grows in different directions,AutoSense Technology,Contour Flex Head,Wet&Dry
DISPLAY
Yes
The LED display will provide you with all essential information about your shaver and this include. Battery status, Hygiene status and Lock indicator
BUILD UP
Yes
The rubberized and textured handle improves on the shavers grip. It can't slip off when wet shaving. Also the MultiHeadLock function prevents accidental switch-on of the shaver
TRIMMER
Yes
Features a precision trimmer which slides out from the back of the shaver for easy sideburn and moustache shaping
BATTERY LIFE
Yes
Once fully charged for 1 hour, the Li-Ion battery will offer you with 50min of cordless shaving
ACCESSORIES
Yes
Clean & Charge Station,Cleaning cartridge,Smart plug,Cleaning Brush and a Travel case
WAS THIS REVIEW HELPFUL TO YOU? IF YES, PLEASE SHARE IT WITH A FRIEND.