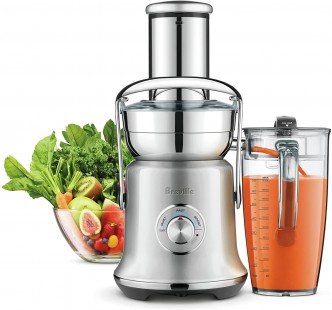 Reasons to buy Breville BJE830BSS:
Perfect for mess-free juicing straight into a glass
Space saving and compact footprint.
Noise reduction technology
Juice and seal in a XL 70 fl oz jug for the whole family
Check price here....
summary Review:
PERFORMANCE

Breville BJE830BSS

Juice and Nutrients Extractor
Dual-Stage Extraction
Number of Speed Settings
Motor Speed (RPMs)
Quiet Operation
Powerful motor base
Compact size
Capacity
Versatile Capability
Easy To Clean
Large food chute
For Fruits and Vegetables

DESIGN

Breville BJE830BSS

Compact size
Watts
Weight
Dimension
Color
BPA-free plastic parts
Included Accessories

CONCLUSION
Juice and Nutrients Extractor
Yes
Extracts the maximum amount of nutrients vitamins taste and juice from minimum amounts of fruits vegetables leafy greens and wheatgrass
Dual-Stage Extraction
Yes
Available with adjustable settings.
Quiet Operation
Yes
Imagine great performances that are easier on the ear; Juicing in a quiet setting reduces mechanical noise by 40%
Compact size
Yes
With the pulp bin located behind the product base, the Juice Fountain Cold XL features a new and unique space-saving design for better use of your countertop space
Capacity
Yes
2 L jug with sealing lid so you can store your juice
Versatile Capability
Yes
It can process all types of products such as soft fruits, hard produce, leafy greens, citrus fruits, soybeans, and nuts.
Easy To Clean
Yes
Wash all parts (except the motor base) in warm soapy water with a soft cloth. All parts except for the motor base, juicer cover, and food pusher are dishwasher safe
Large food chute
Yes
The newly designed 3.5-inch extra-large wide chute feed allows you to juice whole fruits and vegetables without pre-cutting.
Juicing Method: Slow OR Masticating
For Fruits and Vegetables
Yes
There's no denying the nutritional value of fresh fruit and vegetables, our bodies thrive on sun-drenched and earth-grown. Enjoy every drop of your recommended daily servings with the Big Squeeze.
Compact size
Yes
It is designed with a smaller footprint and it doesn't take up that much counter space.
Dimension
Yes
13.4 x 13.2 x 17.4 inches
Color
Yes
Brushed Stainless Steel
BPA-free plastic parts
Yes
This machine comes with BPA-free plastic parts.
Included Accessories
Yes
70 fl oz Easy Seal Juice Jug with Froth Separator, Detachable Spout for Juicing Directly into Glass, and Easy Cleaning Brush
PROS
Yes
• Juices large volumes of "hard" or "firm" produce very fast. Great for parties or large families. • Big mouth easily sucks large size of fruit chunks and thus no need to cut into smaller pieces. • Sturdy construction. Good with juicy fruits like oranges, pineapple, melons, etc. • Performance is very good for soft fruits and vegetables. • Minimal heat transfer thru Breville's proprietary cold spin technology • Space-saving design • Extra-large chute (3.5in) and extra-large juice jug (70oz) • 72-hour shelf life • Two-speed settings allow for juicing a wider variety of produce • The plastic components are made of BPA-free materials. • Almost all detachable parts are dishwasher safe (except for the food pusher) • Continuous juicing with external pulp ejection • It comes with a newly designed juice nozzle for single-serve juice. • Has a very white chute, it can fit an average orange or Apple however big pieces obviously need to be cut up. • Large 2-liter juice pitcher • Has a single cup serving nozzle • Features a large feed chute • Cold spin technology that prevents oxidization • A two-speed setting for juicing a wide variety of produce • All the plastic components are BPA free • Automatic pulp ejection function • Dishwasher safe apart from the food pusher • Large pulp jar that facilitates continuous juicing • Has a noise reduction setting for peaceful juicing • A Breville juicer with Cold Spin Technology and an Italian-made precision mesh filter, allows you to avoid damage to vitamins and minerals from heat and processing.
CONS
Yes
• Quite expensive • It's bulky • This is an expensive high-speed juicer • Not efficient for juicing leafy greens • High RPM juicers promote a significant amount of oxidation • Short warranty period • It struggles with things like ginger and turmeric. • The green bags for pulp fit poorly. • The cover will stain with Tumeric. • Sometimes discards big chunks of fruit. Not too good with hard fruits or vegetables like carrots, apples, Greens, etc. • Too much moisture in the pulp. • Way too much foam in the Breville juice.
WAS THIS REVIEW HELPFUL TO YOU? IF YES, PLEASE SHARE IT WITH A FRIEND.