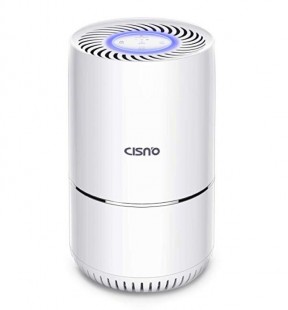 Reasons to buy CISNO HEPA Air Purifier:
100% ozone free
Smoke Dust Pet Dander Smell Remover
Quite and Optional Night Light
3 fan speed settings
Check price here....
summary Review:
PERFORMANCE

CISNO HEPA Air Purifier

HEPA FILTER
TIMER
FOR LARGE ROOMS
REMOVES CIGARETTE ODOR
ROOM SIZE AND AIRFLOW
FIGHTS GERMS
ELIMINATES DUST MITES
REMOVES PET DANDER
GETS RID OF POLLEN
REMOVES SMOKE
REMOVES MOLD
TRAPS ALLERGENS
QUIET OPERATION
WASHABLE PRE-FILTERS
EASY FILTER REPLACEMENT
AUTOMATICALLY DETECTS AIRBORNE PARTICLES
SLEEP MODE
WATTAGE

USABILITY

CISNO HEPA Air Purifier

CONTROLS AND MODES
FILTER REPLACEMENT REMINDER
ECONOMICAL
AFFORDABLE
IDEAL FOR ASTHMATIC PEOPLE
FILTER LIFE - BASED ON USE

SAFETY
APPEARANCE

CISNO HEPA Air Purifier

DESIGN
SIZE AND APPEARANCE
WEIGHT
HEPA FILTER
Yes
Hepa filter – built with a powerful ability to eliminate 99.97% of airborne air particles. 0.3 tiny microns plus larger particles are eliminated.
TIMER
Yes
Auto off timer – goes off after preset time
FOR LARGE ROOMS
Yes
Created for large rooms within 80 square feet.
REMOVES CIGARETTE ODOR
Yes
Cleans the air from cigarette odor – leaves the air fresh and healthy from cigarette odor. Ideal for smokers and non-smokers.
ROOM SIZE AND AIRFLOW
Yes
Has a cleaning coverage of 80 square feet. Ideal for living rooms, kitchen, bedroom and offices with CADR largest at 65 m³per hour.
FIGHTS GERMS
Yes
Fights germs using activated carbon filtration. Absorbs all kinds of germs and other contaminants from indoor air.
ELIMINATES DUST MITES
Yes
Lifts and traps dust mites up to 99.97%. collects dust mites hiding in carpets that cause allergy and trigger asthma on both the young and old.
REMOVES PET DANDER
Yes
Removes pet dander off the indoor air. Pet dander is unavoidable for homes with pets and can cause allergy.
GETS RID OF POLLEN
Yes
Automatically detects pollen and gets rid of them. People with pollen allergy can experience sneezing and other attacks if it's not removed.
REMOVES SMOKE
Yes
Removes smoke with a combination of Heap and activated carbon filter. Air filled with smoke and other gaseous substances is harmful to the heart and lungs.
REMOVES MOLD
Yes
Removes mold hiding in damp places. Humidity is the leading cause f mold and this air purifier will destroy mold spores within its range.
TRAPS ALLERGENS
Yes
3-in-1 Air Purifier with True HEPA Filter traps 99.97% allergens
QUIET OPERATION
Yes
Quiet operation – produces 26.1 db on speed 1, 30.5 db on speed 2 and 42.8 db on speed 3. barely heard on lowest speed.
WASHABLE PRE-FILTERS
Yes
Washable pre-filters – remove the pre-filters after some time and wash out all the particles stuck on it. Let in dry and place it back.
EASY FILTER REPLACEMENT
Yes
Remove the old filter, place in the new filter. Long press the light key for 3 seconds and the buzzer will make sound. Wait for the indicator light to go off.
AUTOMATICALLY DETECTS AIRBORNE PARTICLES
Yes
Detects airborne particles automatically – finds the unwanted airborne particles and eliminates them to the size of 0.3 microns.
SLEEP MODE
Yes
Features dual mode night light – minimizes the light at night so that you have a wonderful rest time as it purifies air.
WATTAGE
Yes
Power input is rated at 29 watt. Barely consumes too much power even when used every day.
CONTROLS AND MODES
Yes
Built with simple controls and modes. Has a child lock mode, dual mode nigh light and 3 speed fans.
FILTER REPLACEMENT REMINDER
Yes
Filter replacement reminder – the indicator begins to flash once the filter requires a replacement.
ECONOMICAL
Yes
Meets the energy efficiency standards and electrical safety. Does not consume alarming amounts of energy.
IDEAL FOR ASTHMATIC PEOPLE
Yes
Steam inhalers won't be of much use because of the 3-in-1 filtration system. ideal for asthmatic people.
FILTER LIFE - BASED ON USE
Yes
On average it takes about 3 - 6 months of use. Filter life might also take longer or less depending on usage and air quality.
CHILD LOCK
Yes
Child safety lock – start by pressing it nonstop for about 4 sections and it will be activated. Prevents children from making changes to air purifier.
OZONE FREE
Yes
Doesn't have UV or Ions which creates harmful air pollutants.
DESIGN
Yes
Concise and modern design – the body has a chrome plating color decor that suits most interiors.
SIZE AND APPEARANCE
Yes
8.7 x 8.7 x 12.8 inches
WAS THIS REVIEW HELPFUL TO YOU? IF YES, PLEASE SHARE IT WITH A FRIEND.