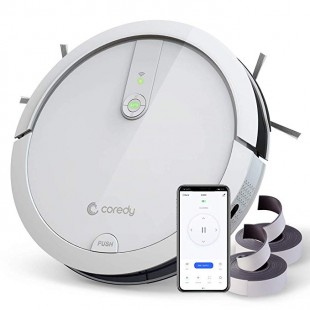 Reasons to buy Coredy D400:
Alexa and Google Assistant Controls
Gyroscope Navigation System
Only Clean Where You Want
Super Quiet Clean
Check price here....
summary Review:
PERFORMANCE

Coredy D400

CLEANS UNDER FURNITURE
SUCTION POWER
IDEAL FOR HOMES WITH PETS
CLEAN CORNERS AND ALONG WALLS
BATTERY LIFE
CHARGE TIME
MULTI-FLOOR CLEANING
FOR LARGE ROOMS
AUTO DOCKS AND RECHARGE
MULTI-ROOM NAVIGATION
AVOIDS STAIRS AND OBJECTS
QUIET OPERATION
BOOSTS SUCTION POWER
MAPS & PLANS ROUTE
SWEEPS AND MOPS
CONCENTRATED CLEANING

USABILITY

Coredy D400

HASSLE FREE OPERATION
REMOTE CONTROL WITH MOBILE APP
WIFI CONNECTED
CAN BE SCHEDULED
WORKS WITH ALEXA
ZONE CLEANING

DESIGN

Coredy D400

LARGE DEBRIS BIN
LOW PROFILE DESIGN
BATTERY CAPACITY
DUST BIN CAPACITY
FULL BIN INDICATOR
VIRTUAL WALL INCLUDED
PRODUCT DIMENSIONS
WEIGHT

CONCLUSION
CLEANS UNDER FURNITURE
Yes
2.77 inches tall only – thin enough to enter beneath sofas, beds, and kickboards above its height.
SUCTION POWER
Yes
1400 Pa suction power – powerful suction power that efficiently removes unwanted tiny particles.
IDEAL FOR HOMES WITH PETS
Yes
Uses powerful suction power to lift up pet hairs and other dander. Keeps you from pet allergies
CLEAN CORNERS AND ALONG WALLS
Yes
Features dual side brushes – reach deep corners and edges to eliminate dirt hidden in them.
BATTERY LIFE
Yes
120 run time minutes – cleans much longer with powerful 2600 mAh battery after single charge.
MULTI-FLOOR CLEANING
Yes
Ideal for multi floors types – laminate, hardwood, bare and ceramic tiles. Climbs low pile carpets using a 0.64 inch threshold climbing ability.
DEEP CLEANS THICK CARPETS
FOR LARGE ROOMS
Yes
Long battery life for large rooms. cleans large rooms within 120 minutes while dodging obstacles on its path.
AUTO DOCKS AND RECHARGE
Yes
Coredy D400 automatically goes back to charging dock to recharge when battery low. Always prepared for next cleaning session.
RESUMES AFTER AUTO RECHARGING
MULTI-ROOM NAVIGATION
Yes
Gyroscope maps guide Coredy D400 to move from room to room on one floor. Will remember rooms it has cleaned and head to the next.
AVOIDS STAIRS AND OBJECTS
Yes
360° smart sensor protection – prevents Coredy D400 from bumping onto objects and falling off stairs
QUIET OPERATION
Yes
Noise level ranges between 45-65dB. Quiet operation especially on lowest noise level.
MAPS & PLANS ROUTE
Yes
Plans route using Gyroscope Navigation system. Plans the most suitable path before cleaning to cover a wider area.
CONCENTRATED CLEANING
Yes
Spot cleaning mode – suitable for areas with messes or stains. Spends more time uprooting and clearing the messes for an even clean.
HASSLE FREE OPERATION
Yes
Choose convenient control method for easy control. Use the app, button or voice anytime to start, stop, schedule etc the robot.
REMOTE CONTROL WITH MOBILE APP
Yes
Coredy Smart App control –scan the QR code to access the app on your Smartphone for convenient control. Lets you track cleanings, activate cleaning mode, monitor battery life. Use virtual wall, schedule cleaning etc.
WIFI CONNECTED
Yes
Compatible with Wifi connectivity – Use home Wifi to control the unit
CAN BE SCHEDULED
Yes
Accepts scheduling – chose a convenient time you want Coredy D400 to clean for you. Automatically obeys cleaning schedule so you return to a clean home.
WORKS WITH ALEXA
Yes
Works with Alexa and Google assistant controls. Talk to the robot and it will obey.
ZONE CLEANING
Yes
Zone cleaning through virtual wall boundaries – draws lines to guide this robot to clean only specific areas.
LARGE DEBRIS BIN
Yes
500 ml – can clean an entire room without you emptying it
LOW PROFILE DESIGN
Yes
2.77 inches tall – easily gets beneath furniture to clean
BATTERY CAPACITY
Yes
2600 mAh Li-ion battery capacity
DUST BIN CAPACITY
Yes
500 ml dust bin capacity
VIRTUAL WALL INCLUDED
Yes
Clean only places you want using virtual boundary. Sets up walls beyond which the robot won't cross over
PRODUCT DIMENSIONS
Yes
17.7 x 13.7 x 5.1 inches
PROS
Yes
• Super slim low profile design of 2.77 inches tall • Delivers approximately 120 run time minutes on single charge • Cleans only specific areas using virtual boundary walls • Docks automatically and recharges • Can be scheduled to clean • Suitable for hard floor and carpet cleaning • Strong suction power of up to 1400 Pa • Has an IR remote control device • 4 safety anti drop sensors • Easy to empty and access dust bin • Powerful 2600 mAh Li-ion battery • Super quiet operation • Ideal for homes with dogs, cats etc • Spot mode for concentrated cleaning • Easy to operate
CONS
Yes
• Cannot automatically resume cleaning after recharge • Not ideal for thick piled carpets • Doesn't have an LCD display unit • Mopping feature not included • Doesn't feature a HEPA filter – has another kind of high efficiency filter
WAS THIS REVIEW HELPFUL TO YOU? IF YES, PLEASE SHARE IT WITH A FRIEND.