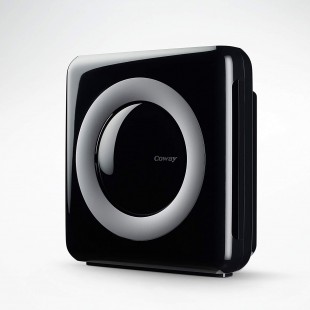 Reasons to buy Coway AP 1512HH:
Features 4-Stages of Filtration to eliminate pollutants.
Air pollution sensor shows indoor air-quality in real-time.
An Auto Mode that adjusts fan-speed accordingly.
A timer that lets you schedule 1,4,8 or 12 hours.
Check price here....
summary Review:
PERFORMANCE

Coway AP 1512HH

HEPA FILTER
TIMER
FOR LARGE ROOMS
REMOVES CIGARETTE ODOR
ROOM SIZE AND AIRFLOW
FIGHTS GERMS
ELIMINATES DUST MITES
REMOVES PET DANDER
GETS RID OF POLLEN
REMOVES SMOKE
REMOVES MOLD
TRAPS ALLERGENS
QUIET OPERATION
WASHABLE PRE-FILTERS
EASY FILTER REPLACEMENT
AUTOMATICALLY DETECTS AIRBORNE PARTICLES
SLEEP MODE
WATTAGE
ENERGY STAR

USABILITY

Coway AP 1512HH

CONTROLS AND MODES
FILTER REPLACEMENT REMINDER
ECONOMICAL
AFFORDABLE
IDEAL FOR ASTHMATIC PEOPLE
FILTER LIFE - BASED ON USE

SAFETY
APPEARANCE

Coway AP 1512HH

DESIGN
SIZE AND APPEARANCE
WEIGHT
HEPA FILTER
Yes
Uses a True HEPA filter which is very effective at removing odors, dust, smoke, pet dander, pollen and allergens that could make you sick.
TIMER
Yes
The timer will let you schedule 1/4/8/12 hours so that you can choose the best time of operation.
FOR LARGE ROOMS
Yes
It is quite a compact unit with the ability of covering a large room of about 528 Sq.ft
REMOVES CIGARETTE ODOR
Yes
The unit uses a deodorization filter to eliminate cigarette odors and other harmful gases from your home.
ROOM SIZE AND AIRFLOW
Yes
The recommended room size is 528sq.ft With an Airflow rate of: 7.6CMM.
FIGHTS GERMS
Yes
The True HEPA filter is very effective at removing germs and bacteria that find their way into the air you breathe.
ELIMINATES DUST MITES
Yes
It can easily detect, capture and remove dust mites thus saving you from allergies that are triggered by these small creatures.
REMOVES PET DANDER
Yes
Pet dander will be captured and removed by the Washable Pre Filter & True HEPA filter thus saving you from Pet dander allergies.
GETS RID OF POLLEN
Yes
This unit can easily capture and remove pollen using a True HEPA Filter in-order to provide you with fresh and clean breathable air.
REMOVES SMOKE
Yes
The Deodorization filter will eliminate smoke and all harmful gases from your house. This makes the coway a perfect device for use in the kitchen.
REMOVES MOLD
Yes
It can eliminate mold spores by filtering airborne spores from the air using a True HEPA Filter. Coway can filter mold spores from any room.
TRAPS ALLERGENS
Yes
No Allergen will escape Coway without being detected because this device uses a pollution-sensor to detect any allergens or pollutants within air.
QUIET OPERATION
Yes
With a noise level of Noise level: 24.4 - 53.8 dBs, Coway operates silently and effectively when purifying air in your room.
WASHABLE PRE-FILTERS
Yes
It has a washable Pre-filter that captures large sized particles and needs to be washed the every 14-days to ensure optimum performance.
EASY FILTER REPLACEMENT
Yes
Yes, you don't need a tech guy to do filter replacements for you with this device.
AUTOMATICALLY DETECTS AIRBORNE PARTICLES
Yes
Uses an intuitive air quality indicator which will show you the status air quality in your room and then the device will take necessary action.
SLEEP MODE
Yes
On Coway it is called an Eco Mode and it is efficient and energy saving. In fact, this mode will save energy and cut electricity-bills.
WATTAGE
Yes
This device features a Power-Consumption of: 4.9~77.8 Watts which makes it very energy efficient.
ENERGY STAR
Yes
Yes, it is energy star certified for saving energy which implies that it will help you save a lot of money on electricity bills.
CONTROLS AND MODES
Yes
You can customize the functionality of the unit by selecting from any of these modes; Auto mode, Energy Saving (Eco mode), ion mode.
FILTER REPLACEMENT REMINDER
Yes
The Coway Air Purifier's Filter indicator will always alert you when there is a need for filter changes.
ECONOMICAL
Yes
It's an economical appliance with a Power consumption of: 4.9~77.8 Watts and it is Energy Star Certified.
AFFORDABLE
Yes
Yes, it is very affordable and effective.
IDEAL FOR ASTHMATIC PEOPLE
Yes
The 4 stage filtration system will always ensure that air in your room is always clean and safe to breathe making it perfect for asthmatic-people.
FILTER LIFE - BASED ON USE
Yes
The Pre Filter is Washable and the Carbon Filter should be replaced after 6-months while the True HEPA filter should be replaced after 12-months.
OZONE FREE
Yes
It has a Vital Ion system which generates electrochemical reactions that reduce particles in the air without producing ozone.
DESIGN
Yes
It has a compact tower-design which makes it perfect for use in living room, apartments, and middle sized spaces.
SIZE AND APPEARANCE
Yes
It features a simple and compact design with dimension of 16.8Wx 18.3H x 9.6D inches.
WEIGHT
Yes
It lightweight and only weighs about 8.82lbs which makes it easy to move in different rooms of your house.
WAS THIS REVIEW HELPFUL TO YOU? IF YES, PLEASE SHARE IT WITH A FRIEND.