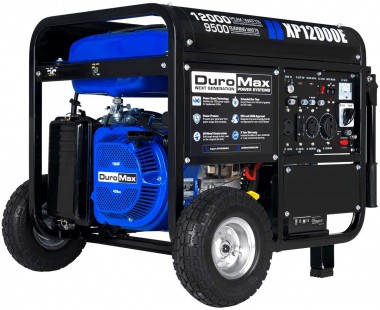 Reasons to buy DuroMax XP12000E:
Has a powerful duromax engine
Fully featured power panel
Low oil shut-off
Has plenty of power
Check price here....
summary Review:
PERFORMANCE:

DuroMax XP12000E

Portable
Starting Watts
Running Stats
RV Ready
Gas Powered
Run Time on Full Tank
Recoil Start
Electric Start
Dual Fuel
FUEL TYPE
AMPERAGE
VOLTAGE
FREQUENCY
HORSEPOWER
ENGINE TYPE
ENGINE SPEED
CARB Compliant
EPA Certified
Cold Start Technology
Easy to Start
Fuel Tank Capacity (Gasoline)
Suggested Tank Size (Propane)
Runtime (Gasoline)
Runtime (Propane)
Low Oil Shut-Off
Air Cooled
Engine Capacity
Voltmeter
Noise Level (dBA)
Multi-Purpose
Heavy Duty
Framed for Durability
Starting method

DESIGN:

DuroMax XP12000E

Open Frame
Outlets
Portable
Weight
Wheel type
Handle style
Warranty
Dimensions (LxWxH, inches)
Included Accessories

SAFETY:

DuroMax XP12000E

Low Oil Indicator
Low oil shutdown
Noise Level

CONCLUSION
Portable
Yes
it is a portable generator
Gas Powered
Yes
it's a gas powered generator
Recoil Start
Yes
Recoil start is optional
Electric Start
Yes
it requires electricity to start
Dual Fuel
Yes
it requires dual fuel
VOLTAGE
Yes
120V/240VAC and 12VDC
ENGINE TYPE
Yes
4-Cycle Air- Cooled spark ignition
CARB Compliant
Yes
This generator is CARB complaint
EPA Certified
Yes
this generator is approved by EPA
Cold Start Technology
Yes
Cold start technology is available to ensure a quick start in cold weather.
Easy to Start
Yes
The generator is easy to start because it uses electricity to start and is also equipped with an optional recoil start
Fuel Tank Capacity (Gasoline)
Suggested Tank Size (Propane)
Low Oil Shut-Off
Yes
the generator automatically shuts-off when it senses that the oil low.
Air Cooled
Yes
the generator is air cooled
Voltmeter
Yes
The panel has voltmeter and 12V DC charging posts for charging external batteries.
Multi-Purpose
Yes
the generator can handle multiple jobs since it provides plenty of power.
Heavy Duty
Yes
Yes, the generator can perform heavy duty works.
Starting method
Yes
Electric/recoil method
Open Frame
Yes
All metal construction open frame
Outlets
Yes
(2) - 120V 20A GFCI Outlet, (1) - 120V 30A Twist Lock, (1) - 120/240V 30A Twist Lock, (1) - 120/240V 50A Heavy Duty Outlet.
Portable
Yes
Yes, the generator is portable because it can be easily moved from one place to another since it has tiers
Dimensions (LxWxH, inches)
Included Accessories
Yes
Oil Funnel, Spark Plug Wrench, Tool Set, Wheel & Handle Kit, DC Charging Cables and Owner's Manual
Low Oil Indicator
Yes
Available, the generator may emit highly flammable and explosive gasoline vapor.
Low oil shutdown
Yes
the generator shuts down when it senses that oil is low
Pros
Yes
This generator is long lasting It's easy to store Its readily available in the market It burns a small amount of fuel for a longer time duration. The generator has a large power capability, that is to say: it offers versatility with its fuel dual technology allowing u to use gas or propane.
Cons
Yes
In case the generator is not kept dry it may cause electric shocks hence causing harm or death. Poor or improper connection of the generator to a building may allow back feed of electrical currents into the utility lines causing electricity hazards. Since this generator uses gasoline which is highly flammable and explosive, in case of gasoline ignition, a person may be burnt or injured. The engine produces a dangerous chemical which are known to cause birth defects and cancer such as in California. This generator is quite expensive.
WAS THIS REVIEW HELPFUL TO YOU? IF YES, PLEASE SHARE IT WITH A FRIEND.