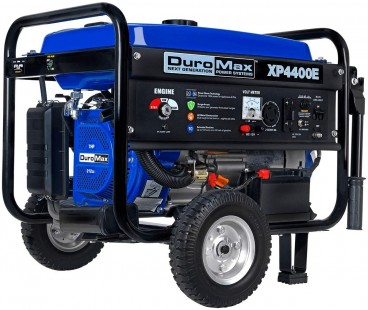 Reasons to buy DuroMax XP4400E:
Has a powerful DUROMAX7 HP engine
It provides the added power to run demanding high amperage tools and appliances
Has surge arrest which protect your generator from power surges.
Gas Powered Portable Generator
Check price here....
summary Review:
PERFORMANCE:

DuroMax XP4400E

Portable
Starting Watts
Running Stats
Run Time on Full Tank
Recoil Start
Electric Start
Dual Fuel
AMPERAGE
VOLTAGE
FREQUENCY
HORSEPOWER
ENGINE TYPE
ENGINE SPEED
CARB Compliant
CSA Certified
EPA Certified
Easy to Start
Fuel Tank Capacity (Gasoline)
Runtime (Gasoline)
Low Oil Shut-Off
Air Cooled
Engine Capacity
Voltmeter
Noise Level (dBA)
Multi-Purpose
Heavy Duty
Framed for Durability
Starting method
RV Ready
Gas Powered
FUEL TYPE

DESIGN:

DuroMax XP4400E

Open Frame
Outlets
Portable
Handle style
Warranty
Dimensions
Included Accessories
Weight
Wheel type

SAFETY:

DuroMax XP4400E

Low Oil Indicator
Low oil shutdown
Noise Level

CONCLUSION
Recoil Start
Yes
Recoil start is optional
Electric Start
Yes
The generator can be electrically started
Dual Fuel
Yes
Yes, it uses dual fuel for its operations
VOLTAGE
Yes
120V / 240VAC & 12VDC
ENGINE TYPE
Yes
4-Cycle Air-Cooled Spark-Ignition
ENGINE SPEED
Yes
Engine Speed 3600 Rpm
Easy to Start
Yes
Yes, the generator is easy to start since it provides two options to be started (electric /recoil)
Fuel Tank Capacity (Gasoline)
Suggested Tank Size (Propane)
Low Oil Shut-Off
Yes
The generator immediately shut-off after sensing that the oil is low
Air Cooled
Yes
it is air cooled which prevents engine damage
Noise Level (dBA)
Yes
7Db, it has an auto throttle switch which deals with noise reduction
Multi-Purpose
Yes
Yes, it can be used on job sites, recreations , home light
Heavy Duty
Yes
it is a heavy duty machine
Framed for Durability
Yes
the generator is framed for durability
Starting method
Yes
Electric switch / recoil start
Open Frame
Yes
Yes, it has got an open frame
Outlets
Yes
Two 120V 20A GFCI Outlet and One 120/240V 30A Twist Lock
Portable
Yes
Yes, it is a portable item which easies its transportation from place to place
Handle style
Yes
Has Fold handles for easy transportation
Warranty
Yes
3 Years limited warranty
Dimensions (LxWxH, inches)
Included Accessories
Yes
Owner's manual, spark plug wrench, wheel and handle kit, oil funnel, tool set and DC charging cables
Low Oil Indicator
Yes
Yes, it shuts off to indicate low oil level
Low oil shutdown
Yes
The generator shuts down after sensing that the oil level is low which protects the engine
Pros
Yes
o It has got a powerful 7 Hp engine which is able to accept high wattage loads so easily. o Its operations are quiet since it has a heavy duty frame with four points which are fully isolated motor mounts. o You can opt to electric start it or recoil start making it easy to be used.
Cons
Yes
o It is bulky in terms of transportation o It produces a dangerous chemical (carbon dioxide) which is harmful to people's lives. o It is noisy during operations hence causing noise pollution in the environment.
WAS THIS REVIEW HELPFUL TO YOU? IF YES, PLEASE SHARE IT WITH A FRIEND.