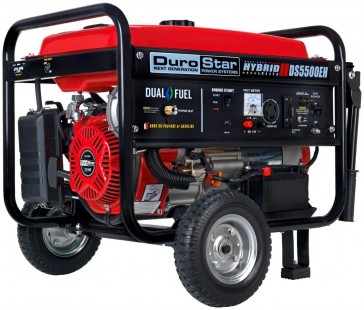 Reasons to buy DuroStar DS5500EH:
Has an Idle control which holds RPM at a constant level even under heavy loads which saves fuel and reduces noise.
Has plenty of power- 5500 starting watts and 4500 running watts
Runs on dual fuel which gives you freedom and flexibility of fuel choice.
Has a powerful 225cc OHV engine which allows it to power up your essentials
Check price here....
summary Review:
PERFORMANCE:

DuroStar DS5500EH

Portable
Starting Watts
Running Stats
RV Ready
Run Time on Full Tank
Recoil Start
Electric Start
Dual Fuel
FUEL TYPE
AMPERAGE
VOLTAGE
FREQUENCY
HORSEPOWER
ENGINE TYPE
ENGINE SPEED
CARB Compliant
EPA Certified
Cold Start Technology
Easy to Start
Fuel Tank Capacity (Gasoline)
Suggested Tank Size (Propane)
Runtime (Gasoline)
Runtime (Propane)
Low Oil Shut-Off
Air Cooled
Engine Capacity
Voltmeter
Noise Level (dBA)
Multi-Purpose
Heavy Duty
Framed for Durability
Starting method

DESIGN:

DuroStar DS5500EH

Open Frame
Outlets
Portable
Weight
Wheel type
Handle style
Warranty
Dimensions (LxWxH, inches)
Included Accessories

SAFETY:

DuroStar DS5500EH

Low Oil Indicator
Low oil shutdown
Noise Level

CONCLUSION
Portable
Yes
It is a portable device
Recoil Start
Yes
Recoil start is optional
Electric Start
Yes
Electric start is optional
Dual Fuel
Yes
It is designed to use propane / gasoline
ENGINE TYPE
Yes
4-Cycle air-cooled spark-ignition
Cold Start Technology
Yes
It is designed with cold start technology for quick start in cold weather
Easy to Start
Yes
It is easy to start since it has an optional electric key and an optional recoil start key
Fuel Tank Capacity (Gasoline)
Suggested Tank Size (Propane)
Runtime (Propane)
Yes
8 hours at ½ load on 20 lb. tank
Low Oil Shut-Off
Yes
It is designed with a low oil shut off sensor to protect the engine from being damaged
Multi-Purpose
Yes
It is multi-purpose since it can run multiple power tools at once
Heavy Duty
Yes
It a heavy duty equipment since it is able to run high voltage equipments at any time you need
Framed for Durability
Yes
It is framed for durability
Starting method
Yes
Electric / recoil method
Outlets
Yes
(1)120/240V 30A Twist Lock and (2)120V 20A GFCI Outlet
Portable
Yes
It is portable since it is easily transported
Handle style
Yes
Has a Wheel kit w/ front handle for easy transporting
Warranty
Yes
3 year limited factory warranty
Dimensions (LxWxH, inches)
Yes
36.00 x 24.00 x 24.00 Inches
Included Accessories
Yes
8" Pneumatic Knobby Style Solid Fill Tires, Flip-Up Stow Away Handles, Generator Tool Kit and the Owner's Manual
Low Oil Indicator
Yes
It automatically shuts off indicating low oil
Low oil shutdown
Yes
It shuts down when it senses that the oil is low to protect the engine
Pros
Yes
• It is designed to run on propane / gasoline for maximum convenience • It uses propane which can be stored for many years • Has a super quite muffler which reduces noise during operations • The generator sits on a frame with four-point isolated motor mounts which enables smooth operation. • Has flexible line that allows easy connecting to all tanks of different sizes.
WAS THIS REVIEW HELPFUL TO YOU? IF YES, PLEASE SHARE IT WITH A FRIEND.