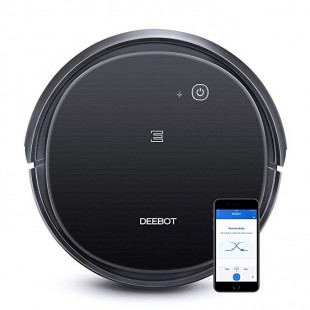 Reasons to buy ECOVACS DEEBOT 500:
Max Power Suction
Up to 110 min Runtime
Ideal for Hard Floors & Carpets
Quiet operation
Check price here....
summary Review:
PERFORMANCE

ECOVACS DEEBOT 500

CLEANS UNDER FURNITURE
COVERAGE
SUCTION POWER
IDEAL FOR HOMES WITH PETS
CLEAN CORNERS AND ALONG WALLS
BATTERY LIFE
CHARGE TIME
MULTI-FLOOR CLEANING
FOR LARGE ROOMS
AUTO DOCKS AND RECHARGE
RESUMES AFTER AUTO RECHARGING
MULTI-ROOM NAVIGATION
AVOIDS STAIRS AND OBJECTS
QUIET OPERATION
BOOSTS SUCTION POWER
HEPA FILTER
SWEEPS AND MOPS
CONCENTRATED CLEANING

USABILITY

ECOVACS DEEBOT 500

HASSLE FREE OPERATION
REMOTE CONTROL WITH MOBILE APP
WIFI CONNECTED
CAN BE SCHEDULED
WORKS WITH ALEXA
ZONE CLEANING

DESIGN

ECOVACS DEEBOT 500

LARGE DEBRIS BIN
LOW PROFILE DESIGN
BOUNDARY STRIPS INCLUDED
BATTERY CAPACITY
DUST BIN CAPACITY
PRODUCT DIMENSIONS
WEIGHT

CONCLUSION
CLEANS UNDER FURNITURE
Yes
Has a height of 3.07 inches tall. Will clean under furniture above its height and might not clean under furniture below its height.
IDEAL FOR HOMES WITH PETS
Yes
Uses auto mode and main brush to lift and suction pet hairs from multiple floor surfaces. Perfect for homes with cats and dogs
CLEAN CORNERS AND ALONG WALLS
Yes
Features 2 side brushes – will lift and collect debris and other unwanted particles hidden in corners and along the walls
BATTERY LIFE
Yes
110 runtime minutes when fully recharged
MULTI-FLOOR CLEANING
Yes
Large wheels easily moves on multiple floors. Climbs over thresholds and cleans laminate, bare floor, laminate and ceramic tile floors.
DEEP CLEANS THICK CARPETS
FOR LARGE ROOMS
Yes
Cleans large rooms within 110 minutes of runtime. Dodges objects on the cleaning path as it randomly navigates.
AUTO DOCKS AND RECHARGE
Yes
Returns to charging dock after a cleaning session or on low battery automatically.
RESUMES AFTER AUTO RECHARGING
MULTI-ROOM NAVIGATION
Yes
Easily clears doorsills and carpets up to 14 mm as it moves from room to room on a single floor. Activate auto mode for effective cleaning.
AVOIDS STAIRS AND OBJECTS
Yes
Anti collision and drop sensors – prevents ECOVACS DEEBOT 500 from knocking objects or falling off stairs. Features anti-scratch finish and durable protective bumpers.
QUIET OPERATION
Yes
65 db noise level - Whisper quiet operation. Lets you follow your TV program or read a book without interruption.
BOOSTS SUCTION POWER
Yes
Max mode power – boost suction power up to 2 times the normal power. Suitable for areas with stubborn stains
HEPA FILTER
Yes
High efficiency filter – gathers and traps almost all the unwanted particles from air. Suitable for asthmatic people.
SWEEPS AND MOPS
Yes
Only sweeps hard floors and low pile carpets
CONCENTRATED CLEANING
Yes
Spot and max cleaning modes for concentrated cleaning. Increases suction power and spends more time cleaning messy spots.
HASSLE FREE OPERATION
Yes
No complicated operation. Simply start, charge or stop this Deebot 500 using remote control, Alexa and Smartphone app from anywhere.
REMOTE CONTROL WITH MOBILE APP
Yes
Ecovacs smart app – built with more than 5 advanced features for remote control. Features scheduling, direct control, accessories status, status updates, cleaning modes etc.
WIFI CONNECTED
Yes
Connects to home Wi-fi – make sure the frequency band is 2.4 GHz
CAN BE SCHEDULED
Yes
Schedules cleanings using Ecovacs home app. Set cleaning preference modes and times in advance. Lets you return to a clean home every day.
WORKS WITH ALEXA
Yes
Compatible with Alexa – allows use of voice commands. Command it to start cleaning and it obeys
LARGE DEBRIS BIN
Yes
520 ml dustbin capacity – cleans longer without emptying
LOW PROFILE DESIGN
Yes
Low profile design of 3.07 inches tall only. Reaches hard to reach areas and leaves them thoroughly clean.
PRODUCT DIMENSIONS
Yes
12.9 x 12.9 x 3.1 inches
WEIGHT
Yes
4.4 pounds – lightweight design
PROS
Yes
• Large wheels that easily climbs over thresholds • Large dust bin capacity – up to 520 ml • Allows clean scheduling • Low level sound suitable for homes • Automatically docks and recharges on low battery • Anti-collision sensors • Boosts suction power on messy areas • Cleans multiple floors – hard and carpet floors • Allows you to add voice on Alexa device • Automatic software update through the Ecovacs mobile app • High efficiency filter system • 3.07 inches tall low profile design • Can be connected to home wi-fi • Easy to remove and empty dust bin
CONS
Yes
• No deep cleaning of thick carpets • Does not map floors • Will not resume cleaning automatically after recharge • Cannot mop floors • Not built with virtual wall feature • Might not be restricted from some areas • Doesn't have a navigation system – randomly moves • Dust bin doesn't automatically empty • No full bin alert
WAS THIS REVIEW HELPFUL TO YOU? IF YES, PLEASE SHARE IT WITH A FRIEND.