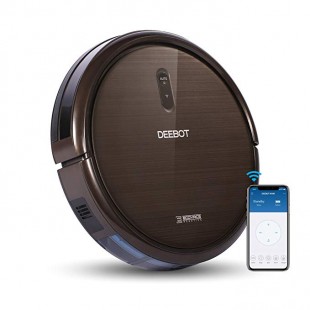 Reasons to buy ECOVACS DEEBOT N79S:
It is very affordable – below $200
The Max Cleaning Mode boosts the unit's power when you need maximum cleaning
Can be controlled with a SmartApp and Voice Control
Performs Concentrated cleaning when in Spot Cleaning mode
See price on Amazon
summary Review:
PERFORMANCE

ECOVACS DEEBOT N79S

CLEANS UNDER FURNITURE
COVERAGE
SUCTION POWER
IDEAL FOR HOMES WITH PETS
CLEAN CORNERS AND ALONG WALLS
BATTERY LIFE
CHARGE TIME
MULTI-FLOOR CLEANING
AUTO DOCKS AND RECHARGE
MULTI-ROOM NAVIGATION
AVOIDS STAIRS AND OBJECTS
QUIET OPERATION
BOOSTS SUCTION POWER
HEPA FILTER
CONCENTRATED CLEANING

USABILITY

ECOVACS DEEBOT N79S

HASSLE FREE OPERATION
REMOTE CONTROL WITH MOBILE APP
WIFI CONNECTED
CAN BE SCHEDULED
WORKS WITH ALEXA
ZONE CLEANING

DESIGN

ECOVACS DEEBOT N79S

LOW PROFILE DESIGN
BATTERY CAPACITY
DUST BIN CAPACITY
PRODUCT DIMENSIONS
WEIGHT

CONCLUSION
CLEANS UNDER FURNITURE
Yes
With a height of 7.9cm - this robot can clean under very low profile furniture. But furniture lower than 7.9cm off the ground might not be covered.
COVERAGE
Yes
1076 Sq.ft - Ideal for small to medium rooms
SUCTION POWER
Yes
1000 Pa – Not too strong but it can vacuum a bare floor and a low pile carpet very well.
IDEAL FOR HOMES WITH PETS
Yes
Opt for the Max Mode Cleaning option to remove pet hair from floors and low pile carpets.
CLEAN CORNERS AND ALONG WALLS
Yes
Features long side brushes that remove dirt from wall edges and corners in your room.
BATTERY LIFE
Yes
120 minutes - This is very good runtime. Most of its competitors run for less than that.
CHARGE TIME
Yes
240 Minutes – That is the average charging time for most robots.
MULTI-FLOOR CLEANING
Yes
It can vacuum both hard floors and low pile carpets. Hard floors it can vacuum include; tiles, laminate, linoleum.
DEEP CLEANS THICK CARPETS
AUTO DOCKS AND RECHARGE
Yes
N79S auto docks and recharges its battery once it runs. It requires minimal oversight or maintenance.
RESUMES AFTER AUTO RECHARGING
MULTI-ROOM NAVIGATION
Yes
Yes it can clean from room to room as long as the rooms are on the same floor. You will get more than what you paid. This is the best robotic vacuum for small apartments.
AVOIDS STAIRS AND OBJECTS
Yes
Features strong sensors which detect stairs and obstacles. So it won't fall over stairs or bump into furniture.
QUIET OPERATION
Yes
65 db – operates quietly, you won't get interrupted when the device is under operation.
BOOSTS SUCTION POWER
Yes
With the assistance of the Max Mode Cleaning function, the unit will double its vacuuming power by 2X. You can opt for the Max Mode when the vacuum reaches areas with highly concentrated dirt.
HEPA FILTER
Yes
It has very fine filters that capture very tiny particles and allergens from air. So it keeps both your floors and air cleaner.
CONCENTRATED CLEANING
Yes
Choose the SPOT MODE for targeted cleaning - this will help you clean specific areas with high concentration of dust thoroughly.
HASSLE FREE OPERATION
Yes
Can be controlled with a Smart Phone App or Remote Control. Create cleaning schedules remotely. You can as well sync it with Amazon Alexa to enable voice control functionality.
REMOTE CONTROL WITH MOBILE APP
Yes
Install the ECOVACS mobile application on your Smartphone to get control on this robot from anywhere.
WIFI CONNECTED
Yes
Can be connected on your home WIFI.
CAN BE SCHEDULED
Yes
Create a vacuuming schedule for a Week. The robot will always clean on days its commanded to do so.
WORKS WITH ALEXA
Yes
Talk to Alexa to turn on ECOVAS N79S as you watch your favourite TV program. Hassle free operation.
ZONE CLEANING
Yes
With the Single Room Cleaning Mode, this unit can robot can stay in one room. That is why it does not come with a Virtual Wall. That room will be a marked ZONE.
LOW PROFILE DESIGN
Yes
7.9 cm – low profile design. Can clean under most furniture in your house.
BATTERY CAPACITY
Yes
2600 mAh - Good battery capacity
DUST BIN CAPACITY
Yes
450 ml - Quite small as compared to others. You will need to empty the bin all the time so as to maintain the unit's performance.
PROS
Yes
• Affordable – below $200 • Good battery life • Alexa enabled • Can be controlled with a Smartphone App • You can create vacuuming schedule • Features 4 cleaning modes and these include; Auto, Spot, Edge and Single Room Mode • Doubles its suction power
CONS
Yes
• Small dustbin • Does not Sweep and mop at the same time
WAS THIS REVIEW HELPFUL TO YOU? IF YES, PLEASE SHARE IT WITH A FRIEND.