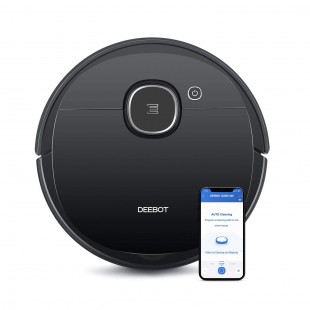 Reasons to buy ECOVACS DEEBOT Ozmo 920:
OZMO Mopping & Carpet Detection
Low profile design
Optimized Suction Power
Uses Smart Navi feature to Map & Navigate your home
Check price here....
summary Review:
PERFORMANCE

ECOVACS DEEBOT Ozmo 920

CLEANS UNDER FURNITURE
COVERAGE
SUCTION POWER
IDEAL FOR HOMES WITH PETS
CLEAN CORNERS AND ALONG WALLS
BATTERY LIFE
CHARGE TIME
MULTI-FLOOR CLEANING
FOR LARGE ROOMS
AUTO DOCKS AND RECHARGE
RESUMES AFTER AUTO RECHARGING
MULTI-ROOM NAVIGATION
AVOIDS STAIRS AND OBJECTS
QUIET OPERATION
BOOSTS SUCTION POWER
HEPA FILTER
MAPS & PLANS ROUTE
SWEEPS AND MOPS
CONCENTRATED CLEANING

USABILITY

ECOVACS DEEBOT Ozmo 920

HASSLE FREE OPERATION
REMOTE CONTROL WITH MOBILE APP
WIFI CONNECTED
CAN BE SCHEDULED
WORKS WITH ALEXA
ZONE CLEANING

DESIGN

ECOVACS DEEBOT Ozmo 920

LARGE DEBRIS BIN
LOW PROFILE DESIGN
BATTERY CAPACITY
DUST BIN CAPACITY
FULL BIN INDICATOR
VIRTUAL WALL INCLUDED
PRODUCT DIMENSIONS
WEIGHT

CONCLUSION
CLEANS UNDER FURNITURE
Yes
Measures 3.66 inches tall only – can clean only under sofas, tables, beds and kickboards above its height.
SUCTION POWER
Yes
1500 PA suction power – powerful enough to vacuum unwanted particles on floors and low pile carpets.
IDEAL FOR HOMES WITH PETS
Yes
Normal and max suction ideal for homes with pets. Lifts up pet dander from their hiding places quickly.
CLEAN CORNERS AND ALONG WALLS
Yes
4 side brushes to clean corners and along walls. Enter into deep corners and tight edges to eliminate debris hiding in them.
BATTERY LIFE
Yes
Approximately up to 110 minutes of runtime when battery was fully charged.
MULTI-FLOOR CLEANING
Yes
Navigates smoothly to clean multiple floors. Climbs up carpets and hard floors on vacuum mode. Features carpet detection that automatically avoids carpets when it's mopping.
DEEP CLEANS THICK CARPETS
FOR LARGE ROOMS
Yes
Continuous cleaning ability suitable for large rooms. Cleans for an entire 110 minutes and resumes cleaning after recharge if session was not completed.
AUTO DOCKS AND RECHARGE
Yes
Docks automatically and recharges when battery is low or cleaning successfully completed
RESUMES AFTER AUTO RECHARGING
Yes
Automatically resumes cleaning to where it had stopped before auto recharge.
MULTI-ROOM NAVIGATION
Yes
Powerful mobility to move Deebot from room to room. Easily crosses doorsills up to 20 mm without any problem.
AVOIDS STAIRS AND OBJECTS
Yes
Obstacle detection and anti drop – carefully cleans around obstacles on the floor and turns away from stairs to prevent falling off.
QUIET OPERATION
Yes
Operates at low sound speed – wont interrupt you peaceful time
BOOSTS SUCTION POWER
Yes
2 levels of suction – normal and max suction. Boosts from normal to max suction when more power is required in messy places and carpets.
HEPA FILTER
Yes
2 high efficiency filtration systems – eliminates up to 99.26% of bacteria and other airborne particles from the air and floors.
MAPS & PLANS ROUTE
Yes
Features multi floor mapping – the unit saves up to 3 different maps and will recognize the saved area when cleaning. Maps your entire floor plan to the Smartphone using laser
SWEEPS AND MOPS
Yes
Vacuums and mops simultaneously
CONCENTRATED CLEANING
Yes
Max mode for concentrated cleaning – increases the suction power to thoroughly deal with stains and messes
HASSLE FREE OPERATION
Yes
Effortless operation – you can stop, start, pause, select modes or charge this unit through the Ecovacs app or Amazon Alexa conveniently. Just click on any setting or option.
REMOTE CONTROL WITH MOBILE APP
Yes
Ecovacs smart app for remote control. It allows you view accessories status, schedule cleaning, select cleaning modes, check status updates etc from anywhere. First download the app onto your Smartphone or tablet.
CAN BE SCHEDULED
Yes
Cleaning can be preset – use the Ecovacs smart app to schedule cleaning for up to 7 times in a week. Lets you return to a clean home all the time.
WORKS WITH ALEXA
Yes
Accepts voice command through Alexa and Google assistant
ZONE CLEANING
Yes
ECOVACS interactive map provides you with the option to select where you want to clean. Makes use of unlimited virtual boundaries and area mode to clean specific areas and stay away from others.
LARGE DEBRIS BIN
Yes
450 ml – will not require regular emptying
LOW PROFILE DESIGN
Yes
3.66 inches high low profile design – easily reaches under places above its height to clean.
DUST BIN CAPACITY
Yes
430 ml dust bin capacity
VIRTUAL WALL INCLUDED
Yes
Virtual wall boundaries – draws invisible lines to restrict the unit from accessing some areas restricted to it.
PRODUCT DIMENSIONS
Yes
13.7 x 13.7 x 3.7 inches
PROS
Yes
• Automatically resumes cleaning after recharge • Easily crossed doorsills up to 20 mm • Easily schedules cleanings • Features 3 different maps • Works with Alexa and Google assistant • Includes virtual wall boundaries • Detects obstacles and avoids stairs • Simultaneously mops and vacuums floors • Low profile design • 2 high efficiency filters
CONS
Yes
• Not entirely silent • Might not empty on its own
WAS THIS REVIEW HELPFUL TO YOU? IF YES, PLEASE SHARE IT WITH A FRIEND.