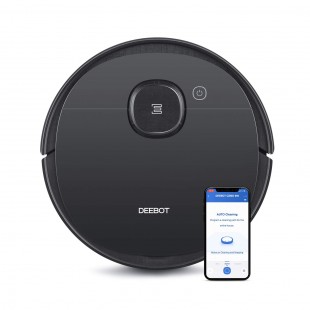 Reasons to buy ECOVACS DEEBOT Ozmo 950:
2-in-1 Vacuuming & Mopping Robot
3 Levels of Suction Power
Ideal for Hard Floors & Carpets
Smart Navi 3.0 Systematic
Check price here....
summary Review:
PERFORMANCE

ECOVACS DEEBOT Ozmo 950

CLEANS UNDER FURNITURE
COVERAGE
SUCTION POWER
IDEAL FOR HOMES WITH PETS
CLEAN CORNERS AND ALONG WALLS
BATTERY LIFE
CHARGE TIME
MULTI-FLOOR CLEANING
FOR LARGE ROOMS
AUTO DOCKS AND RECHARGE
RESUMES AFTER AUTO RECHARGING
MULTI-ROOM NAVIGATION
AVOIDS STAIRS AND OBJECTS
QUIET OPERATION
BOOSTS SUCTION POWER
HEPA FILTER
MAPS & PLANS ROUTE
SWEEPS AND MOPS
CONCENTRATED CLEANING

USABILITY

ECOVACS DEEBOT Ozmo 950

HASSLE FREE OPERATION
REMOTE CONTROL WITH MOBILE APP
CAN BE SCHEDULED
WORKS WITH ALEXA
ZONE CLEANING

DESIGN

ECOVACS DEEBOT Ozmo 950

LARGE DEBRIS BIN
LOW PROFILE DESIGN
BATTERY CAPACITY
DUST BIN CAPACITY
FULL BIN INDICATOR
VIRTUAL WALL INCLUDED
PRODUCT DIMENSIONS
WEIGHT

CONCLUSION
CLEANS UNDER FURNITURE
Yes
3.66 inches tall – easily enters below furniture above its height to clean. Might not enter under furniture below 3.66 inches tall.
SUCTION POWER
Yes
1200 Pa suction power with an air power velocity of 24CFM. Tackles all kinds of dirt and dust from multiple floors.
IDEAL FOR HOMES WITH PETS
Yes
High efficiency filter and strong suction suitable for homes with pets. Lifts up all kinds of pet dander from multiple floors.
CLEAN CORNERS AND ALONG WALLS
Yes
Features side brushes – designed to reach into hard to reach areas like corners and along the walls. Draws out the dirt into debris bin.
BATTERY LIFE
Yes
Over 3 hours of run time – suitable for larger area cleaning.
MULTI-FLOOR CLEANING
Yes
Cleans all kinds of floors including hard floors and carpets on vacuum mode. When moping, it uses a carpet detection to automatically stay away from carpets.
DEEP CLEANS THICK CARPETS
FOR LARGE ROOMS
Yes
Long runtime and continuous run time suitable for large rooms. Smartly navigates through large rooms without getting stuck on objects.
AUTO DOCKS AND RECHARGE
Yes
On low battery, DEEBOT Ozmo 950 returns to charging dock automatically. Starts charging for next session or to complete cleaning.
RESUMES AFTER AUTO RECHARGING
Yes
Auto return after recharge – heads straight to where it had ended cleaning to finish the job after recharge.
MULTI-ROOM NAVIGATION
Yes
Features a strong mobility function – crosses through doorsills with a height of 20 mm easily as it moves from room to room.
AVOIDS STAIRS AND OBJECTS
Yes
Anti drop and obstacle sensors – avoids knocking objects on the floor, cleans around and beneath them and turns away from stairs.
QUIET OPERATION
Yes
66 db noise level – makes mild noise that wont disturb your peace whether awake or sleeping
BOOSTS SUCTION POWER
Yes
Features 3 levels of suction power – normal, max and max plus. It will increase suction power from normal to max plus depending on desired cleaning need.
HEPA FILTER
Yes
Built with 2 high efficiency filters – collects and traps up to 99.26% of bacteria from floors. Keep home fresh and clean for everyone.
MAPS & PLANS ROUTE
Yes
Plans route using Smart Navi 3.0 – allows DEEBOT Ozmo 950 navigate efficiently and map a floor plan to your Smartphone. Uses the laser technology to plan routes.
CONCENTRATED CLEANING
Yes
Max and max plus suction power deliver concentrated cleaning ability. Digs into messes and lifts them up into the dust bin.
HASSLE FREE OPERATION
Yes
Simple touch or click control unit. You can activate settings using the unit control panel. Or control it from anywhere using the home app.
REMOTE CONTROL WITH MOBILE APP
Yes
Ecovacs home app – after download onto your Smartphone, adjust the water level of mopping, view status, start, stop, schedule, check accessories etc using the app from anywhere.
CAN BE SCHEDULED
Yes
Can be scheduled on a daily cleaning assignment. Use the Ecovacs home app to select preferred cleaning mode and times for cleaning.
WORKS WITH ALEXA
Yes
Voice control using Alexa
ZONE CLEANING
Yes
Zone cleaning through interactive map. Set up which areas to be cleaned and the robot will be restricted to that area alone.
LARGE DEBRIS BIN
Yes
430 ml – can clean an entire small room without being emptied
LOW PROFILE DESIGN
Yes
Only 3.66 inches low profile design. Enters into hard to reach areas easily.
BATTERY CAPACITY
Yes
5200 mAh – powerful battery capacity that delivers about 3 hours of run time
VIRTUAL WALL INCLUDED
Yes
Unlimited virtual wall boundaries – set up virtual laser walls to restrict the robot
PRODUCT DIMENSIONS
Yes
13.7 x 13.7 x 3.7 inches
PROS
Yes
• Saves up to 3 cleaning maps • Three levels of suctions • Carpet detection ability to avoid mopping carpets • Schedules cleanings • Automatically docks and recharges • Resumes automatically after charging • Path planning • 3 hours runtime
CONS
Yes
• Cannot deep clean thick carpets
WAS THIS REVIEW HELPFUL TO YOU? IF YES, PLEASE SHARE IT WITH A FRIEND.