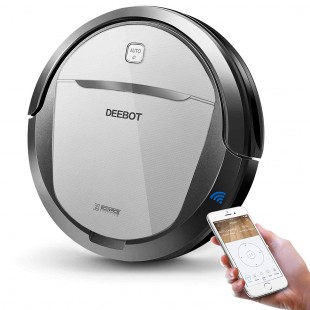 Reasons to buy ECOVACS Deebot M80 Pro:
Smart motion navigation
Can be controlled with a SmartPhone App
Affordable
Compatible with Amazon Alexa
See price on Amazon
summary Review:
PERFORMANCE

ECOVACS Deebot M80 Pro

CLEANS UNDER FURNITURE
COVERAGE
SUCTION POWER
IDEAL FOR HOMES WITH PETS
CLEAN CORNERS AND ALONG WALLS
BATTERY LIFE
CHARGE TIME
MULTI-FLOOR CLEANING
DEEP CLEANS THICK CARPETS
FOR LARGE ROOMS
AUTO DOCKS AND RECHARGE
MULTI-ROOM NAVIGATION
AVOIDS STAIRS AND OBJECTS
QUIET OPERATION
HEPA FILTER
MAPS & PLANS ROUTE
SWEEPS AND MOPS
CONCENTRATED CLEANING

USABILITY

ECOVACS Deebot M80 Pro

HASSLE FREE OPERATION
REMOTE CONTROL WITH MOBILE APP
WIFI CONNECTED
CAN BE SCHEDULED
WORKS WITH ALEXA

DESIGN

ECOVACS Deebot M80 Pro

LOW PROFILE DESIGN
BATTERY CAPACITY
PRODUCT DIMENSIONS
WEIGHT

CONCLUSION
CLEANS UNDER FURNITURE
Yes
Can clean under furniture below 3 inches but will not clean under furniture above 3 inches
SUCTION POWER
Yes
500 Pa – Very poor suction power
IDEAL FOR HOMES WITH PETS
Yes
Has a powerful Helix roll brush that removes hair and other debris making it ideal for homes with pets
CLEAN CORNERS AND ALONG WALLS
Yes
Has an Edge Mode technology that cleans hard to clean corners and along the walls
BATTERY LIFE
Yes
110 minutes battery life with an auto recharge when battery low
CHARGE TIME
Yes
Approximately 240 minutes of full charge
MULTI-FLOOR CLEANING
Yes
Can clean across hardwood, marble tile, laminate, ceramic tile, vinyl and linoleum with its durable dual nylon fiber brushes
DEEP CLEANS THICK CARPETS
Yes
Features a Helix brush roll that lifts, separates carpet fibres and pull out hair, string and other debris to provide deep reach clean
FOR LARGE ROOMS
Yes
Long runtime of 110 minutes enough to clean large rooms before recharge
AUTO DOCKS AND RECHARGE
Yes
Will automatically dock and recharge after 110 minutes of runtime
RESUMES AFTER AUTO RECHARGING
MULTI-ROOM NAVIGATION
Yes
Yes, features a COVACS Smart Motion navigation technology that makes it move from room to room
AVOIDS STAIRS AND OBJECTS
Yes
The anti fall and anti collision sensors that prevents it from falling off stairs and bumping into objects
QUIET OPERATION
Yes
56 db – provides quiet operation
HEPA FILTER
Yes
Built with 2 high efficiency filter to boost cleaning removing anti-allergen and up to 99.97% of particles with a size of 0.3 µm
MAPS & PLANS ROUTE
Yes
Has COVACS smart motion navigation technology that flawlessly adapts and safely navigates your house for complete clean.
SWEEPS AND MOPS
Yes
5 stage customizable cleaning process sweeps, vacuums and mops the floor and carpets.
CONCENTRATED CLEANING
Yes
Various cleaning modes with auto mode – regular cleaning, the Spot Mode- pays attention to dirtier spots and intensive mode – extra thorough cleaning.
HASSLE FREE OPERATION
Yes
You can use voice commands to start cleaning, stop and charge for hassle free operation.
REMOTE CONTROL WITH MOBILE APP
Yes
Apple and Android compatible Ecovas app will schedule cleaning, monitors vacuum's status, battery life and location, selects preferred cleaning mode and receive alerts for accessories change. Includes a single remote controller
CAN BE SCHEDULED
Yes
Can be scheduled to daily cleaning program using Ecovacs app
WORKS WITH ALEXA
Yes
Alexa compatible with voice command to ask the remote start cleaning, stop and begin charge
LOW PROFILE DESIGN
Yes
Low profile design with height of 3 inches
BATTERY CAPACITY
Yes
500ml – will accommodate 0.5 litre of debris before emptying
PRODUCT DIMENSIONS
Yes
13.9 x 13.9 x 3.3 inches
PROS
Yes
• Daily cleaning schedule • Good battery capacity • Dual side brush – 1 side brush for cleaning corners and side walls • WIFI operation with mobile app • Alexa compatible • Comprehensive anti drop and anti collision sensors • 4 cleaning modes • Cleans hard to reach areas and corners effortlessly • Smart motion navigation system • Mops and sweeps floors and carpets • Cleans multi floor types • Long run time • Google assistant support • Bigger dust bin capacity • Customizable features • Very low level noise produced • Easy to access dust bin
CONS
Yes
• Low Suction power of 500 Pa • Doesn't have a mapping or path planning feature • No virtual walls – robot not restricted from accessing some areas • Doesn't have a full bin indicator • Long charging time • Isn't built with a LCD displayer • Will not automatically resume cleaning after full charge • Cannot clean high pile carpets or rugs
WAS THIS REVIEW HELPFUL TO YOU? IF YES, PLEASE SHARE IT WITH A FRIEND.