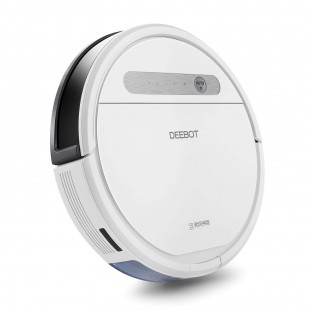 Reasons to buy ECOVACS Deebot Ozmo 610:
Can be controlled with a smart phone – WIFI connectivity
Can be scheduled for specific cleaning time
Doesn't miss cleaning spots – systematic cleaning
High efficiency filter
See price on Amazon
summary Review:
PERFORMANCE

ECOVACS Deebot Ozmo 610

CLEANS UNDER FURNITURE
COVERAGE
SUCTION POWER
IDEAL FOR HOMES WITH PETS
CLEAN CORNERS AND ALONG WALLS
BATTERY LIFE
CHARGE TIME
MULTI-FLOOR CLEANING
AUTO DOCKS AND RECHARGE
MULTI-ROOM NAVIGATION
AVOIDS STAIRS AND OBJECTS
QUIET OPERATION
BOOSTS SUCTION POWER
HEPA FILTER
MAPS & PLANS ROUTE
SWEEPS AND MOPS
CONCENTRATED CLEANING

USABILITY

ECOVACS Deebot Ozmo 610

HASSLE FREE OPERATION
REMOTE CONTROL WITH MOBILE APP
WIFI CONNECTED
CAN BE SCHEDULED

DESIGN

ECOVACS Deebot Ozmo 610

LOW PROFILE DESIGN
BATTERY CAPACITY
DUST BIN CAPACITY
PRODUCT DIMENSIONS
WEIGHT

CONCLUSION
CLEANS UNDER FURNITURE
Yes
With a height of 7.9cm, this robot is able to clean under furniture. However furniture lower than 7.9cm might not be possible
COVERAGE
Yes
1292 square ft – makes it best for small to medium sized rooms or apartments
IDEAL FOR HOMES WITH PETS
Yes
The direct suction inlet is constructed to collect hairs without tangling – perfect for homes with pets
CLEAN CORNERS AND ALONG WALLS
Yes
Incorporated with a side brush that sweeps all dirt and dust from corners and along the walls transferring them to the dustbin
BATTERY LIFE
Yes
110 minutes runtime – great runtime that makes it better than some competitors
CHARGE TIME
Yes
240 minutes – most robots fully charge within this time frame
MULTI-FLOOR CLEANING
Yes
Can vacuum and mop various floor types - hardwood, laminate, tiles and linoleum and clean low pile carpets
DEEP CLEANS THICK CARPETS
AUTO DOCKS AND RECHARGE
Yes
Once the battery is low, it returns automatically to the docking station and recharges. No human effort needed
RESUMES AFTER AUTO RECHARGING
MULTI-ROOM NAVIGATION
Yes
Yes, has ability to move from room to room cleaning especially on the same floor. Suitable for small roomed apartments
AVOIDS STAIRS AND OBJECTS
Yes
Features stair safety and obstacles detection technology with anti-drop sensors with soft cushion. This helps clean around stairs without falling off or avoids obstacles
QUIET OPERATION
Yes
65 dB – provides quite operation so you don't get interrupted as you rest
BOOSTS SUCTION POWER
Yes
The max mode individually helps to adapt to the surface being cleaned. Utilizes the direct suction feature that powerfully sucks up animal hairs and other particles in highly concentrated area
HEPA FILTER
Yes
Has a high efficiency filter that minimizes airborne triggers that are associated with asthma and allergies
MAPS & PLANS ROUTE
Yes
Includes a smart cleaning path that lets this robot follow a planned cleaning route through the entire house.
SWEEPS AND MOPS
Yes
Will vacuum and mop using the sensor system that automatically switches to mopping mode
CONCENTRATED CLEANING
Yes
Select the spot cleaning mode for concentrated cleaning – it will intensively spot clean areas with high concentration of particles
HASSLE FREE OPERATION
Yes
The ECOVACS app lets you smoothly schedule the cleaning times select cleaning modes and monitor the status of cleaning from anywhere.
REMOTE CONTROL WITH MOBILE APP
Yes
Yes through the ECOVACS app. Install it on your Smartphone to have total control of the robot from wherever you are
WIFI CONNECTED
Yes
Can be connected to WIFI
CAN BE SCHEDULED
Yes
Cleanings can be scheduled in advance. Set a regular time and the robot will obey
LOW PROFILE DESIGN
Yes
7.9 cm low profile design – can clean below most furniture
BATTERY CAPACITY
Yes
3000 mAh – good quality battery capacity. Better than many robots
DUST BIN CAPACITY
Yes
450 ml – this requires often emptying so as to boost performance
PROS
Yes
• Can be controlled with a smart phone – WIFI connectivity • Improved corner cleaning • Built with a wet mopping feature • Powerful 3000 mAh battery – lasts longer • Can be scheduled for specific cleaning time • Electronically controlled water pump • Interchangeable suction inlet • Doest miss cleaning spots – systematic cleaning • Increased suction power – Max mode • Main brush can be removed – V shaped for effective lifting • Provides time saving cleaning • Powerful carpet cleaning • Independent automatic charging • Avoids stairs and fall offs • High efficiency filter
CONS
Yes
• Excludes mapping feature • Doesn't have virtual wall function • The Amazon Alexa not supported • Makes some operation noise • Without a Hepa filter • Small dustbin capacity – requires constant emptying • Cant clean thick carpets • Features no LCD display • No Google assistant support • No zone cleaning • Without a full bin indicator
WAS THIS REVIEW HELPFUL TO YOU? IF YES, PLEASE SHARE IT WITH A FRIEND.