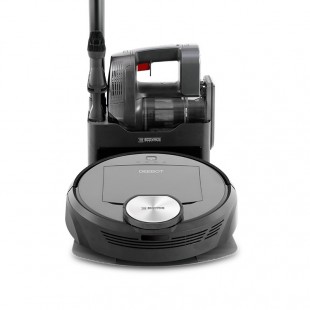 Reasons to buy ECOVACS Deebot R98:
2 in 1 robot vacuum. It combines a cordless canister vacuum with a multi-functional robot vacuum
Low profile design
Empties its self
Create cleaning map – so it does not clean randomly
Check price here....
summary Review:
PERFORMANCE

ECOVACS Deebot R98

CLEANS UNDER FURNITURE
COVERAGE
SUCTION POWER
IDEAL FOR HOMES WITH PETS
CLEAN CORNERS AND ALONG WALLS
BATTERY LIFE
CHARGE TIME
MULTI-FLOOR CLEANING
FOR LARGE ROOMS
AUTO DOCKS AND RECHARGE
RESUMES AFTER AUTO RECHARGING
MULTI-ROOM NAVIGATION
AVOIDS STAIRS AND OBJECTS
QUIET OPERATION
MAPS & PLANS ROUTE
SWEEPS AND MOPS
CONCENTRATED CLEANING
EMPTIES ON ITS OWN

USABILITY

ECOVACS Deebot R98

HASSLE FREE OPERATION
REMOTE CONTROL WITH MOBILE APP
WIFI CONNECTED
CAN BE SCHEDULED
WORKS WITH ALEXA
ZONE CLEANING

DESIGN

ECOVACS Deebot R98

LOW PROFILE DESIGN
BATTERY CAPACITY
DUST BIN CAPACITY
VIRTUAL WALL INCLUDED
PRODUCT DIMENSIONS
WEIGHT

CONCLUSION
CLEANS UNDER FURNITURE
Yes
Its height is 10.2 cm, low profile design - it can go under most furniture in your room or apartment.
COVERAGE
Yes
1615 Sq.ft - Ideal for medium to large rooms
SUCTION POWER
Yes
500 pa – very poor suction power for such an expensive robotic vacuum. I'm quite disappointed
IDEAL FOR HOMES WITH PETS
Yes
With its 5-stage cleaning system which vacuums, mops and dries, no pet hair will be left on the floor or carpet.
CLEAN CORNERS AND ALONG WALLS
Yes
The two side long tangle free brushes will clean both wall edges and corners effectively.
BATTERY LIFE
Yes
90 minutes – not so bad but still it is not the best basing on its price.
CHARGE TIME
Yes
240 minutes – standard charging time for most robotic vacuums
MULTI-FLOOR CLEANING
Yes
Can clean all types of hard floors and medium pile carpets
DEEP CLEANS THICK CARPETS
FOR LARGE ROOMS
Yes
Covers wide areas, 90 minutes battery run time; it empties its self, creates a map and plans its routes systematically.
AUTO DOCKS AND RECHARGE
Yes
After the 90 minutes runtime, the robot will auto dock to recharge the battery for 240 minutes.
RESUMES AFTER AUTO RECHARGING
Yes
After recharging, the robot will go back to where it cleaned last - follow its cleaning map and go ahead to complete the tusk.
MULTI-ROOM NAVIGATION
Yes
It plans its routes very well and moves back-and-fourth while cleaning to ensure no dust is left behind. So it will clean from room to room without getting confused.
AVOIDS STAIRS AND OBJECTS
Yes
With its Obstacle Detection Technology, DEEBOT R98 will avoid stairs and objects on the floor.
QUIET OPERATION
Yes
69 db – not loud but it makes some little noise.
MAPS & PLANS ROUTE
Yes
Using a Smart Navigation Technology, DEEBOT scans the entire floor and plan back-and-forth cleaning path.
SWEEPS AND MOPS
Yes
This is a multipurpose robotic vacuum cleaner. It can sweep, mop and dry the floor in just a single pass.
CONCENTRATED CLEANING
Yes
Select the Spot Mode when spot cleaning is required. The robot will spin over a specific area until it is totally clean.
EMPTIES ON ITS OWN
Yes
When the dustbin is full, the robot dock its self, empty the dustbin and auto resume with its cleaning tusk – starting from where it stopped.
HASSLE FREE OPERATION
Yes
You can operate the device with a Smartphone App, Amazon Alexa and Google Assistant.
REMOTE CONTROL WITH MOBILE APP
Yes
Use your Smart Phone to define which areas the robot should clean or not. Setting boundaries has become easier.
WIFI CONNECTED
Yes
Wifi Enabled – that is how it manages to connect with Amazon Alexa and the Mobile App.
CAN BE SCHEDULED
Yes
Create cleaning schedules for some good days.
WORKS WITH ALEXA
Yes
After setting cleaning schedule, you can monitor the performance or set cleaning modes from anywhere at any time.
ZONE CLEANING
Yes
When you select the Area cleaning mode, the robot will clean a designated area which we call a ZONE.
LOW PROFILE DESIGN
Yes
Its height is 10.2 cm – not too low but it can still clean under furniture, beds and sofas that are raised above 10.2 cm
BATTERY CAPACITY
Yes
2850 mAh - Quite a strong battery
DUST BIN CAPACITY
Yes
400 ml – not too big. But it can self empty its self. So no worries
VIRTUAL WALL INCLUDED
Yes
Comes with a virtual wall which you can use to stop the robot from entering a specific room.
PRODUCT DIMENSIONS
Yes
5.49 x 1.58 x 5.49 in
PROS
Yes
• Self empties its self • Auto docks for recharging • Auto resumes with cleaning after recharging • Maps and plans its routes • Ideal for Large Rooms • Cleans all floor types and medium pile carpets • Can be controlled with a smart phone • Alexa compatible • Wifi Enabled
CONS
Yes
• Weak suction power • Small dustbin • It does not have a HEPA Filter
WAS THIS REVIEW HELPFUL TO YOU? IF YES, PLEASE SHARE IT WITH A FRIEND.