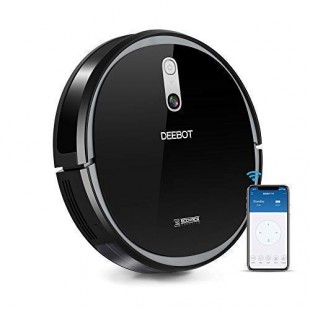 Reasons to buy Ecovacs Deebot 711:
Can be set for a specific time cleaning
Edge and spot mode cleaning system
Optimized Serpentine cleaning path
Hard floors and carpet compatible
See price on Amazon
summary Review:
PERFORMANCE

Ecovacs Deebot 711

CLEANS UNDER FURNITURE
COVERAGE
SUCTION POWER
IDEAL FOR HOMES WITH PETS
CLEAN CORNERS AND ALONG WALLS
BATTERY LIFE
CHARGE TIME
MULTI-FLOOR CLEANING
FOR LARGE ROOMS
AUTO DOCKS AND RECHARGE
MULTI-ROOM NAVIGATION
AVOIDS STAIRS AND OBJECTS
QUIET OPERATION
BOOSTS SUCTION POWER
HEPA FILTER
MAPS & PLANS ROUTE
SWEEPS AND MOPS
CONCENTRATED CLEANING

USABILITY

Ecovacs Deebot 711

HASSLE FREE OPERATION
REMOTE CONTROL WITH MOBILE APP
WIFI CONNECTED
CAN BE SCHEDULED
WORKS WITH ALEXA

DESIGN

Ecovacs Deebot 711

LARGE DEBRIS BIN
LOW PROFILE DESIGN
BATTERY CAPACITY
DUST BIN CAPACITY
PRODUCT DIMENSIONS
WEIGHT

CONCLUSION
CLEANS UNDER FURNITURE
Yes
At 13.90 inches tall, Deebot 711 will only clean under the furniture that is raised tall above its total height.
COVERAGE
Yes
Total coverage area of 1100 square feet in a single cycle – great choice for small and medium sized apartments
SUCTION POWER
Yes
Maximum suction power of 1000 Pa – great for cleaning areas with high levels of messes.
IDEAL FOR HOMES WITH PETS
Yes
Features a 3 stage cleaning system that is ideal for homes with pets. This system effortlessly gathers every pet hair from floors and carpets into the debris bin.
CLEAN CORNERS AND ALONG WALLS
Yes
Comes with an edge and spot cleaning system – specializes using the side brush to clean corners and along walls.
BATTERY LIFE
Yes
110 minutes of runtime – a longer run time to deal with wider home spaces effectively
CHARGE TIME
Yes
270 minutes of charge time – slightly longer than robots with 240 or less minutes of recharge
MULTI-FLOOR CLEANING
Yes
Deebot 711 is compatible with hard floors like laminate, tiles, linoleum and hardwood and low pile carpets.
DEEP CLEANS THICK CARPETS
FOR LARGE ROOMS
Yes
Can move through large rooms using its coverage of 1100 square feet.
AUTO DOCKS AND RECHARGE
Yes
Deebot 711 features an auto dock and recharge ability so it's always prepared for the next cleaning task.
RESUMES AFTER AUTO RECHARGING
MULTI-ROOM NAVIGATION
Yes
Will move from room to room on a single floor using the Smart Navigation 2.0 system serpentine style. Uses this to map your home and then build a suitable systematic cleaning path. It will not clean the same place two times or miss on a spot.
AVOIDS STAIRS AND OBJECTS
Yes
Obstacle detection and anti drop sensors to avoid stairs and bumping into objects. Automatically changes direction from stairs and objects while cleaning around and under objects.
QUIET OPERATION
Yes
64 db – almost quiet vacuum robot
BOOSTS SUCTION POWER
Yes
Uses the max mode to boost suction power up to 2 times to a maximum of 1000 Pa on areas with high debris concentration.
HEPA FILTER
Yes
Two high efficiency air filter – categorize in removing any particles and allergens from the air in your home.
MAPS & PLANS ROUTE
Yes
Maps the entire home using the Smart Navi 2.0 technology.
SWEEPS AND MOPS
Yes
Only sweeps floors and vacuums carpets
CONCENTRATED CLEANING
Yes
Features the max cleaning mode to clean thoroughly areas concentrated with messes. It increases the suction power and places more effort on such areas.
HASSLE FREE OPERATION
Yes
Built with an auto cleaning mode for hassle free operation. Just single click on the mode and it will start cleaning as you relax or go about other errands.
REMOTE CONTROL WITH MOBILE APP
Yes
Features Ecovacs Smart App along with more than 5 advanced features like scheduling, status updates, direct control, cleaning modes and accessories among others.
CAN BE SCHEDULED
Yes
Deebot 711 can be scheduled to clean at a particular time. Use the Home App to schedule daily cleanings and enjoy coming back to a clean home.
WORKS WITH ALEXA
Yes
Compatible with Amazon Alexa – will recharge, start and stop cleaning on your command
LARGE DEBRIS BIN
Yes
Takes in large debris of up to 300 ml capacity only.
LOW PROFILE DESIGN
Yes
13.90 inches low profile design – taller than most robots and can only enter under furniture higher than its total height.
BATTERY CAPACITY
Yes
Li-ion 2600 mAH battery capacity – able to provide 110 minutes of run time on a full charge
DUST BIN CAPACITY
Yes
300 ml dust bin capacity – empty often to maintain effectiveness.
PRODUCT DIMENSIONS
Yes
13.9 x 13.9 x 3.3 inches
PROS
Yes
• Can be set for a specific time cleaning • Edge and spot mode cleaning system • Optimized Serpentine cleaning path • Hard floors and carpet compatible • High efficiency air filter system
CONS
Yes
• No virtual walls included
WAS THIS REVIEW HELPFUL TO YOU? IF YES, PLEASE SHARE IT WITH A FRIEND.