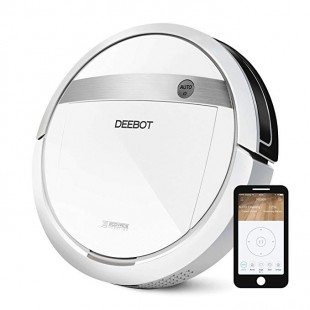 Reasons to buy Ecovacs Deebot M88:
Sweeps and mops using advanced wet/dry mop function
Effective Hepa Filter
Powerful battery capacity – 3000 mAh
Docks and charges automatically
Check price here....
summary Review:
PERFORMANCE

Ecovacs Deebot M88

CLEANS UNDER FURNITURE
COVERAGE
SUCTION POWER
IDEAL FOR HOMES WITH PETS
CLEAN CORNERS AND ALONG WALLS
BATTERY LIFE
CHARGE TIME
MULTI-FLOOR CLEANING
FOR LARGE ROOMS
AUTO DOCKS AND RECHARGE
MULTI-ROOM NAVIGATION
AVOIDS STAIRS AND OBJECTS
QUIET OPERATION
BOOSTS SUCTION POWER
HEPA FILTER
MAPS & PLANS ROUTE
SWEEPS AND MOPS
CONCENTRATED CLEANING

USABILITY

Ecovacs Deebot M88

HASSLE FREE OPERATION
REMOTE CONTROL WITH MOBILE APP
WIFI CONNECTED
CAN BE SCHEDULED
WORKS WITH ALEXA
ZONE CLEANING

DESIGN

Ecovacs Deebot M88

LARGE DEBRIS BIN
LOW PROFILE DESIGN
BATTERY CAPACITY
DUST BIN CAPACITY
PRODUCT DIMENSIONS
WEIGHT

CONCLUSION
CLEANS UNDER FURNITURE
Yes
7.7 cm tall above the ground – low profile deign that lets it clean under most furniture above 7.7 cm and might not enter under those below 7.7 cm tall.
COVERAGE
Yes
120 square meters of thorough cleaning coverage. Perfect choice for small and medium sized homes.
IDEAL FOR HOMES WITH PETS
Yes
Features two interchangeable suction options that you can easily switch to. The direct suction option purposely vacuums pet and human hairs from various surfaces without tangling. Make sure to first remove the main brush.
CLEAN CORNERS AND ALONG WALLS
Yes
Deebot M88 cleans corners and along walls using the Edge cleaning Mode. This mode specializes in corners, edges and other hard to reach areas for a complete clean.
BATTERY LIFE
Yes
Runs for 90 minutes approximately when battery is fully charged.
CHARGE TIME
Yes
Takes 240 minutes to completely get charged.
MULTI-FLOOR CLEANING
Yes
Features multiple cleaning modes like Auto, spot, and single room cleaning to deal with the various floor surfaces like tiles, linoleum, hardwood and laminate. The smart motion technology eliminates persistent debris from low pile carpets
DEEP CLEANS THICK CARPETS
FOR LARGE ROOMS
Yes
90 minutes and coverage of 120 square meters is enough to cover a large room. Make sure no wires are placed on the floor to prevent robot from being tangled.
AUTO DOCKS AND RECHARGE
Yes
Docks and recharges automatically once battery runs low or after completing a cleaning session.
RESUMES AFTER AUTO RECHARGING
MULTI-ROOM NAVIGATION
Yes
Built with a random movement pattern – lets it move from room to room especially on a single floor.
AVOIDS STAIRS AND OBJECTS
Yes
Turns away from stairs and avoids or cleans under furniture using the cliff and obstacle sensors.
QUIET OPERATION
Yes
Operates quietly with a noise level of 56 db
BOOSTS SUCTION POWER
Yes
Boosts suction power using the max mode – suction power is increased to provide deep cleaning especially on carpets.
HEPA FILTER
Yes
Features a high efficiency particulate air – will catch every harmful particles in the home making it suitable for people with allergies and asthma.
MAPS & PLANS ROUTE
Yes
Wont plan but lets you Select a cleaning path on the bare floors using a Smartphone control
SWEEPS AND MOPS
Yes
Sweeps and mops using advanced wet/dry mop function
CONCENTRATED CLEANING
Yes
Concentrated cleaning through spot mode function. Specializes in a particular area with high concentration of dust for a complete clean.
HASSLE FREE OPERATION
Yes
Hassle free operation through the mobile Smartphone operation. Allows you control and schedule cleanings from anywhere so you don't always have to be around.
REMOTE CONTROL WITH MOBILE APP
Yes
Ecovacs App lets you have remote control. Ensure you download it onto your Smartphone device
WIFI CONNECTED
Yes
Connect Deebot M88 to 2.4G internet and then switch to 5G after set up
CAN BE SCHEDULED
Yes
Can be scheduled for a daily or weekly cleaning. Set the cleaning time of the day of various times for 7 days a week to enjoy a clean home.
WORKS WITH ALEXA
Yes
Companionable with Alexa – use it to control the robot
ZONE CLEANING
Yes
You can direct the robot to clean a particular area using the home App or Single room mode to clean specific room in your home.
LARGE DEBRIS BIN
Yes
Takes in large debris that should be emptied after a single clean.
LOW PROFILE DESIGN
Yes
3.03 inches low profile design
BATTERY CAPACITY
Yes
3000 mAh battery capacity
DUST BIN CAPACITY
Yes
Takes in up to 380 ml debris capacity before requiring you to empty
PRODUCT DIMENSIONS
Yes
13.4 x 3 x 13.4 inches
PROS
Yes
• Cleanings can be scheduled • Two side brushes • V shaped main brush for more cleaning • Integrated water reservoir • Docks and charges automatically • Provides quiet operation • Effective Hepa Filter • Powerful battery capacity – 3000 mAh • Remote control through Smartphone
CONS
Yes
• No virtual walls included • Doesn't alert when dust bin is full
WAS THIS REVIEW HELPFUL TO YOU? IF YES, PLEASE SHARE IT WITH A FRIEND.