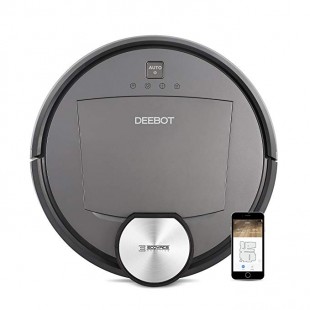 Reasons to buy Ecovacs Deebot R95:
Can mop and sweep multiple floors
Has an automatic height adjustment
Can be controlled remotely
Suction inlet for pet hairs
Check price here....
summary Review:
PERFORMANCE

Ecovacs Deebot R95

CLEANS UNDER FURNITURE
COVERAGE
SUCTION POWER
IDEAL FOR HOMES WITH PETS
CLEAN CORNERS AND ALONG WALLS
BATTERY LIFE
CHARGE TIME
MULTI-FLOOR CLEANING
FOR LARGE ROOMS
AUTO DOCKS AND RECHARGE
RESUMES AFTER AUTO RECHARGING
MULTI-ROOM NAVIGATION
AVOIDS STAIRS AND OBJECTS
QUIET OPERATION
HEPA FILTER
MAPS & PLANS ROUTE
SWEEPS AND MOPS

USABILITY

Ecovacs Deebot R95

HASSLE FREE OPERATION
REMOTE CONTROL WITH MOBILE APP
WIFI CONNECTED
CAN BE SCHEDULED
WORKS WITH ALEXA

DESIGN

Ecovacs Deebot R95

LARGE DEBRIS BIN
LOW PROFILE DESIGN
BATTERY CAPACITY
DUST BIN CAPACITY
VIRTUAL WALL INCLUDED
PRODUCT DIMENSIONS
WEIGHT

CONCLUSION
CLEANS UNDER FURNITURE
Yes
Stands tall at 4.02 inches above the ground – this makes it possible to clean under sofa, beds, kickboards and any other furniture above its height.
COVERAGE
Yes
Can cover up to 1615 square feet of cleaning space. Appropriate for cleaning medium to large sized homes.
IDEAL FOR HOMES WITH PETS
Yes
Has a suction inlet included for removing pet hairs -It will lift and gather all the pet hairs into debris bin.
CLEAN CORNERS AND ALONG WALLS
Yes
Features dual side brushes that will reach every hard to reach corner and edges in your home to remove both small and large sized debris. Runs for 90 full minutes before the battery runs
BATTERY LIFE
Yes
low or requires a recharge.
CHARGE TIME
Yes
240 minutes of charging time
MULTI-FLOOR CLEANING
Yes
Deebot R95 features a 5 stage cleaning technology – will sweep, vacuum, lift, mop and then dry the various floors in just a single pass. The automatic head adjustment uses a floating drive wheel together with main brush to adjust automatically once on a surface that is uneven.
DEEP CLEANS THICK CARPETS
FOR LARGE ROOMS
Yes
Navigates through large rooms using the Laser based system – learns the environment and then immediately adapts to it for effective clean without accidents.
AUTO DOCKS AND RECHARGE
Yes
Will automatically dock and recharge after it has run for 90 full minutes.
RESUMES AFTER AUTO RECHARGING
Yes
Resumes to where it has stopped cleaning after recharging.
MULTI-ROOM NAVIGATION
Yes
Features the laser scanning and mapping technology to move the robot from room to room. Also you can control its movements using the Smartphone control from anywhere as it navigates.
AVOIDS STAIRS AND OBJECTS
Yes
Uses a strong combination of the cliff and obstacle detect sensors to avoid stairs and objects on the floor.
QUIET OPERATION
Yes
70 db noise level – not entirely a quiet robot.
HEPA FILTER
Yes
Has a high efficiency particulate air with a fine mesh that is able to trap up to 99.9% of allergens and other harmful particles from the air.
MAPS & PLANS ROUTE
Yes
Scans and maps the house using the laser scanning and mapping technology. Enables the robot avoid obstacles, provide complete coverage and will remember where it stopped cleaning before recharge.
SWEEPS AND MOPS
Yes
Will sweep, mop, vacuum and dry the floors.
HASSLE FREE OPERATION
Yes
Built with a wifi and Amazon Alexa Compatibilities that lets you easily set your cleanings in advance, control and even monitor the robot from wherever you are. The robot will clean the home without much effort from you.
REMOTE CONTROL WITH MOBILE APP
Yes
Comes with an Ecovacs app that can be downloaded on your Smartphone to remote control the robot. It allows you schedule, choose cleaning areas, monitor and control robot.
WIFI CONNECTED
Yes
Can be connected to your home wifi – make sure that the wifi connection is on 2.4 G and after it has been set then you can switch to 5G of internet.
CAN BE SCHEDULED
Yes
Scheduled cleaning performed through the Ecovacs app on your Smartphone
WORKS WITH ALEXA
Yes
Use voice commands for Alexa – request the robot to start, stop and recharge using Amazon Alexa.
LARGE DEBRIS BIN
Yes
Yes – 520 ml can accommodate large debris like food particles from your home.
LOW PROFILE DESIGN
Yes
4.02 inches low profile design – enters under most furniture and hard to reach areas.
VIRTUAL WALL INCLUDED
Yes
Includes a precision technology – makes it possible to draw virtual boundary
PRODUCT DIMENSIONS
Yes
13.9 x 13.9 x 4 inches
PROS
Yes
• Can mop and sweep multiple floors • Has an automatic height adjustment • Suction inlet for pet hairs
CONS
Yes
• Can perform deep cleaning on thick carpets
WAS THIS REVIEW HELPFUL TO YOU? IF YES, PLEASE SHARE IT WITH A FRIEND.