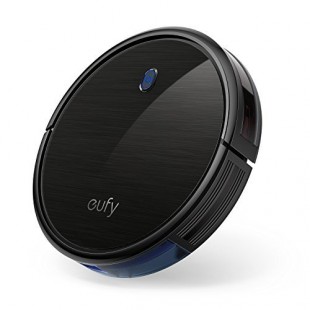 Reasons to buy Eufy Boost IQ RoboVac 12:
Large dust bin capacity – will accommodate large debris
Multiple cleaning modes: auto, spot, edge and single room
Scheduled cleanings
Automatic docking and charging
See price on Amazon
summary Review:
PERFORMANCE

Eufy Boost IQ RoboVac 12

CLEANS UNDER FURNITURE
COVERAGE
SUCTION POWER
IDEAL FOR HOMES WITH PETS
CLEAN CORNERS AND ALONG WALLS
BATTERY LIFE
CHARGE TIME
MULTI-FLOOR CLEANING
FOR LARGE ROOMS
AUTO DOCKS AND RECHARGE
MULTI-ROOM NAVIGATION
AVOIDS STAIRS AND OBJECTS
QUIET OPERATION
BOOSTS SUCTION POWER
HEPA FILTER
CONCENTRATED CLEANING

USABILITY

Eufy Boost IQ RoboVac 12

HASSLE FREE OPERATION
CAN BE SCHEDULED
ZONE CLEANING

DESIGN

Eufy Boost IQ RoboVac 12

LARGE DEBRIS BIN
LOW PROFILE DESIGN
BATTERY CAPACITY
DUST BIN CAPACITY
PRODUCT DIMENSIONS
WEIGHT

CONCLUSION
CLEANS UNDER FURNITURE
Yes
Total height is 2.9 inches – with this low profile design, this robot can easily reach most places. However if the furniture is lower than 2.9 inches then the robot might not be able to clean under it.
COVERAGE
Yes
Small to medium sized rooms
SUCTION POWER
Yes
1300 Pa – not the strongest suction power but it can suck up dust and dirt in an efficient way
IDEAL FOR HOMES WITH PETS
Yes
Its 1300 Pa suction power captures all the pet hairs on the floors, corners and other hard to reach areas
CLEAN CORNERS AND ALONG WALLS
Yes
It features 4 cleaning brushes that are suitable for reaching the corners and along the walls
BATTERY LIFE
Yes
100 minutes per full charge of run time
CHARGE TIME
Yes
5 hours – takes long to completely charge
MULTI-FLOOR CLEANING
Yes
Choose from the 4 cleaning modes provided to achieve best results on multiples floors – laminate, tile, hard woods and low to medium pile carpets
DEEP CLEANS THICK CARPETS
FOR LARGE ROOMS
Yes
Features an automatic dock and recharge that can resume to clean large rooms on remote command
AUTO DOCKS AND RECHARGE
Yes
No need to pay attention to it – it will automatically run to charging station and recharge when low is low
RESUMES AFTER AUTO RECHARGING
MULTI-ROOM NAVIGATION
Yes
Features large wheel rolls to mount over door ledges and drop sensing technology to move from room to room.
AVOIDS STAIRS AND OBJECTS
Yes
Built with an infrared sensor that avoids objects and drop sensing technology that prevents fall off from stairs and door ledges.
QUIET OPERATION
Yes
55 db quiet operation – enjoy a serene operation
BOOSTS SUCTION POWER
Yes
Comes with a BoostIQ mode that boosts suction power when on carpets. Will automatically increase its suction power within 1.5 seconds once extra vacuuming strength is required.
HEPA FILTER
Yes
Eufy RoboVac 12 features a triple filter system – there is a double layer filter and a high performance filter to obtain a thorough cleaning
CONCENTRATED CLEANING
Yes
Yes, the spot cleaning mode – provides concentrated cleaning in particular spots with a high level of dirt concentration
HASSLE FREE OPERATION
Yes
Comes with a remote control system that lets you schedule cleanings and forget. Select the time for cleaning and it will do the rest
REMOTE CONTROL WITH MOBILE APP
CAN BE SCHEDULED
Yes
Use the remote to preset the cleaning times either weekly or hourly
ZONE CLEANING
Yes
Has a single room cleaning mode that restricts it to a particular room
LARGE DEBRIS BIN
Yes
It is able to take in large debris – requires empting once its full
LOW PROFILE DESIGN
Yes
Low profile design of only 2.9 inches – lets Eufy RoboVac 12 easily clean under furniture above its height
BATTERY CAPACITY
Yes
2600 mAh – not powerful enough but will deliver thorough cleaning for 100 full minutes
DUST BIN CAPACITY
Yes
600 ml – medium sized dust bin capacity. keep emptying when full for maximum effectiveness
PRODUCT DIMENSIONS
Yes
12.8 x 12.8 x 2.9 inches
PROS
Yes
• Very slim design measuring 2.9 inches only • 100 minutes durable operation time • Durable anti scratch glass top over • Drop sensing technology – prevents falls from stairs • Infrared sensors – avoids knocking objects on the floor • A remote control system • Large wheels – will climb over carpets and raised surfaces of up to 0.63 inches high • Large dust bin capacity – will accommodate large debris • Multiple cleaning modes: auto, spot, edge and single room • Scheduled cleanings • 4 side brushes • 3 layer high performance filtration system • Automatic docking and charging
CONS
Yes
• Not compatible with Amazon Alexa and mobile app control • Takes a long time to charge – 5 hours • Will not automatically resume cleaning after charging • Does not map floors – randomly moves • Built without a full bin indicator • Wont clean thick carpets
WAS THIS REVIEW HELPFUL TO YOU? IF YES, PLEASE SHARE IT WITH A FRIEND.