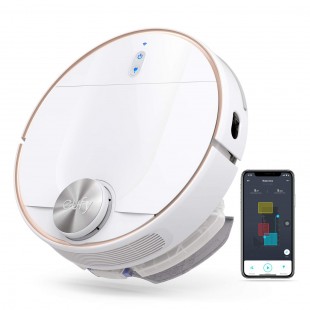 Reasons to buy Eufy RoboVac L70 Hybrid:
2-in-1 Sweeping and Mopping
2200Pa Strong Suction
Path Laser Navigation
Self-Charging Robotic Vacuum
Check price here....
summary Review:
PERFORMANCE

Eufy RoboVac L70 Hybrid

CLEANS UNDER FURNITURE
COVERAGE
SUCTION POWER
IDEAL FOR HOMES WITH PETS
CLEAN CORNERS AND ALONG WALLS
BATTERY LIFE
CHARGE TIME
MULTI-FLOOR CLEANING
FOR LARGE ROOMS
AUTO DOCKS AND RECHARGE
RESUMES AFTER AUTO RECHARGING
MULTI-ROOM NAVIGATION
AVOIDS STAIRS AND OBJECTS
QUIET OPERATION
BOOSTS SUCTION POWER
HEPA FILTER
MAPS & PLANS ROUTE
SWEEPS AND MOPS
CONCENTRATED CLEANING

USABILITY

Eufy RoboVac L70 Hybrid

HASSLE FREE OPERATION
REMOTE CONTROL WITH MOBILE APP
WIFI CONNECTED
CAN BE SCHEDULED
WORKS WITH ALEXA
ZONE CLEANING

DESIGN

Eufy RoboVac L70 Hybrid

LARGE DEBRIS BIN
LOW PROFILE DESIGN
BATTERY CAPACITY
DUST BIN CAPACITY
FULL BIN INDICATOR
VIRTUAL WALL INCLUDED
PRODUCT DIMENSIONS
WEIGHT

CONCLUSION
CLEANS UNDER FURNITURE
Yes
3.96 inches tall – able to clean below low hanging sofas, beds and kickboards above its height with ease.
SUCTION POWER
Yes
2200 Pa – enough to lift up all kinds of debris from multiple floors
IDEAL FOR HOMES WITH PETS
Yes
Strong suction power and 3 in 1 filter ideal for homes with pets. Thoroughly lifts up pet dander into dustbin
CLEAN CORNERS AND ALONG WALLS
Yes
2 in one sweeping and powerful suction cleans corners and along walls. Reaches tight places to root out unwanted debris.
BATTERY LIFE
Yes
Up to 150 minutes or 2 hours and 30 minutes run time. Enough time to clean big spaces.
MULTI-FLOOR CLEANING
Yes
Switch between cleaning modes depending on floor surface. Suitable for tile, medium pile carpets, hardwood and laminate floors.
DEEP CLEANS THICK CARPETS
FOR LARGE ROOMS
Yes
150 minutes long run time suitable for large rooms. Navigates throughout large rooms without missing an area.
AUTO DOCKS AND RECHARGE
Yes
Auto docks and recharges when battery is low or after a cleaning session. Removes wires from floor to prevent tangling.
RESUMES AFTER AUTO RECHARGING
Yes
Pin point return – resumes cleaning intelligently to where it had stopped to recharge. Continues without skipping a spot.
MULTI-ROOM NAVIGATION
Yes
iPath laser navigation guides L70 Hybrid to move from room to room on one floor. Maximized efficiency for thoroughly cleaning.
AVOIDS STAIRS AND OBJECTS
Yes
Advances anti collision and anti cliff sensors – cleans around obstacles without knocking them. Turns away from stairs to avoid falling off.
BOOSTS SUCTION POWER
Yes
BoostIQ increase suction power – increases suction power automatically when needed. Gently and smartly transition on multiple floors
HEPA FILTER
Yes
3-in1 washable filter – eliminates almost 100% of allergy causing airborne particles and other tiny dust, pet dander, pollen etc
MAPS & PLANS ROUTE
Yes
Al map technology – delivers top precision with real time mapping that lets you enjoy customized target cleaning.
SWEEPS AND MOPS
Yes
2 in one technology – mops and sweeps
CONCENTRATED CLEANING
Yes
Spot customized cleaning mode. Allows you activate spot mode once an areas requires more attention. Effectively lifts up stains and messes in that spot.
HASSLE FREE OPERATION
Yes
Zero hassle operation – activate auto mode, schedule device or use the mobile app for an effortless operation.
REMOTE CONTROL WITH MOBILE APP
Yes
Download the EufyHome app on your Smartphone device or tablet first. Lets you start, stop, monitor, select modes, set boundaries etc from wherever you are.
WIFI CONNECTED
Yes
Connects to home wifi
CAN BE SCHEDULED
Yes
Auto clean scheduling – set cleaning times up to 7 times in a week in advance. The unit will automatically clean even when no one is around.
WORKS WITH ALEXA
Yes
Voice controls through ALexa – lets you give L70 Hybrid detailed commands to run clean your home.
ZONE CLEANING
Yes
Features a no-go zone function. Allows you to set up virtual boundaries that restricts robot to only clean certain areas. Stays away from places you have restricted.
LOW PROFILE DESIGN
Yes
3.96 low profile design – enters into places you wouldn't to thoroughly clean.
VIRTUAL WALL INCLUDED
Yes
Virtual wall boundaries can be set – use your Smartphone app to exclude some areas that don't require cleaning.
PROS
Yes
• EufyHome app provides easy remote control • Virtual boundaries can be set • Intelligent mopping with an automated water control • Easily glides from room to room • Pin point return to the same place it was cleaning before recharge • Increases suction power automatically • Suitable for multiple floor cleaning • Features customized cleaning modes • Automatically docks and recharges • Prevents collision and turns away from stairs • Features waterproof pad • Hassle free operation and set up • Up to 150 minutes of run time
CONS
Yes
• Not suitable for deep cleaning thick carpets • Dust bin without full bin alert • Not entirely quiet
WAS THIS REVIEW HELPFUL TO YOU? IF YES, PLEASE SHARE IT WITH A FRIEND.