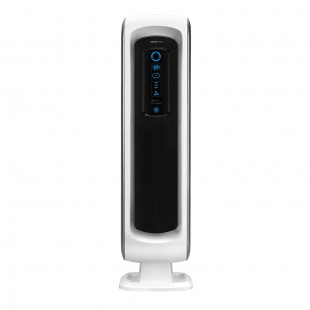 Reasons to buy Fellowes AeraMax 100:
Clean air in rooms of up-to 200sq.ft.
Certified asthma and allergy friendly.
A 4-stage hospital-type filtration system.
Detects air-quality & automatically adjusts fan-speed.
Check price here....
summary Review:
PERFORMANCE

Fellowes AeraMax 100

HEPA FILTER
REMOVES CIGARETTE ODOR
ROOM SIZE AND AIRFLOW
FIGHTS GERMS
ELIMINATES DUST MITES
REMOVES PET DANDER
GETS RID OF POLLEN
REMOVES SMOKE
REMOVES MOLD
TRAPS ALLERGENS
QUIET OPERATION
EASY FILTER REPLACEMENT
AUTOMATICALLY DETECTS AIRBORNE PARTICLES
WATTAGE
ENERGY STAR

USABILITY

Fellowes AeraMax 100

CONTROLS AND MODES
FILTER REPLACEMENT REMINDER
ECONOMICAL
AFFORDABLE
IDEAL FOR ASTHMATIC PEOPLE
FILTER LIFE - BASED ON USE

SAFETY
APPEARANCE

Fellowes AeraMax 100

DESIGN
SIZE AND APPEARANCE
WEIGHT
HEPA FILTER
Yes
Features a True HEPA filter with antimicrobial treatment that helps to safely remove 99.97% of airborne-particles as small as 0.3-microns.
REMOVES CIGARETTE ODOR
Yes
It uses a carbon-filter to capture and eliminate cigarette-odors, cooking-odors, smoke and household odors.
ROOM SIZE AND AIRFLOW
Yes
It's designed to clean air within small-to-medium sized rooms ranging from 100-to-200 square foot. It also takes in polluted-air at the back and releases clean-air at the front.
FIGHTS GERMS
Yes
PlasmaTRUE Technology creates an ionized field to help safely remove germs. Additionally, AeraSafe Antimicrobial Treatment provides built-in protection against the growth of germs.
ELIMINATES DUST MITES
Yes
Uses a True HEPA Filter to safely remove 99.99% percent of airborne-pollutants including dust-mites.
REMOVES PET DANDER
Yes
Its True HEPA filter can thoroughly remove up-to 99.995% of pet-dander hence making this device ideal for people living with pets.
GETS RID OF POLLEN
Yes
The True HEPA filter helps to remove 99.99% of airborne particles including pollen and other allergens down to 0.3-microns.
REMOVES SMOKE
Yes
Comes equipped with a carbon-filter that helps to capture and remove different types of smoke, odors and even captures large-particles within air.
REMOVES MOLD
Yes
Its True HEPA Filter with AeraSafe antimicrobial treatment can safely remove airborne-particles as small as 0.3-microns including mold-spores.
TRAPS ALLERGENS
Yes
Uses a True HEPA filter & PlasmaTRUE technology to create an ionized field that helps to safely remove allergens and other airborne-pollutants.
QUIET OPERATION
Yes
This device can be whisper-silent when operating on lowest speed-setting and this makes it perfect for use in bedrooms and offices where maximum silence is required.
EASY FILTER REPLACEMENT
Yes
It features a removable back-panel that facilitates for easy access to the carbon and HEPA filters so as to ensure easy filter-replacement.
AUTOMATICALLY DETECTS AIRBORNE PARTICLES
Yes
It uses an AeraSmart-Sensor and Auto-mode to monitor air-quality and automatically adjust fan-speed to keep your room air purified at all times.
WATTAGE
Yes
When running on a low speed-setting, it consumes 5-Watts while on a high-speed setting it can consume 60-watts.
ENERGY STAR
Yes
It's Energy Star Certified for low power-consumption which implies that it will save you a lot of money on electricity bills annually.
CONTROLS AND MODES
Yes
It features a different controls and modes which include; AeraSmart-Sensor (Auto-mode), Aera+ Mode, PlasmaTRUE-Technology-mode, 3 fan-speeds and filter-change-indicator.
FILTER REPLACEMENT REMINDER
Yes
Features a True HEPA and Carbon Filter Change-Indicator that turns red when it is time to replace any of the filters.
ECONOMICAL
Yes
This is a low energy consumption device which implies that it will save you a lot of money on electricity-bills making it very economical.
AFFORDABLE
Yes
It is very affordable compared to most air-purifier brands within its range.
IDEAL FOR ASTHMATIC PEOPLE
Yes
It's certified by the Asthma and allergy Foundation of America (AAFA-Certified) for preventing asthma and other related seasonal allergies.
FILTER LIFE - BASED ON USE
Yes
The True HEPA filter should be replaced after 12-months while the carbon-filter should be replaced every 3-months so as to ensure optimum-performance.
OZONE FREE
Yes
It's AHAM and UL certified for providing clean-air without producing harmful Ozone. This makes it safe to use in any home environment.
DESIGN
Yes
Has a slim, compact, tower design with an easy-to-use display-panel, built-in handle at the back and a simple stand at the bottom.
SIZE AND APPEARANCE
Yes
8.5"L x 7.2"W x 27.2"H coupled with a white tower-body made of durable ABS-plastic. It also features air-inlets at the back and air-outlets at the front coupled with a base-stand.
WEIGHT
Yes
9.24-pounds which make it very lightweight and easy to carry or move around the house.
WAS THIS REVIEW HELPFUL TO YOU? IF YES, PLEASE SHARE IT WITH A FRIEND.