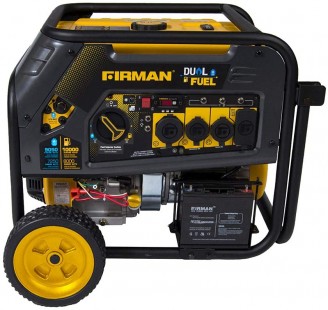 Reasons to buy Firman H08051:
Electric start and recoil start system
Has a 8 gallon fuel capacity
An ergonomically built padded handles
Uses both gas and propane
Check price here....
summary Review:
PERFORMANCE:

Firman H08051

Portable
Starting Watts
Running Stats
Run Time on Full Tank
Recoil Start
Electric Start
Dual Fuel
AMPERAGE
VOLTAGE
FREQUENCY
HORSEPOWER
ENGINE TYPE
ENGINE SPEED
CARB Compliant
EPA Certified
Cold Start Technology
Easy to Start
Fuel Tank Capacity (Gasoline)
Suggested Tank Size (Propane)
Runtime (Gasoline)
Runtime (Propane)
Low Oil Shut-Off
Air Cooled
Engine Capacity
Voltmeter
Noise Level (dBA)
Multi-Purpose
Heavy Duty
Framed for Durability
Starting method
RV Ready
Gas Powered
FUEL TYPE

DESIGN:

Firman H08051

Open Frame
Outlets
Portable
Handle style
Warranty
Dimensions
Included Accessories
Weight
Wheel type

SAFETY:

Firman H08051

Low Oil Indicator
Low oil shutdown
Noise Level

CONCLUSION
Portable
Yes
H08051 can be transported easily to multiple locations
Starting Watts
Yes
10,000 watts for gas and 9050 watts for propane
Running Stats
Yes
8,000 watts for gas and 7250 watts for propane
RV Ready
Yes
It is RV ready – can move anywhere with a portable design
Gas Powered
Yes
Its powered by gas and propane
Electric Start
Yes
Has an electric start
Dual Fuel
Yes
Uses both gasoline and propane fuel
FUEL TYPE
Yes
Dual fuel type – gasoline and propane
AMPERAGE
Yes
30 Amps and 50 Amps power
HORSEPOWER
Yes
5.5 feet propane hose
Easy to Start
Yes
Starts with simple push of button. No complicated steps
Fuel Tank Capacity (Gasoline)
Yes
8 gallon fuel tank capacity
Suggested Tank Size (Propane)
Runtime (Gasoline)
Yes
Takes about 12 hours to provide continuous power
Low Oil Shut-Off
Yes
Can shut down when oil is low in fuel tank
Air Cooled
Yes
This generator can be air cooled
Engine Capacity
Yes
Max Pro Series 439 cc engine
Multi-Purpose
Yes
It's a multi-purpose generator – used for camps, RV and homes
Heavy Duty
Yes
Ideal for heavy duty – delivers emergency power to jobsite, large RV's , farm or ranch and buses
Framed for Durability
Yes
Has been framed for durability
Starting method
Yes
Hassle free starting method. Push of a button using an electric start system
Outlets
Yes
(2) 5-20R 20A-120V GFCI, (1) 14-50R 50A-120/240V, (1) L14-30R 30A-120V/240V twist lock, (1) L5-30R 30A 120V twist lock
Portable
Yes
Wheels and handle makes generator portable to any where
Wheel type
Yes
10 inches never-flat wheels wheel kit
Handle style
Yes
Features an ergonomically padded handle
Warranty
Yes
90 days residential and 3 year commercial warranty
Dimensions (LxWxH, inches)
Included Accessories
Yes
Engine oil bottle, SP wrench – 2xOpen Wrench 10×12, Volt Lock Automatic Voltage Regulator, oil funnel, LPG Regulator (1.5) and tool kit
Low Oil Indicator
Yes
Switches off to indicate low oil in tank
Low oil shutdown
Yes
Shuts down on its own when oil reached minimum capacity
Noise Level
Yes
74 decibels - Contains a whisper series muffler for quiet operation
Pros
Yes
- Portable and can easily be moved to any location - Comes with a multi-featured control panel with outlets that are covered for durability - Uses a 10,000 starting watts and 8000 running watts for gas - Starts using a single push of a button - Utilizes a 9050 starting watts and 7250 running watts for propane - This generator has a 10 inch heavy duty wheels that can move over grass, stones, tiles and other floors - Has a 5.5 feet propane hose that is easy to operate - Provides a true 30 Amps and 50 Amps of power - An ergonomically designed handle with pads for a comfortable grip - 8 gallons of fuel tank capacity that is able to run for 12 hours - A dual start system of both electric and recoil start - Built with a 3 in one data minder for measuring the hours, displays Hertz and Volts - Less space consuming dimensions of 32.1 x 22.2 x 24.4 inches - Automatically switches off to show low oil in the tank - Has a frame for durability - Has a 3 year warranty for commercial use and a 90 day warranty for residential use - Outlets include; (2) 5-20R 20A-120V GFCI, (1) 14-50R 50A-120/240V, (1) L14-30R 30A-120V/240V twist lock, (1) L5-30R 30A 120V twist lock - Is both EPA and CARB compliant and certified - comes with engine oil, funnel, 5.5 foot LPG regulator hose and assembly tool kit
Cons
Yes
- It's not a solar generator - Uses gasoline which can be inflammable – do not smoke or light fire next to it
WAS THIS REVIEW HELPFUL TO YOU? IF YES, PLEASE SHARE IT WITH A FRIEND.