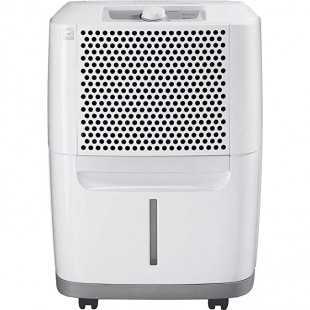 Reasons to buy Frigidaire FAD301NWD:
Eliminates bacteria in the air
Effortless full tank alert system
30-Pint Dehumidifier
Protects your home from mold and mildew
Check price here....
summary Review:
PERFORMANCE

Frigidaire FAD301NWD

DEHUMIDIFICATION PINT PER DAY
ROOM COVERAGE
FULL WATER TANK ALERT
ELIMINATES BACTERIA
PROTECTS HOME FROM MILDEW & BACTERIA
IDEAL FOR BASEMENT
IDEAL FOR BEDROOM
IDEAL FOR ENCLOSED SPACES
EFFORTLESS HUMIDITY CONTROL
MOSITURE REMOVAL ''GALLONS''
FAN SPEED
ANTI-BACTERIAL MESH FILTER
FEATURES & SPECS

USABILITY

Frigidaire FAD301NWD

EASY TO MOVE FROM PLACE TO PLACE
EASY TO EMPTY
EASY TO CONTROL
AUTO RE-START
AUTO SHUT OFF
FULL WATER TANK INDICATOR
REMOVABLE WATER TANK

DESIGN

Frigidaire FAD301NWD

WATER TANK CAPACITY
WASHABLE FILTERS
AVAILABLE SETTINGS
PORTABLE DESIGN
SPACE SAVING DESIGN
EMITS HEAT WHEN IN USE
ENERGY STAR RATING
MECHANICAL / ELECTRONIC CONTROLS
POWER CORD LENGTH
DIMENSIONS
WEIGHT
WATTS
Amps

CONCLUSION
DEHUMIDIFICATION PINT PER DAY
Yes
Ha s a 30 pint moisture removable capacity per day.
ROOM COVERAGE
Yes
Approximately covers up to 400 square feet. ideal for small to medium sized rooms
FULL WATER TANK ALERT
Yes
Hassle free full tank alert system – will inform you when the tank is almost full or shut down automatically once it's filled to capacity.
ELIMINATES BACTERIA
Yes
Eliminates bacteria – bacteria filled air makes it difficult to breathe well
PROTECTS HOME FROM MILDEW & BACTERIA
Yes
Easily guards your home from mildew, mold and bacteria. Removes excess moisture that causes them.
IDEAL FOR BASEMENT
Yes
Dehumidifies basements easily – eliminates extra moisture that causes airborne particles and damages household objects
IDEAL FOR BEDROOM
Yes
Low noise level and humidity control ideal for bedrooms
IDEAL FOR ENCLOSED SPACES
Yes
Operates in enclosed spaces like home and office indoor spaces
EFFORTLESS HUMIDITY CONTROL
Yes
Provides maximum comfort. Lets the user control the amount of humidity they want in a given room
MOSITURE REMOVAL ''GALLONS''
Yes
About 4 gallons of moisture
FAN SPEED
Yes
Only built with 1 fan speed
ANTI-BACTERIAL MESH FILTER
Yes
Built with anti-bacterial mesh filter – decreases odors, bacteria and other airborne particles within its coverage
FEATURES & SPECS
Yes
Has a number of features and specs that make it functional. Built with full tank alert system, integrated side handles, mechanical controls, caster wheels, continuous drain option, low temperature operation, fan speed and anti bacterial mesh filter
EASY TO MOVE FROM PLACE TO PLACE
Yes
Uses the caster wheels and handles to be moved from place to place easily. Push it around on flat grounds with the wheels or lift it on stairs
EASY TO EMPTY
Yes
Has a front easy pull out – remove water tank using the handle with splash guard and empty
EASY TO CONTROL
Yes
Easy to control buttons – adjust the button on the control panel to operate this dehumidifier
AUTO RE-START
Yes
Auto restart – happens after a power outage. Restarts and resumes with the settings
AUTO SHUT OFF
Yes
Shuts off on its own once the water tank is full and has not been emptied. Prevents spilling of water on floors
FULL WATER TANK INDICATOR
Yes
Water level indicator – notifies you when the water tank is nearing full capacity. No guesswork on water levels in the tank
REMOVABLE WATER TANK
Yes
Water tank can be taken out. Re-empty water tank or clean it for effective dehumidification
WATER TANK CAPACITY
Yes
12 pint water tank capacity
WASHABLE FILTERS
Yes
Filter can be washed – prolongs life span and effectiveness
AVAILABLE SETTINGS
Yes
1 fan speed setting, mechanical control and temperature sensing remote control with a manual humidity range between 35% to 85%
PORTABLE DESIGN
Yes
Handles and caster wheels portable design. Simplifies movement without much effort required
SPACE SAVING DESIGN
Yes
Compact and sleek design – smaller dimensions that don't require much storage space
EMITS HEAT WHEN IN USE
Yes
Emits dry hot heat when in use. Heat is created by the fan while dehumidifying rooms
ENERGY STAR RATING
Yes
Energy star efficiency – meets the standards of power consumption. Saves you from high energy bills
MECHANICAL / ELECTRONIC CONTROLS
Yes
Top center mechanical control system – has a relative humidity range of between 35% to 85%
POWER CORD LENGTH
Yes
6 feet extra long three-prong power cord. Will not require an extension cord
DIMENSIONS
Yes
12.6 x 15.8 x 20.9 inches
PROS
Yes
• A hassle free full tank alert along with auto shut off • No extension cords required • Will protect homes from bacteria and mold caused by excessive moisture • High Air CFM of 106 • Mechanical dial control • No stop drain option • 41 degree Fahrenheit of low temperature operation • Easy to move around with caster wheels and handles • Effortless humidity control • Approved by energy star • Space saving design • Ideal for enclosed spaces • Front loading bucket
CONS
Yes
• No built in water pump • Only one fan speed setting • No turbo mode • Emits hot air when in operation
WAS THIS REVIEW HELPFUL TO YOU? IF YES, PLEASE SHARE IT WITH A FRIEND.