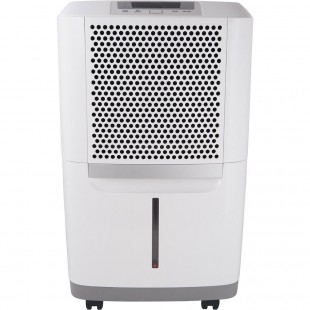 Reasons to buy Frigidaire FAD704DWD:
70-pint Dehumidifier
Effortless humidity control
Effortless full tank alert system
Eliminate bacteria in the air
Check price here....
summary Review:
PERFORMANCE

Frigidaire FAD704DWD

DEHUMIDIFICATION PINT PER DAY
ROOM COVERAGE
FULL WATER TANK ALERT
ELIMINATES BACTERIA
PROTECTS HOME FROM MILDEW & BACTERIA
IDEAL FOR BASEMENT
IDEAL FOR BEDROOM
IDEAL FOR ENCLOSED SPACES
EFFORTLESS HUMIDITY CONTROL
MOSITURE REMOVAL ''GALLONS''
FAN SPEED
ANTI-BACTERIAL MESH FILTER
FEATURES & SPECS

USABILITY

Frigidaire FAD704DWD

TURBO MODE
EASY TO MOVE FROM PLACE TO PLACE
EASY TO EMPTY
EASY TO CONTROL
AUTO RE-START
AUTO SHUT OFF
FULL WATER TANK INDICATOR
REMOVABLE WATER TANK

DESIGN

Frigidaire FAD704DWD

WATER TANK CAPACITY
WASHABLE FILTERS
AVAILABLE SETTINGS
PORTABLE DESIGN
SPACE SAVING DESIGN
EMITS HEAT WHEN IN USE
ENERGY STAR RATING
MECHANICAL / ELECTRONIC CONTROLS
POWER CORD LENGTH
DIMENSIONS
WEIGHT
WATTS
Amps

CONCLUSION
DEHUMIDIFICATION PINT PER DAY
Yes
Up to 70 pints dehumidification per day with a maximum of 194 cubic feet for minute
ROOM COVERAGE
Yes
Built for rooms up to 1400 square feet. Suitable for small to large sized homes and offices
FULL WATER TANK ALERT
Yes
Full water tank alert system – notifies you immediately the tank is close to becoming full. Prevents guesswork and spilling of water
ELIMINATES BACTERIA
Yes
Anti bacterial mesh filter – eliminates and captures bacteria from your living space.
PROTECTS HOME FROM MILDEW & BACTERIA
Yes
Guards home from mildew, mold and bacteria through removing excessive moisture
IDEAL FOR BASEMENT
Yes
Ideal for basements within room coverage range. Can work in rooms with temperature down to 41 degrees F with frost control function.
IDEAL FOR BEDROOM
Yes
Adjust the level of humidity to what suits your bedroom – ideal for bedrooms.
IDEAL FOR ENCLOSED SPACES
Yes
Perfect for indoor closes spaces – bedrooms, living rooms, kitchens etc
EFFORTLESS HUMIDITY CONTROL
Yes
Lets you control the level of humidity in the room. Adjust it for maximum comfort
MOSITURE REMOVAL ''GALLONS''
Yes
Up to 9 gallons of moisture removed – large capacity collection. Keeps your air clean and favorable
FAN SPEED
Yes
Up to 2 fan speeds – select from among the 2 speeds
ANTI-BACTERIAL MESH FILTER
Yes
Features an anti-bacterial mesh filter – eliminates disease causing bacteria from your air.
FEATURES & SPECS
Yes
An auto shut off, full tank alert system, effortless humidity control system, slide out bottom, anti bacterial mesh filter, 2 fan speeds, top and integrated side handles, wheels and extra long power cords.
TURBO MODE
Yes
Has Turbo mode – provides maximum fan speed and improves air extraction
EASY TO MOVE FROM PLACE TO PLACE
Yes
Caster wheels and handles – easily moves the dehumidifier from room to room without much effort.
EASY TO EMPTY
Yes
Front pull out – easily take out tank from the front. Saves you from technical steps.
EASY TO CONTROL
Yes
Simple button touch – easily control device by touching the accessible buttons.
AUTO RE-START
Yes
Built with an Auto re-start function – activates following a power outage for continuous dehumidifying
AUTO SHUT OFF
Yes
Automatically shuts off once the water tank is full to capacity
FULL WATER TANK INDICATOR
Yes
Indicators for full water tank – alerts when tank is almost getting full so you can empty it
REMOVABLE WATER TANK
Yes
Water tank can be removed – take it out once it's filled to promote efficiency.
WATER TANK CAPACITY
Yes
Big water tank capacity –16.3 pints. Takes in more water before emptying
WASHABLE FILTERS
Yes
Washable filters – kills bacteria, removes room odors plus other airborne particles.
AVAILABLE SETTINGS
Yes
Smart humidity control, programmable timer, delayed on/off timer and 2 fan speeds to select from.
PORTABLE DESIGN
Yes
Integrated side and top handles plus wheels – portable to shift from one place to the next
SPACE SAVING DESIGN
Yes
Compact space saving design – doesn't require much space for storage
EMITS HEAT WHEN IN USE
Yes
Emits dry hot air. Happens from the fan during excessive moisture removal from air
ENERGY STAR RATING
Yes
Energy star rated – uses 15% less energy and minimizes your power usage. Hence, lowers energy bills even when used all the time.
MECHANICAL / ELECTRONIC CONTROLS
Yes
Electronic controls – built with a digital humidity readout
POWER CORD LENGTH
Yes
6 feet power cord length – long enough
DIMENSIONS
Yes
24.65 inches x 11.32 inches x 16.08 inches
PROS
Yes
• Nonstop pump option – place unit next to a suitable drain • Simple button touch operation • Reduces bacteria, airborne particles and odors using anti bacterial filter • Full function electronic control unit • Moisture level indicator • Up to 9 gallons of moisture capacity • 70 pints per day removal • Automatic shut off • For rooms within 1400 square feet • Easy filter access- slide out bottom • Filter can be washed • Extra long 6 feet triple prong power code • Pull out 16.3 pint tank with splash protector • Low temperature operation –saves energy
CONS
Yes
• Doesn't have a built in water tank
WAS THIS REVIEW HELPFUL TO YOU? IF YES, PLEASE SHARE IT WITH A FRIEND.