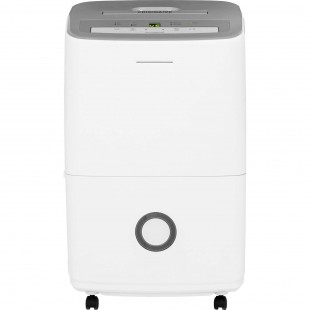 Reasons to buy Frigidaire FFAD7033R1:
Saves energy
Protects your home from mold and mildew
Easy to use and control
Portable and light weight
Check price here....
summary Review:
PERFORMANCE

Frigidaire FFAD7033R1

DEHUMIDIFICATION PINT PER DAY
ROOM COVERAGE
FULL WATER TANK ALERT
ELIMINATES BACTERIA
PROTECTS HOME FROM MILDEW & BACTERIA
IDEAL FOR BASEMENT
IDEAL FOR BEDROOM
IDEAL FOR ENCLOSED SPACES
EFFORTLESS HUMIDITY CONTROL
MOSITURE REMOVAL ''GALLONS''
FAN SPEED
ANTI-BACTERIAL MESH FILTER
FEATURES & SPECS

USABILITY

Frigidaire FFAD7033R1

TURBO MODE
EASY TO MOVE FROM PLACE TO PLACE
EASY TO EMPTY
EASY TO CONTROL
AUTO RE-START
AUTO SHUT OFF
REMOVABLE WATER TANK

DESIGN

Frigidaire FFAD7033R1

WATER TANK CAPACITY
WASHABLE FILTERS
AVAILABLE SETTINGS
PORTABLE DESIGN
SPACE SAVING DESIGN
EMITS HEAT WHEN IN USE
ENERGY STAR RATING
MECHANICAL / ELECTRONIC CONTROLS
POWER CORD LENGTH
DIMENSIONS
WEIGHT
WATTS
Amps

CONCLUSION
DEHUMIDIFICATION PINT PER DAY
Yes
Removes up to 70 pints per day of moisture from air. Has a maximum Cubic feet per minute cleaning of 182 CFM
ROOM COVERAGE
Yes
Suitable for single rooms of approximately 1300 square feet
FULL WATER TANK ALERT
Yes
Full water tank alert with splash guard – notifies you always once the tank is almost full. Splash guard stops water from spilling on floors and objects.
ELIMINATES BACTERIA
Yes
Eliminates bacteria from air that causes breathing complications
PROTECTS HOME FROM MILDEW & BACTERIA
Yes
Removes excessive moisture that caused mildew and bacteria. Keeps home air safe and comfy.
IDEAL FOR BASEMENT
Yes
Dehumidifies basements within 1300 coverage range
IDEAL FOR BEDROOM
Yes
Cleans single rooms like bedrooms
IDEAL FOR ENCLOSED SPACES
Yes
Perfect for enclosed spaces like home rooms
EFFORTLESS HUMIDITY CONTROL
Yes
Amount of humidity in a room can be controlled. Select humidity level that best suits your comfort requirements.
MOSITURE REMOVAL ''GALLONS''
Yes
Approximately up to 9 gallons of moisture. Large water tank capacity to accommodate 9 gallons of moisture.
FAN SPEED
Yes
Has a fan speed of 3 speeds – low, medium and high. Easily chose any speed to suit your needs
ANTI-BACTERIAL MESH FILTER
Yes
Destroys bacteria as they are captured by anti bacterial mesh filter
FEATURES & SPECS
Yes
Features and specs determine its functionality. Has a digital humidity read out, humidity control settings, 24 hour 0n/off timer and a control lock feature.
TURBO MODE
Yes
Features Turbo mode – betters the removal of excessive moisture
EASY TO MOVE FROM PLACE TO PLACE
Yes
Constructed with integrated side handles, top handles and caster wheels for easy movement. Easier to move it from place to place
EASY TO EMPTY
Yes
Its water tank is easy to empty- suitably placed in the front of the device. Can be easily pulled out for emptying
EASY TO CONTROL
Yes
Ready to select controls – touch on the buttons easily to adjust the settings. No complicated controls involved. Control lock suitable for homes with children and pets
AUTO RE-START
Yes
Automatic on feature –turns on its own with interference after a power outrage
AUTO SHUT OFF
Yes
Automatically shuts off once the water tank is about to get full. Eliminates chances of water spilling over
FULL WATER TANK INDICATOR
REMOVABLE WATER TANK
Yes
Water tank removed from the front – take it out to empty tank
WATER TANK CAPACITY
Yes
Large tank capacity – 13.1 pints of moisture. Can clean an entire room all day before emptying it
WASHABLE FILTERS
Yes
Filters can be washed – clean filters effective at decreasing bacteria, room odors and other airborne particles
AVAILABLE SETTINGS
Yes
3 dehumidifying speeds, automatic defrost and a manual or gravity drainage
PORTABLE DESIGN
Yes
Easy to move wheels – drives it from place to place
SPACE SAVING DESIGN
Yes
Solid space saving design – requires very minimal storage space in homes
EMITS HEAT WHEN IN USE
Yes
Emits dry hot air as it lessens moisture in the air
ENERGY STAR RATING
Yes
Has been certified by Energy Star – decreases your energy usage. Thus eventually lowers your energy bills
MECHANICAL / ELECTRONIC CONTROLS
Yes
Electronic controls – features a digital humidity readout, control lock and 24 hour on and off timer
POWER CORD LENGTH
Yes
6.5 feet long – eliminates the need for extension cords
DIMENSIONS
Yes
11.6 x 15 x 24.4 inches
WATTS
Yes
Maximum wattage of 745 watts – enough power to deliver optimum excessive moisture removal
Amps
Yes
6.7 Amps – maximum Amperage
PROS
Yes
• Has 3 dehumidifying speed: low, medium and high speeds • Extra long 6 feet power cord • Has an effortless continuous drain option • Lets you control humidity level in a room • Extracts up to 70 pints of moisture in a day • Ready select electronic control unit • Protects homes from mildew, mold and bacteria • 41 degree low temperature operation – saves money and energy • Easy front pull out tank with splash guard and handle • Full tank alert • An Automatic shut off • Control lock – suitable for homes with children
CONS
Yes
• No built in water pump
WAS THIS REVIEW HELPFUL TO YOU? IF YES, PLEASE SHARE IT WITH A FRIEND.