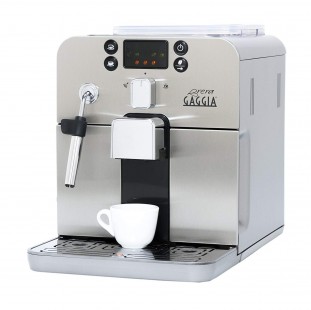 Reasons to buy Gaggia Brera:
Removable brew group for regular maintenance.
Simple interface.
Rapid steaming
Pannarello wand frothing for cappuccinos and lattes.
Check price here....
summary Review:
PERFORMANCE

Gaggia Brera

Automatic
Cafe Quality Microfoam
Precise espresso extraction
Micro foam milk texturing
Grind size dial
Can be customized
Prepare Coffee & Milk Simultaneously
Automatic Grinder Adjustment
High performance pump
Energy Saving Mode

DESIGN

Gaggia Brera

Interface (Button Control / Analog Gauge)
Number of ceramic disc grinders
Number of Pumps
Water Tank Capacity
Maintenance status display
Weight
Dimension

CONCLUSION
Automatic
Yes
This is a super automatic espresso machine in silver which delivers your coffee madness just by a touch of a button with a bean to cup technology.
Cafe Quality Microfoam
Yes
An intake hole siphons air directly into the milk, to create rich foam for specialty beverages.
Precise espresso extraction
Yes
This super automatic machine uses a digital temperature control which maintains a precise espresso extraction.
Micro foam milk texturing
Yes
The steam and swivel-joint wand performance guarantees the micro foam milk texture.
Grind size dial
Yes
This Gaggia machine has the capability to adjust the grind size depending on the number of cups of espresso needed to make.
Two ThermoBlock heating systems
Can be customized
Yes
By adjusting grind size, aroma strength and liquid volume, you can achieve a beverage that is custom tailored to your liking.
Prepare Coffee & Milk Simultaneously
Yes
Machine is made with a double boiler which allows you to simultaneously steam milk and brew coffee.
Automatic Grinder Adjustment
Yes
This machine is easy to use as it allows you to adjust the grinding type depending on the amount of coffee needed.
Automatic conversion milk / milk foam
Powder detection for second, ground coffee
High performance pump
Yes
This espresso maker uses a 19 bar pump to ensure optimal espresso extraction.
Energy Saving Mode
Yes
This Brera has a standby mode which is activated after brewing a cup of espresso saving on energy consumption.
Interface (Button Control / Analog Gauge)
Number of ceramic disc grinders
Maintenance status display
Yes
The dispenser has maintenance light indicators which let you know when the machine needs rinsing and maintenance update.
Dimension
Yes
10 x 15.5 x 11.5 inches
PROS
Yes
Rather compact. Super-automatic will do the job for you. Integrated burr grinder. Steam wand is suitable for milk coffee-based beverages. Warms up and brews coffee fast. Easy to use, clean, and maintain. Allows for versatility and coffee customization. Great tasting espressos. auto shut-off feature; Notifies users when it's time for descaling. Automatic rinsing. Pre-infusion function. Supports both whole and grounds beans. Nicely built and seems reliable even the plastic parts.
CONS
Yes
Just like any other espresso machine, requires a bit of some time to learn in terms of finding the best settings combo for your desired beverage. The automatic rinse function may catch some users off-guard which may lead to a mess. The plastic parts might make it look a bit cheap. Quite noisy. The water tank is rather small, so if you drink a lot of coffee, you will have to refill it quite often.
WAS THIS REVIEW HELPFUL TO YOU? IF YES, PLEASE SHARE IT WITH A FRIEND.