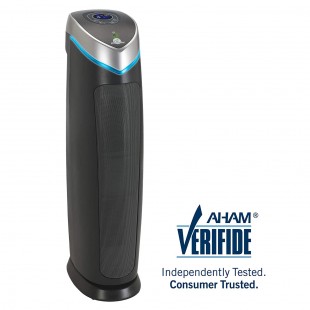 Reasons to buy Germ Guardian AC5250PT:
Affordable
Ideal for allergic people
Great for pet households
Effective on litter box odors & other weird odors
See price on Amazon
summary Review:
PERFORMANCE

Germ Guardian AC5250PT

HEPA FILTER
TIMER
REMOVES CIGARETTE ODOR
ROOM SIZE AND AIRFLOW
FIGHTS GERMS
ELIMINATES DUST MITES
REMOVES PET DANDER
GETS RID OF POLLEN
REMOVES SMOKE
REMOVES MOLD
TRAPS ALLERGENS
QUIET OPERATION
EASY FILTER REPLACEMENT
AUTOMATICALLY DETECTS AIRBORNE PARTICLES
SLEEP MODE
WATTAGE
ENERGY STAR

USABILITY

Germ Guardian AC5250PT

CONTROLS AND MODES
FILTER REPLACEMENT REMINDER
ECONOMICAL
AFFORDABLE
IDEAL FOR ASTHMATIC PEOPLE
FILTER LIFE - BASED ON USE

SAFETY
APPEARANCE

Germ Guardian AC5250PT

DESIGN
SIZE AND APPEARANCE
WEIGHT
HEPA FILTER
Yes
HEPA Filter that captures and removes up to 99.97% of allergens and other particles as small as 0.3-microns such as household dust, pet-dander, mold-spores and plant-pollens.
TIMER
Yes
Comes with an inbuilt-timer that can be set from 1-to-8 hours depending on how long you want this device to purify your room air before it shuts down.
REMOVES CIGARETTE ODOR
Yes
Uses an activated charcoal filter to capture and eliminate common odors including cigarette smoke odors.
ROOM SIZE AND AIRFLOW
Yes
Room coverage is up to "180Sq.ft." CARD rating; CADR Smoke - 116, CADR Pollen 128, CADR Dust - 126
FIGHTS GERMS
Yes
Uses optional UV-C light technology that works along with Titanium Dioxide to eliminate airborne germs like; staph, influenza, pneumonia and rhinovirus
ELIMINATES DUST MITES
Yes
Uses a True HEPA Filter to capture and remove up to 99.97% of dust mites. Additionally, it also features a Pre-filter that helps to capture large dust particles.
REMOVES PET DANDER
Yes
Uses a Pre-filter with an activated carbon layer to capture and remove pet-odors within your home hence making it a perfect appliance for pet-owners.
GETS RID OF POLLEN
Yes
Uses a True HEPA Filter to trap and eliminate pollen and other allergy-triggers within your home.
REMOVES SMOKE
Yes
Uses an integrated Pre-filter and Charcoal-filter to trap and eliminate cooking-smoke, cigarette-smoke and other types of smoke that may accumulate within your home
REMOVES MOLD
Yes
Uses a Hepa-Filter to capture up to 99.97% of allergens including mold. It also uses Pet Pure which is an antimicrobial agent added to the filter to inhibit the growth of mold, mildew and odor-causing bacteria on the surface of the filter.
TRAPS ALLERGENS
Yes
Uses a Hepa-Filter to remove 99.97% of allergens and other particles 0.3 microns from your home. This actually makes it a perfect home-appliance for allergy sufferers.
QUIET OPERATION
Yes
Operates quietly even when operating at the highest speed-setting. Also features an ultra-quiet sleep mode that operates at the lowest setting to provide you with optimum peace when sleeping.
EASY FILTER REPLACEMENT
Yes
Features easy-to-change filters that will need to be replaced after 6-to-8 months or depending on the use of the product. In fact, these 3 filters can be easily accessed by pressing a lock and release button
AUTOMATICALLY DETECTS AIRBORNE PARTICLES
Yes
Features an auto-mode that automatically captures and eliminates 99.97% of dust and allergens as small as 0.3-microns.
SLEEP MODE
Yes
Features an ultra-quiet sleep mode uses the lowest speed-setting in-order to ensure optimum silence when you're sleeping at night.
WATTAGE
Yes
Uses 63-watts when operating on the highest speed-setting and it use 33-watts when running on the lowest speed setting.
ENERGY STAR
Yes
Energy Star Certified because it meets strict energy efficiency guidelines set by the US-EPA
CONTROLS AND MODES
Yes
Controls include: A timer-set button, UV-C ON/OFF Button, Fan-speed button, Power on/off button and a filter-reset button. Modes include; the fan-speed mode, UV-C mode and ultra-quiet sleep mode.
FILTER REPLACEMENT REMINDER
Yes
Features a filter replacement reminder that alerts you when it's time to replace the filters. However, its only one single filter that needs to be replaced every 6-8 months
ECONOMICAL
Yes
Uses less energy even with long-hours of performance and it is also very affordable.
AFFORDABLE
Yes
It is very affordable compared to most air-purifier models within its range.
IDEAL FOR ASTHMATIC PEOPLE
Yes
It is perfect for allergy sufferers including Asthmatic People because of its UV-C light technology that works with Titanium Dioxide to reduce airborne bacteria, viruses, germs and mold-spores
FILTER LIFE - BASED ON USE
Yes
All the filters in this device require a replacement every 6-to-8 months
DESIGN
Yes
Tower design – fits in small spaces
SIZE AND APPEARANCE
Yes
28-inch tall with a small footprint coupled with a lightweight body
WAS THIS REVIEW HELPFUL TO YOU? IF YES, PLEASE SHARE IT WITH A FRIEND.