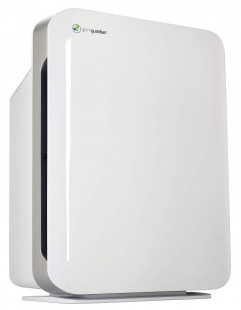 Reasons to buy GermGuardian AC5900WCA:
It captures 99.97% of dust and allergens.
Has 3-speed setting for customized performance.
Covers small-to-medium sized rooms of up-to 338Sq.ft.
It uses UV-C light technology to fight bacteria & germs.
Check price here....
summary Review:
PERFORMANCE

GermGuardian AC5900WCA

HEPA FILTER
TIMER
REMOVES CIGARETTE ODOR
ROOM SIZE AND AIRFLOW
FIGHTS GERMS
ELIMINATES DUST MITES
REMOVES PET DANDER
GETS RID OF POLLEN
REMOVES SMOKE
REMOVES MOLD
TRAPS ALLERGENS
QUIET OPERATION
EASY FILTER REPLACEMENT
SLEEP MODE
WATTAGE
ENERGY STAR

USABILITY

GermGuardian AC5900WCA

CONTROLS AND MODES
FILTER REPLACEMENT REMINDER
ECONOMICAL
AFFORDABLE
IDEAL FOR ASTHMATIC PEOPLE
FILTER LIFE - BASED ON USE

SAFETY
APPEARANCE

GermGuardian AC5900WCA

DESIGN
SIZE AND APPEARANCE
WEIGHT
HEPA FILTER
Yes
Features a True HEPA-Filter that eliminates 99.97% of allergens and other airborne-contaminants as small as 0.3-microns.
TIMER
Yes
It also features a programmable-timer that can be set for 1, 2, 4 or 8 hours before the unit shuts down.
REMOVES CIGARETTE ODOR
Yes
Uses a Carbon-filter to trap and eliminate cigarette-odor and other household-odors from pets and cooking.
ROOM SIZE AND AIRFLOW
Yes
Designed for use in small-to-medium sized rooms of up-to 338Sq.ft. Additionally, this device can filter and circulate room-air for over 4X per-hour.
FIGHTS GERMS
Yes
Uses UV-C light technology with Titanium-Dioxide to eliminate airborne germs, bacteria and viruses.
ELIMINATES DUST MITES
Yes
Its True HEPA filter eliminates 99.97% of dust-mites while the integrated Pre-filter helps to capture large dust-particles within air.
REMOVES PET DANDER
Yes
Uses a True HEPA Filter to capture 99.97% of pet-dander and other airborne-pollutants down to 0.3-microns.
GETS RID OF POLLEN
Yes
The True HEPA Filter helps to destroy 99.97% of pollen and other airborne-allergens down to 0.3-microns.
REMOVES SMOKE
Yes
Its Carbon-filter can eliminate cigarette and cooking smoke. This filter can also remove common household odors so as to provide you with fresh air.
REMOVES MOLD
Yes
Uses a HEPA-Filter and UV-C light technology with Titanium-Dioxide to eliminate 99.97% of mold-spores.
TRAPS ALLERGENS
Yes
The integrated True HEPA Filter can destroy 99.97% of allergens and other airborne-pollutants as small as 0.3-microns.
QUIET OPERATION
Yes
It features 3-speeds whereby the low-speed (speed-1) provides ultra-quiet operation making this unit perfect for use in areas that require optimum silence.
EASY FILTER REPLACEMENT
Yes
To change its filters, you just need to take-off the front-panel by pushing on a clip and then pull to reveal the filters.
AUTOMATICALLY DETECTS AIRBORNE PARTICLES
SLEEP MODE
Yes
It features an ultra-quiet sleep mode that runs on lowest speed setting (speed-1) thus making this device perfect for use in bedrooms.
WATTAGE
Yes
Uses about 65-watts on the highest speed-setting and less than 8-watts at the lowest speed.
ENERGY STAR
Yes
It has an energy star rating for low power-consumption even when running on the highest speed-setting.
CONTROLS AND MODES
Yes
The control-panel features several digital controls which include; fan-speed, UV-C on/off button, filter-replacement-indicator, Timer & a Power-button.
FILTER REPLACEMENT REMINDER
Yes
Has a filter-change-indicator that will blink red to alert you that it's time to replace the filters.
ECONOMICAL
Yes
It's very economical because it consumes less power and even features a timer-option that help in the energy-saving process.
AFFORDABLE
Yes
This unit is affordable but equipped with some of the best technologies in air-purification.
IDEAL FOR ASTHMATIC PEOPLE
Yes
It uses a True HEPA filter & UV-C Technology to reduce on exposure to indoor asthma triggers.
FILTER LIFE - BASED ON USE
Yes
All its filters need to be replaced every 6-to-8 months depending on the use of the product.
OZONE FREE
Yes
Doesn't emit harmful- ozone because it UV-C technology converts it back to oxygen.
DESIGN
Yes
It has a portable, speaker-like tower design with a display-control-panel at the top, air-inlets at the back and air-outlets on the sides coupled with a stand at the bottom and a carrying-handle.
SIZE AND APPEARANCE
Yes
Has a dimension of: 9.6"W x 16"L x 21"H coupled with a compact, black tower-shaped body made of durable ABS-plastic with a carrying-handle and stand.
WEIGHT
Yes
13-pounds and this makes it lightweight and easy to transport.
WAS THIS REVIEW HELPFUL TO YOU? IF YES, PLEASE SHARE IT WITH A FRIEND.