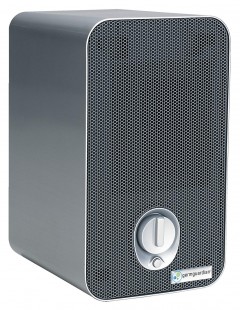 Reasons to buy Germguardian Ac4100:
Compact design perfect for small-spaces.
True HEPA Filter removes 99.97% of allergens.
Removes household-odors using a Charcoal-filter.
UVC-light technology kills airborne bacteria & viruses.
Check price here....
summary Review:
PERFORMANCE

Germguardian Ac4100

HEPA FILTER
REMOVES CIGARETTE ODOR
ROOM SIZE AND AIRFLOW
FIGHTS GERMS
ELIMINATES DUST MITES
REMOVES PET DANDER
GETS RID OF POLLEN
REMOVES SMOKE
REMOVES MOLD
TRAPS ALLERGENS
QUIET OPERATION
EASY FILTER REPLACEMENT
WATTAGE
ENERGY STAR

USABILITY

Germguardian Ac4100

CONTROLS AND MODES
FILTER REPLACEMENT REMINDER
ECONOMICAL
AFFORDABLE
IDEAL FOR ASTHMATIC PEOPLE
FILTER LIFE - BASED ON USE

SAFETY
APPEARANCE

Germguardian Ac4100

DESIGN
SIZE AND APPEARANCE
WEIGHT
HEPA FILTER
Yes
It comes with a HEPA-Filter that captures 99.97% of dust and airborne-allergens as small as 0.3-microns at an efficiency of 99.97%.
REMOVES CIGARETTE ODOR
Yes
The charcoal pre-filter helps to capture and reduce common odors within your home including; cigarette-odor.
ROOM SIZE AND AIRFLOW
Yes
This unit is designed for use in smaller rooms with sizes of up-to 78sq.ft. Additionally, it takes in polluted-air at the back and then gives-off purified-air at the front.
FIGHTS GERMS
Yes
It uses UVC-light technology coupled with Titanium Dioxide to kill airborne germs, bacteria and viruses.
ELIMINATES DUST MITES
Yes
Its HEPA filter can trap and eliminate 99.97% of dust-mites and other airborne-pollutants. Likewise, its charcoal pre-filter will capture large dust-particles.
REMOVES PET DANDER
Yes
Uses a HEPA-filter to trap and eliminate pet-dander down to 0.3-microns at an efficiency of 99.97%.
GETS RID OF POLLEN
Yes
This unit can effectively remove pollen from your house using a HEPA-filter.
REMOVES SMOKE
Yes
Uses a charcoal pre-filter to capture large-particles and to eliminate smoke caused by cooking and cigarettes.
REMOVES MOLD
Yes
Uses UVC-light technology and a HEPA-Filter to kill and prevent the growth mold-spores within your home-environment.
TRAPS ALLERGENS
Yes
It uses a HEPA Filter to capture and eliminate 99.97% of Allergens and other airborne-pollutants as small as 0.3-microns.
QUIET OPERATION
Yes
The 3-speed-control includes a low-speed-setting that runs an ultra-quiet level making this unit perfect for use in the bedroom and office areas.
EASY FILTER REPLACEMENT
Yes
You just have to remove the back-panel to access and change the filters without needing any professional help.
AUTOMATICALLY DETECTS AIRBORNE PARTICLES
WATTAGE
Yes
This device uses less than 40-watts on the highest speed-setting and less than 8-watts on the low speed-setting. it even features a voltage of 120V at 60Hz.
ENERGY STAR
Yes
This unit is energy-star rated for its minimal power-consumption at a low fan-speed.
CONTROLS AND MODES
Yes
Features an easy-to-use, round front dial knob control for adjusting to 3 fan-speeds coupled with a filter-change-indicator & UV-C light on/off-button.
FILTER REPLACEMENT REMINDER
Yes
There is a filter change indicator that will help to remind you when to replace the filters.
ECONOMICAL
Yes
It won't have a negative-impact on your electricity-bills even if you run it 24×7 because of its low power-consumption.
AFFORDABLE
Yes
This device is very affordable and equipped with some great features you will ever find on an entry-level air-purifier.
IDEAL FOR ASTHMATIC PEOPLE
Yes
It uses a HEPA-filter to reduce on dust and airborne-allergens down to 0.3-microns making it ideal for use by asthmatic-people.
FILTER LIFE - BASED ON USE
Yes
The Charcoal Pre-filter and HEPA filter should be replaced after 6-to-9 months of use while the UV-light/ PCO-filter should be replaced after 10-to-12 months of use.
OZONE FREE
Yes
This device can purify room-air without producing harmful-ozone because it uses advanced technologies like; UV-C light.
DESIGN
Yes
Has a compact and lightweight speaker-like design with a round front dial knob control coupled with air-inlets at the back and air-outlets at the front.
SIZE AND APPEARANCE
Yes
Features dimensions of: 7.5"L x 6.38"W x 10.38"H coupled with a box, compact multi-color body made of durable ABS-Plastic.
WEIGHT
Yes
4.85-pounds which make it very lightweight and easy to carry or move.
WAS THIS REVIEW HELPFUL TO YOU? IF YES, PLEASE SHARE IT WITH A FRIEND.