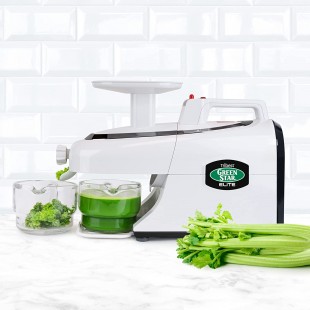 Reasons to buy Greenstar GSE 5000:
Reverse function prevents jamming when juicing.
Exclusive Magnetic and Bio ceramic Technology
Stainless steel twin gears
Complete mastication system
Check price here....
summary Review:
PERFORMANCE

Greenstar GSE 5000

Juice and Nutrients Extractor
Dual-Stage Extraction
Number of Speed Settings
Motor Speed (RPMs)
Cold Press Technology
Powerful motor base
Compact size
Capacity
Versatile Capability
Easy To Clean
Dishwasher Safe
Large food chute
Juicing Method: Slow OR Masticating
For Fruits and Vegetables

DESIGN

Greenstar GSE 5000

Watts
Weight
Dimension
Color
BPA-free plastic parts
Included Accessories

CONCLUSION
Juice and Nutrients Extractor
Yes
Bio-ceramic Magnetic Twin Gears produce the freshest, highest quality juices possible from any cold press juicer by preserving living enzymes and vitamins and preventing nutrient degradation for a longer shelf-life.
Cold Press Technology
Yes
This slow cold press juicer works at 110 RPM, preserving the quality of your product so you can enjoy all the healthy benefits of juicing.
Compact size
Yes
Yes, this juicer is of a minimal and compact size that beautifully compliments your kitchen counter.
Versatile Capability
Yes
The Greenstar has the capability to create wonderful recipes such as nut butter, sorbets, sauces, and pate. The twin gears act as a food processor breaking down the produce to create a delicious dessert or snack for you and your family.
Easy To Clean
Yes
Yes, it is easy to disassemble and clean.
Dishwasher Safe
Yes
The juicer and included parts are dishwasher safe which makes cleanup a breeze.
Large food chute
Yes
Wide 3" Feed Chute for whole fruits and vegetables.
Juicing Method: Slow OR Masticating
Yes
Complete Mastication System
For Fruits and Vegetables
Yes
Complete Mastication System
Dimension
Yes
18.6 x 6.8 x 12.4 inches
Included Accessories
Yes
It includes the fine screen to extract juice with minimal pulp; the coarse screen to extract juice with more pulp mixed in; the homogenizing blank for basic food processing; the breadstick (mochi) maker set to make delicious raw breadsticks and rice cakes. Optionally, you can purchase the pasta maker set to instantly convert your Greenstar into a pasta press and soft fruit outlet adjusting knob for efficiently juicing soft fruits such as oranges and tomatoes. All Greenstar models also conveniently include a glass juice pitcher, wooden plunger, plastic plunger, and cleaning brush.
PROS
Yes
• Compared to earlier models the GreenStar Elite GSE 5000 has been increased in size adding more extraction power • Slow 110 RPM plus bio-ceramic technology further reduces the rate of oxidation producing superior juice quality • With 4/1000 clearance the twin gear unit efficiently processes fruits and vegetable leaving an almost dry pulp • BPA Free plastic construction • Can process leafy greens especially wheatgrass at the highest level • 72 hours max juice shelf life • Quiet operation • Can juice all types of fruits and veggies • Extra functions for homogenizing, and pasta making • Dishwasher safe parts • Continuous juicing with automatic pulp ejection • Detachable cord storage • Built with a handle for easy transport • Slow & Quiet (100 RPM) • Rugged metal gears for long life • Inherent safety system • Great with fibrous produce • Top juice quality & yield • Tofu making capability • Easy to operate & clean • Highest mineral content of juice produced against other types of masticating juicers • Works great for harder vegetables like carrots as well as leafy greens and celery • Long, 12-year warranty for home use • Lots of accessories included and optional extras to purchase • Very versatile • Less clogging • Powerful • Low Noise • squeezes every drop out of fruits/greens • The yield of juice of this type of machine is way higher. • All the produce is reduced to a very compact and dry pulp. • Sorbets and nut butter are super easy to make. • Includes everything needed to juice right out of the box. Measuring cups, tampers, brushes, etc. • Saves money in the long run. • This machine is worth every penny. • It's a workhorse that handles a lot of jobs easily. • You get more out of your juice!! In the long run, you WILL save money on fruits and veggies • Your juice is EXTREMELY smooth! Your leafy greens taste better, everything tastes better. • You can't beat a 12-year warranty. • Gets the juice out of tough cabbages to help treat ulcers. • Disassembly is easy and working instructions are easy. • It makes high-quality juice. • You can make sorbets, nut butter, etc. • Provides a better quality juice and runs quieter than other machines.
CONS
Yes
• I will say it's not at all user-friendly if you want to use it daily. Because it's hard to assemble and hard to clean. • It may require some initial reading and cleaning effort, but is totally worth it. • Requires more preparation time to cut your produce for the twin gears to process easier (less pushing) and takes more time to clean. • The brushes that are provided are required to get into the nooks and crannies. • Needs to clean the gears and screen often, particularly if juicing pineapple or orange. • The screen takes a little bit of time to clean. • The gears don't always pop in the first time you try. • It is a little on the pricey side but it is so worth it.
WAS THIS REVIEW HELPFUL TO YOU? IF YES, PLEASE SHARE IT WITH A FRIEND.