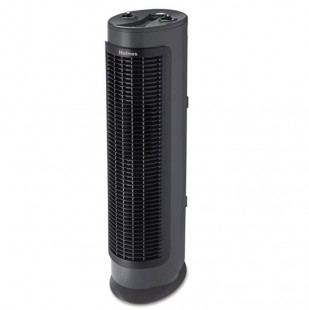 Reasons to buy Holmes Hepa Air Purifier:
Space-saving air purifier
Choose from 3 cleaning speeds
Allergen Remover
Filter helps remove up to 99.97% pollutants
Check price here....
summary Review:
PERFORMANCE

Holmes Hepa Air Purifier

HEPA FILTER
FOR LARGE ROOMS
REMOVES CIGARETTE ODOR
ROOM SIZE AND AIRFLOW
FIGHTS GERMS
ELIMINATES DUST MITES
REMOVES PET DANDER
GETS RID OF POLLEN
REMOVES SMOKE
REMOVES MOLD
TRAPS ALLERGENS
QUIET OPERATION
WASHABLE PRE-FILTERS
EASY FILTER REPLACEMENT
AUTOMATICALLY DETECTS AIRBORNE PARTICLES
SLEEP MODE
WATTAGE
ENERGY STAR

USABILITY

Holmes Hepa Air Purifier

CONTROLS AND MODES
FILTER REPLACEMENT REMINDER
ECONOMICAL
AFFORDABLE
IDEAL FOR ASTHMATIC PEOPLE
FILTER LIFE - BASED ON USE

SAFETY
APPEARANCE

Holmes Hepa Air Purifier

DESIGN
SIZE AND APPEARANCE
WEIGHT
HEPA FILTER
Yes
99.97% Hepa filter airborne particle remover. Removes both large and smaller particles to the size of 0.3 microns. Its compatible with other filters like Total air, smoke grabber etc.
FOR LARGE ROOMS
Yes
Has a coverage of up to 180 square feet. Perfect for large rooms within this range like kitchens, bedrooms, living rooms, offices etc.
REMOVES CIGARETTE ODOR
Yes
Uses a fortified trusted arm and hammer baking soda to remove cigarette odor. Makes indoor air free from cigarette odor and healthy for everyone.
ROOM SIZE AND AIRFLOW
Yes
Maximum room coverage of up to 180 square feet. Cleans air throughput this room coverage instantly.
FIGHTS GERMS
Yes
Traps 99.97% of impurities like germs to the size of 2 microns in the home germs found in air and on surfaces will all be killed.
ELIMINATES DUST MITES
Yes
Eliminates dust mites – these tiny bugs are not healthy to live with. Have side effects like asthma, sneezing, chest tightness etc in both adults and children.
REMOVES PET DANDER
Yes
Removes 99.97% of pet dander – they arise from the skins of pets that have shed off and causes allergy. Suitable for people with pets like dogs, cats, birds and rodents.
GETS RID OF POLLEN
Yes
Notices and gets rid of 99.95% of pollen. Removes pollen from grass, trees and ragweed pollen. Air filled with pollen is harmful.
REMOVES SMOKE
Yes
Uses its optional ionizer to bind airborne all kinds of airborne smoke. Removes up to CADr 116 of smoke and odors from indoor air within a range of 180 square feet.
REMOVES MOLD
Yes
Destroys mold spores – areas indoors with high levels of humidity and water leaks produce mold. If not removed it leads to skin irritation and allergy.
TRAPS ALLERGENS
Yes
Makes us of 99.97% true Hepa technology to trap allergens. Traps big and small particles like dust, pollen, dander and mold to the size of .3 microns.
QUIET OPERATION
Yes
Quiet operation – the fan is barely heard especially on the lowest speed settings.
WASHABLE PRE-FILTERS
Yes
Washable pre-filters – the grill of the air inlet can be washed when dirty. Endeavour to completely dry it before placing it back into the unit.
EASY FILTER REPLACEMENT
Yes
Change filter in a few easy steps – first power off the device, take out old filter and replace in the new filter.
AUTOMATICALLY DETECTS AIRBORNE PARTICLES
Yes
Automatically detects airborne particles. Starts cleaning air when switched on to remove all airborne particles.
ENERGY STAR
Yes
Is energy certified – you can use it full time without worrying about the energy bills.
CONTROLS AND MODES
Yes
Constructed with three speed and 2 control settings to maintain pure indoor air. Chose from the speed settings and dial the knobs to adjust performance.
FILTER REPLACEMENT REMINDER
Yes
Filter monitor – comes with an indicator light to alert you when it's time to change the filter for maximum performance.
ECONOMICAL
Yes
Does not consume a lot of electricity because it meets the standard of Energy Star power usage.
AFFORDABLE
Yes
Yes – does not cost much compared to its effectiveness.
IDEAL FOR ASTHMATIC PEOPLE
Yes
Ideal for people with asthma – uses true hepa filter to capture 99.99% of particles that cause difficulty in breathing.
FILTER LIFE - BASED ON USE
Yes
12 months is the filter life. However, this can vary depending on the quality of airborne particles and usage.
OZONE FREE
Yes
Ozone free – does not produce ozone's to the atmosphere
DESIGN
Yes
Slim oval tower design – it measures less than 3 feet tall and can fit in any small available space.
SIZE AND APPEARANCE
Yes
11.1 x 8.2 x 28.3 inches
WAS THIS REVIEW HELPFUL TO YOU? IF YES, PLEASE SHARE IT WITH A FRIEND.