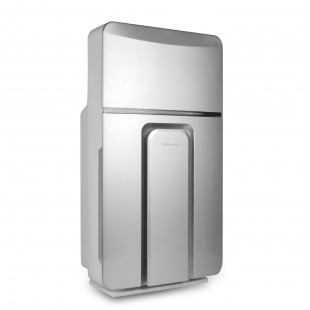 Reasons to buy Homeleader Air Purifier:
Air quality sensor
High-efficiency air purifier with two powerful ion generators
Cleaning function and filter replacement reminder
Multifunctional modes
Check price here....
summary Review:
PERFORMANCE

Homeleader Air Purifier

HEPA FILTER
TIMER
FOR LARGE ROOMS
REMOVES CIGARETTE ODOR
ROOM SIZE AND AIRFLOW
FIGHTS GERMS
ELIMINATES DUST MITES
REMOVES PET DANDER
GETS RID OF POLLEN
REMOVES SMOKE
REMOVES MOLD
TRAPS ALLERGENS
QUIET OPERATION
WASHABLE PRE-FILTERS
EASY FILTER REPLACEMENT
AUTOMATICALLY DETECTS AIRBORNE PARTICLES
SLEEP MODE
WATTAGE
ENERGY STAR

USABILITY

Homeleader Air Purifier

CONTROLS AND MODES
FILTER REPLACEMENT REMINDER
ECONOMICAL
IDEAL FOR ASTHMATIC PEOPLE
FILTER LIFE - BASED ON USE

SAFETY
APPEARANCE

Homeleader Air Purifier

DESIGN
SIZE AND APPEARANCE
WEIGHT
HEPA FILTER
Yes
Features high efficiency true hepa filter – unites with dual ion generators to capture 99% of allergens and dust as tiny as 0.3 microns plus other particles.
TIMER
Yes
An auto 0ff timer – activates the timer and schedule in within seconds. Set from 1, 2, 4 and 8 hours to clean air. Will automatically switch off after scheduled time. Save more energy.
FOR LARGE ROOMS
Yes
For large rooms within 300 square feet. Suitable for medium to large living spaces, bedrooms and kitchens within 300 square feet only.
REMOVES CIGARETTE ODOR
Yes
Removes cigarette and other household odors. Pet, cooking, perfume and other odors easily filtered.
ROOM SIZE AND AIRFLOW
Yes
Room size is 300 sq.Ft. Has an air flow of 400 cubic meters in an hour. Takes out the bad particles and leaves air clean.
FIGHTS GERMS
Yes
Fights germs – has a CADR rate of 230+ to destroy bacteria and viruses within its reach. Sanitizes your living or working place efficiently.
ELIMINATES DUST MITES
Yes
Eliminates dust mites using 4 various speeds. Lifts and filters dust mites into the device. Saves you from constant sneezing and respiratory congestion caused by dust mites.
REMOVES PET DANDER
Yes
Removes pet dander – improves on the relationship between you and your pets such as cats, dogs, birds etc. Filter pet hairs, dead skins and other flecks etc
GETS RID OF POLLEN
Yes
Gets rid pollen – grass, trees and other plant pollen are harmful indoors. Pollen leads to allergic reactions in people such as respiratory congestion and skin reactions.
REMOVES SMOKE
Yes
Removes multiple kinds of smoke – captures cigarette, cooking, wildfire and
REMOVES MOLD
Yes
Removes mold – humid and damp areas contain mold fungus. Gets rid of mold in a short time and prevents you from allergy reaction.
TRAPS ALLERGENS
Yes
3 in one HEPA filter traps allergens. Hepa filter captures 99% of allergens down to a size of 0.3 microns. Traps ragweed, germs, pet dander etc of allergens.
QUIET OPERATION
Yes
Has an ultra quiet cleaning – 55 db is the average operating noise on higher speed modes. Quiet enough for offices and bedrooms.
WASHABLE PRE-FILTERS
Yes
Cleaning reminder function – reminds you to clean the pre-filters. Helps maintain air purification effectiveness.
EASY FILTER REPLACEMENT
Yes
Open air purifiers and remove the filter after switching it off. Carefully replace with ne filters and shut device. Power it on for continuous air cleaning.
AUTOMATICALLY DETECTS AIRBORNE PARTICLES
Yes
Two smart sensors – uses both air quality and particulate matter sensors. Will change the air cleaner settings to meet the need of indoor environment.
SLEEP MODE
Yes
Sleep mode – air purifier enters sleep mode once the room lighting is dark. Minimizes the lights to let you enjoy your sleep as it creates fresh clean air.
WATTAGE
Yes
Rated at 55 watt – doesn't draw a lot of energy as it clean indoors.
ENERGY STAR
Yes
Energy star certified – power consumption will not be very high.
CONTROLS AND MODES
Yes
Has multiple controls and modes that determine its effectiveness. Contains 2 smart sensors, sleep mode, child lock mode, automatic off timer, cleaning and filter reminder and 4 speed options.
FILTER REPLACEMENT REMINDER
Yes
Automatically indicates to alert you about filter change. Replace within 24 hours from first alert time. Suitable for busy people with limited time to check filters.
ECONOMICAL
Yes
Economical to use overtime. Is energy star rated and meets the standard of energy usage.
IDEAL FOR ASTHMATIC PEOPLE
Yes
Works with multiple filters to remove asthmatic particles. Freshens are from 99% of airborne particles and larger particles. Lessens the need for steam inhalers.
FILTER LIFE - BASED ON USE
Yes
Hepa filter has a life span of 12 months- depend on usage and air quality
CHILD LOCK
Yes
Activate child lock to prevent unwanted change. Suitable for homes or indoors with children and pets.
OZONE FREE
Yes
Has ozone emission that conforms to the set national standards.
DESIGN
Yes
Modern and compact design – compatible with most indoor decor and fits in small storage space.
WAS THIS REVIEW HELPFUL TO YOU? IF YES, PLEASE SHARE IT WITH A FRIEND.