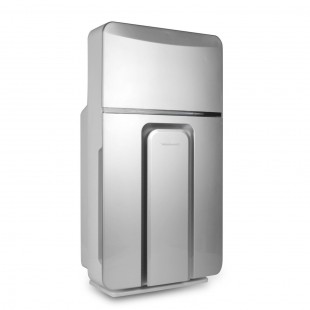 Reasons to buy Homeleader Air Purifier:
Uses a 3-stage filtration system.
4 speed-settings & filter-change-indicator.
An Air quality sensor & particulate matter sensor.
High efficiency HEPA-filter & activated-carbon filter.
See price on Amazon
summary Review:
PERFORMANCE

Homeleader Air Purifier

HEPA FILTER
REMOVES CIGARETTE ODOR
ROOM SIZE AND AIRFLOW
FIGHTS GERMS
ELIMINATES DUST MITES
REMOVES PET DANDER
GETS RID OF POLLEN
REMOVES SMOKE
REMOVES MOLD
TRAPS ALLERGENS
QUIET OPERATION
EASY FILTER REPLACEMENT
AUTOMATICALLY DETECTS AIRBORNE PARTICLES
SLEEP MODE
WATTAGE
ENERGY STAR

USABILITY

Homeleader Air Purifier

CONTROLS AND MODES
FILTER REPLACEMENT REMINDER
ECONOMICAL
AFFORDABLE
IDEAL FOR ASTHMATIC PEOPLE
FILTER LIFE - BASED ON USE

SAFETY
APPEARANCE

Homeleader Air Purifier

DESIGN
SIZE AND APPEARANCE
WEIGHT
HEPA FILTER
Yes
It's equipped with a high efficiency HEPA-filter that helps to remove 99.97% of airborne-pollutants down to 0.3-microns.
REMOVES CIGARETTE ODOR
Yes
It uses an activated carbon filter to trap and eliminate cigarette-odor and other household-odors.
ROOM SIZE AND AIRFLOW
Yes
This device is designed to purify within small-to-medium sized rooms of up-to 400sq.ft. It also tales it polluted-air at the front and sides and then gives off clean-air at the top and back-sides.
FIGHTS GERMS
Yes
It uses 2 high efficient ion generators and anion group sterilization technology to eliminate harmful microorganisms like germs.
ELIMINATES DUST MITES
Yes
Uses a high efficiency HEPA-filter to remove up-to 99.97% of dust-mites and other airborne-allergens.
REMOVES PET DANDER
Yes
It HEPA-filter can trap and eliminate 99.97% of pet-dander and other airborne-particles down to 0.3-microns.
GETS RID OF POLLEN
Yes
It can remove up-to 99.97% of pollen using a HEPA-filter and Anion sterilization technology.
REMOVES SMOKE
Yes
This device uses an activated carbon filter to remove smoke-particles and other household-odors from your house.
REMOVES MOLD
Yes
It uses a TrueHEPA-Filter to capture 99% of mold-spores and other allergens as small as 0.3-microns.
TRAPS ALLERGENS
Yes
It TrueHEPA-filter coupled with 2 powerful ion generators helps to capture 99% of airborne-allergens down to 0.3-microns.
QUIET OPERATION
Yes
It features a mute-mode that allows it to operate at the lowest speed-setting with Ambient-air-quality-lights off. Likewise, it makes only 55dBs of noise at the highest-speed.
EASY FILTER REPLACEMENT
Yes
This device is very easy to assemble and disassemble for convenient filter-replacement.
AUTOMATICALLY DETECTS AIRBORNE PARTICLES
Yes
It features an air quality sensor and particulate matter sensor panel control that automatically adjusts air-cleaning settings in-order to provide you with clean-air at all times.
SLEEP MODE
Yes
When it gets dark in the room, this air-purifier will enter SLEEP-mode with all indicator-lights off and the fan-speed will also change to a low-setting.
WATTAGE
Yes
This unit uses 55-watts on the highest-speed-setting and less than 8-watts on the lowest speed-setting.
ENERGY STAR
Yes
Yes, its energy star rated for its low power-consumption.
CONTROLS AND MODES
Yes
It features different controls and modes which include; Automatic, Anion, Switch, Air-quality, Mute, Wind and several LED-Lights with an Ambient-air-quality-display at the front.
FILTER REPLACEMENT REMINDER
Yes
It features a filter-change-indicator that will let you know when it's to clean or replace the filters.
ECONOMICAL
Yes
It's very economical because it consumes less power and has long-lasting filter that are affordable.
AFFORDABLE
Yes
This unit is affordable yet it's equipped with some of the best features.
IDEAL FOR ASTHMATIC PEOPLE
Yes
It can work perfectly for asthmatic people because it uses a HEPA-filter, Carbon-filter and ion-generators to eliminate 99% of airborne-allergens.
FILTER LIFE - BASED ON USE
Yes
Its HEPA-filter and Activated carbon filter should be replaced every 12-months of usage or depending on air-quality-levels in your region.
OZONE FREE
Yes
Its 100% ozone-free because it ensures that no harmful-air spreads into your house. In fact, its ozone emission conforms to national standards.
DESIGN
Yes
It features a compact, tower-shaped design with digital-controls at the top, air-vents on all sides coupled with a base-stand.
SIZE AND APPEARANCE
Yes
25.79"H x 7.09"W x 13.78"L are its dimensions. It also features a tower-shaped, white body made of durable ABS-plastic.
WEIGHT
Yes
17.5-pounds which make it a bit heavy to carry from room to room.
WAS THIS REVIEW HELPFUL TO YOU? IF YES, PLEASE SHARE IT WITH A FRIEND.