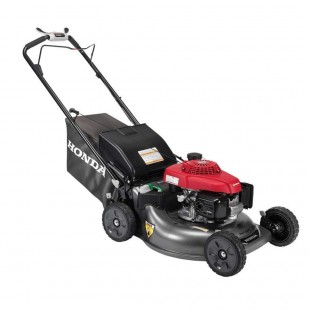 Reasons to buy Honda HRR216K9VKA:
Variable speed
Micro cut Twin Blades
Self-Propelled Gas Mower
Smart Drive opotion - makes it easy to use the mower
Check price here....
summary Review:
PERFORMANCE

Honda HRR216K9VKA

CUTTING WIDTH
LONGER MAXIMUM CUTTING HEIGHT
GREATER CUTTING HEIGHT RATIO
SHORTER MINIMUM CUTTING HEIGHT
RUN TIME
MOWING SPEED
MULCHING FEATURE
GAS POWERED
HORSEPOWER

USABILITY

Honda HRR216K9VKA

DOES IT HAVE VARIABLE SPEED
IS IT CORDLESS
IS IT GAS-POWERED
SELF-PROPELLED
EASY TO PIVOT
EASY HEIGHT-ADJUSTMENT

DESIGN

Honda HRR216K9VKA

SIDE DISCHARGE
GRASS CATHER SIZE
IS IT A ROTARY MOWER
STEEL DECK SIZE
WEIGHT
ENGINE SIZE
WARRANTY PERIOD
CUTTING WIDTH
Yes
53cm - Medium cutting width, this makes the mower ideal for medium sized lawns.
LONGER MAXIMUM CUTTING HEIGHT
Yes
102 mm - This is a higher cutting height, needed when your lawn is un-even. It protects your lawn mower from hitting un-even ground.
GREATER CUTTING HEIGHT RATIO
Yes
5.3 - Ration between maximum and minimum cutting heights. It provides you with more versatility.
SHORTER MINIMUM CUTTING HEIGHT
Yes
19mm - This the shorter cutting height which this lawn can operate at. At this hieght you will archive the best results as long as your lawn is even and clear of obstacles.
MOWING SPEED
Yes
0 to 4 mph - fast enough to mow a small to medium lawn in a few minutes.
MULCHING FEATURE
Yes
Cuts grass into the lawn to increase on its fertility. So you don't have to empty the bag.
DOES IT HAVE AN OVERHEAD VALVE ENGINE
GAS POWERED
Yes
Uses Premium Gasoline
HORSEPOWER
Yes
30cc - Engine type is GCV160.
DOES IT HAVE VARIABLE SPEED
Yes
You can choose between different speeds depending on the type of lawn you're mowing.
DOES IT HAVE A BLADE BRAKE
IS IT GAS-POWERED
Yes
Fully gas powered lawn mower. You can change oil often and do maintenance when required.
DOES IT HAVE AN ELECTRIC START
SELF-PROPELLED
Yes
Very easy to push mower - it is self propelled
EASY TO PIVOT
Yes
Features 8-inch Ball Bearing Wheels which make it easy to pivot the machine.
EASY HEIGHT-ADJUSTMENT
Yes
Choose between 6 Position Cutting Height Adjustments 1-1/8" - 4"
SIDE DISCHARGE
Yes
Features a Back discharge - grass is discharged to the bag.
GRASS CATHER SIZE
Yes
Comes with a 2.4 Bushel Bag
DOES IT HAVE AN OVERHEAD VALVE ENGINE
IS IT A ROTARY MOWER
Yes
This is a rotary mower - its Micro cut Twin Blades move in a circular motion while cutting grass.
WEIGHT
Yes
38.1kg - light weight
WAS THIS REVIEW HELPFUL TO YOU? IF YES, PLEASE SHARE IT WITH A FRIEND.