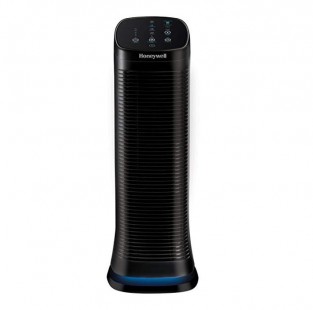 Reasons to buy Honeywell AirGenius 5:
QuietClean ifD® technology removes up to 99.9% of microscopic allergens
Smart touch screen controls
Permanent washable ifD filter
2-12 hour automatic shut off timer
Check price here....
summary Review:
PERFORMANCE

Honeywell AirGenius 5

TIMER
FOR LARGE ROOMS
REMOVES CIGARETTE ODOR
ROOM SIZE AND AIRFLOW
FIGHTS GERMS
ELIMINATES DUST MITES
REMOVES PET DANDER
GETS RID OF POLLEN
REMOVES SMOKE
REMOVES MOLD
TRAPS ALLERGENS
QUIET OPERATION
WASHABLE PRE-FILTERS
EASY FILTER REPLACEMENT
SLEEP MODE
WATTAGE
ENERGY STAR

USABILITY

Honeywell AirGenius 5

CONTROLS AND MODES
FILTER REPLACEMENT REMINDER
ECONOMICAL
IDEAL FOR ASTHMATIC PEOPLE
FILTER LIFE - BASED ON USE

SAFETY
APPEARANCE

Honeywell AirGenius 5

DESIGN
SIZE AND APPEARANCE
WEIGHT
TIMER
Yes
An automatic shut off timer – allows you preset between 2, 4, 6, 8, 10 and 12 hours of run time before it automatically shuts down. Select most favorable time for you.
FOR LARGE ROOMS
Yes
Created for large rooms within 250 square feet. Can only clean air within this range thoroughly.
REMOVES CIGARETTE ODOR
Yes
Uses an odor reducing filter to remove cigarette odor and other smell. Maintains the freshness of indoor air at all times.
ROOM SIZE AND AIRFLOW
Yes
Has a room size of 250 square feet. Air flow is clean delivery rate is 160 dust, 161 smoke and 170 pollen. perfect for medium to large sized rooms.
FIGHTS GERMS
Yes
Fights germs with 5 air cleaning levels- sleep, germ, general, allergen and max. Germ settings specifically fight germs to a size of 0.3 microns or bigger.
ELIMINATES DUST MITES
Yes
Removes dust mites with general settings. Dust mites cause sneezing, runny nose and throat irritation.
REMOVES PET DANDER
Yes
Lessens pet dander from indoors – perfect for homes with pets like cats, dogs, birds etc that shed off flecks daily.
GETS RID OF POLLEN
Yes
Has a pollen clean air delivery rate of 170. Gets rid of every kind of pollen. Save you from pollen allergy.
REMOVES SMOKE
Yes
Easily removes all kinds of smoke plus other gases. Its patented quiet clean ifD technology eliminates 99.9% of every smoke and harmful gases.
REMOVES MOLD
Yes
Removes mold from humid areas. Indoor pollen causes watery eyes, sneezes and allergy among young and old.
TRAPS ALLERGENS
Yes
Traps and filters both microscopic and larger allergen particles. Keeps air safe from allergy causing visible and invisible components?
QUIET OPERATION
Yes
Purifies indoor air quietly. Sleep mode – operates at very minimal noise level.
WASHABLE PRE-FILTERS
Yes
Permanent Pre-filters can be washed. Has a filter washing reminder. Alerts you once filter is dirty and requires to be washed. Clean filters provide thorough cleaning.
EASY FILTER REPLACEMENT
Yes
Shut off the air purifier; remove the filter that requires replacement. Insert back a new filter carefully and restart device. No complicated steps to follow.
AUTOMATICALLY DETECTS AIRBORNE PARTICLES
SLEEP MODE
Yes
Sleep setting – minimizes on the noise level of the device to extreme quietness. Allows every owner rest without background noise. Perfect for bedrooms.
WATTAGE
Yes
Minimum power level of 38 watts. Maximum is 65 watts. Will not consume maximum levels of energy.
ENERGY STAR
Yes
Energy star certified – meets all the guidelines required for energy efficiency. Energy levels used by this device equated to a light bulb.
CONTROLS AND MODES
Yes
Features a number of controls and modes that makes its performance high. Has sleep mode, auto shut off timer and smart touch screen controls.
FILTER REPLACEMENT REMINDER
Yes
Built in filter reminder – reminds you each time the filters require to be replaced. Starts alerting when filter is almost used up.
ECONOMICAL
Yes
Has been energy certified – the energy bills will not be alarming even if used all the time.
IDEAL FOR ASTHMATIC PEOPLE
Yes
Eliminates approximately 99.9% of allergens that trigger asthma. Kills harmful particles down to a size of 0.3 microns. Keeps you healthy from constant use of steam inhalers.
FILTER LIFE - BASED ON USE
Yes
Pre-filters can be replaced after 3 months. Depends on the air quality indoors and consistency of usage.
DESIGN
Yes
Sleek and compact design – created with modern design and quality housing. Suits majority of indoor decor and fits in small spaces.
SIZE AND APPEARANCE
Yes
9.9 x 9.7 x 26.8 inches
WAS THIS REVIEW HELPFUL TO YOU? IF YES, PLEASE SHARE IT WITH A FRIEND.