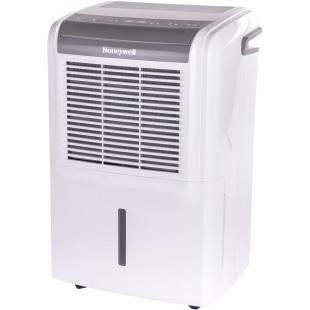 Reasons to buy Honeywell DH50W 50 pint:
Energy Star
Coverage is up To 3000 Sq ft
Washable Air Filter
Anti-Spill Design & Continuous Drain
Check price here....
summary Review:
PERFORMANCE

Honeywell DH50W 50 pint

DEHUMIDIFICATION PINT PER DAY
ROOM COVERAGE
FULL WATER TANK ALERT
ELIMINATES BACTERIA
PROTECTS HOME FROM MILDEW & BACTERIA
IDEAL FOR BASEMENT
IDEAL FOR BEDROOM
IDEAL FOR ENCLOSED SPACES
EFFORTLESS HUMIDITY CONTROL
MOSITURE REMOVAL ''GALLONS''
FAN SPEED
ANTI-BACTERIAL MESH FILTER
FEATURES & SPECS

USABILITY

Honeywell DH50W 50 pint

TURBO MODE
EASY TO MOVE FROM PLACE TO PLACE
EASY TO EMPTY
EASY TO CONTROL
AUTO RE-START
AUTO SHUT OFF
FULL WATER TANK INDICATOR
REMOVABLE WATER TANK

DESIGN

Honeywell DH50W 50 pint

WATER TANK CAPACITY
WASHABLE FILTERS
AVAILABLE SETTINGS
PORTABLE DESIGN
SPACE SAVING DESIGN
EMITS HEAT WHEN IN USE
ENERGY STAR RATING
MECHANICAL / ELECTRONIC CONTROLS
POWER CORD LENGTH
DIMENSIONS
WEIGHT
WATTS
Amps

CONCLUSION
DEHUMIDIFICATION PINT PER DAY
Yes
Has a capacity or eliminating approximately 50 pint of moisture per day.
ROOM COVERAGE
Yes
3000 square feet room coverage. Best for medium to large sized rooms.
FULL WATER TANK ALERT
Yes
Full water tank light and audible alert system with patented pending anti spill. Reminds you to empty water tank when it's almost full.
ELIMINATES BACTERIA
Yes
Removes bacteria that makes it hard to breathe.
PROTECTS HOME FROM MILDEW & BACTERIA
Yes
Eliminates mildew and bacteria – protects curtains, walls, furniture and other appliances from mildew and mold.
IDEAL FOR BASEMENT
Yes
Ideal for basements within 3000 square feet only.
IDEAL FOR BEDROOM
Yes
Quiet operation – dehumidifies bedrooms without background sound for a restful sleep time.
IDEAL FOR ENCLOSED SPACES
Yes
Best for enclosed spaces – removes excessive moisture without skipping parts within range.
EFFORTLESS HUMIDITY CONTROL
Yes
Effortless humidity control – lets you adjust or maintain the level of humidity comfortable for you and everyone. Also has smart digital humidistat control that adjusts humidity according to desired need.
MOSITURE REMOVAL ''GALLONS''
Yes
Approximately 6.2 gallons of moisture
FAN SPEED
Yes
Has 2 fan speeds – high and medium speeds
ANTI-BACTERIAL MESH FILTER
Yes
Can capture bacteria and other airborne particles from the atmosphere.
FEATURES & SPECS
Yes
Smart digital humidistat control, front level water indicator, Thermal overload and fuse heat protection, continuous drain option, auto shut off and on, caster wheels and side handles and anti spill water tank.
TURBO MODE
Yes
Features turbo mode – increases the fan speed automatically for maximum air moisture removal.
EASY TO MOVE FROM PLACE TO PLACE
Yes
Smooth gliding wheels deliver easy movement. Push it around without lifting it up.
EASY TO EMPTY
Yes
Effortless empty – remove the water tank and carry with side handles to empty. Another option is continuous empty through hose drain.
EASY TO CONTROL
Yes
Automatic features for effortless control. Features a digital humidistat that automatically detects room moisture levels and activates dehumidification without any effort from you.
AUTO RE-START
Yes
Automatic restart function – will switch back on after a power outage. Continues to dehumidify using the same settings before power outage.
AUTO SHUT OFF
Yes
Automatic shut off when the water tank is filled. Prevents water overflow once tank isn't emptied.
FULL WATER TANK INDICATOR
Yes
Features front water level indicator – indicates once the water tank arrives at full capacity.
REMOVABLE WATER TANK
Yes
Water tank is detachable. Use comfort grip to lift it out of the device.
WATER TANK CAPACITY
Yes
Collects a maximum of 14.4 pints of moisture. Can clean an entire room before getting full.
WASHABLE FILTERS
Yes
Washable dust filter – clean it easily while under a faucet. Doesn't require any filter replacement.
AVAILABLE SETTINGS
Yes
Humidity control, continuous hose drain
PORTABLE DESIGN
Yes
Portable design through Smooth gliding wheels and ergonomic side handles.
SPACE SAVING DESIGN
Yes
Compact and sleek build – has smaller dimensions that fill in any available space.
EMITS HEAT WHEN IN USE
Yes
Heat is produced from the fan while in operation.
ENERGY STAR RATING
Yes
Qualified by energy star – removes extra moisture using less energy and will save you money. Has a 4.0 energy star rating.
MECHANICAL / ELECTRONIC CONTROLS
Yes
Smart electronic controls
POWER CORD LENGTH
Yes
6 feet power cord length
DIMENSIONS
Yes
11.1 x 15.3 x 23.6 inches
WATTS
Yes
Maximum wattage of 515 watts
PROS
Yes
• Has a detachable water tank with an anti spill tank stands • Perfect for medium to large sized rooms within 3000 square feet • Dehumidifies enclosed spaces – basements, living rooms, offices etc • Can automatically adjust humidity levels • Effectively eliminates odor, mildew, bacteria and moisture • Features comfortable grip handles and smooth gliding wheels • Automatically powers on or off • 24 hour energy saving timer • A low temperature operation • Optional continuous drain for long unattended use. • Able to eliminate up to 50 pints of moisture every day • Space saving design and portable • Easy controls
CONS
Yes
• Not built with built in water pump • Doesn't have a remote control device
WAS THIS REVIEW HELPFUL TO YOU? IF YES, PLEASE SHARE IT WITH A FRIEND.