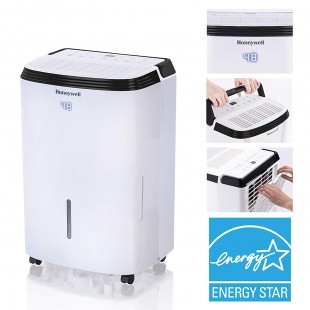 Reasons to buy Honeywell TP50WK 50 Pint:
Energy Star Dehumidifier
Anti-Spill Design
Coverage 3000 Sq Ft
Portable
Check price here....
summary Review:
PERFORMANCE

Honeywell TP50WK 50 Pint

DEHUMIDIFICATION PINT PER DAY
ROOM COVERAGE
FULL WATER TANK ALERT
ELIMINATES BACTERIA
PROTECTS HOME FROM MILDEW & BACTERIA
IDEAL FOR BASEMENT
IDEAL FOR BEDROOM
IDEAL FOR ENCLOSED SPACES
EFFORTLESS HUMIDITY CONTROL
MOSITURE REMOVAL ''GALLONS''
FAN SPEED
ANTI-BACTERIAL MESH FILTER
FEATURES & SPECS

USABILITY

Honeywell TP50WK 50 Pint

EASY TO MOVE FROM PLACE TO PLACE
EASY TO EMPTY
EASY TO CONTROL
AUTO RE-START
AUTO SHUT OFF
FULL WATER TANK INDICATOR
REMOVABLE WATER TANK

DESIGN

Honeywell TP50WK 50 Pint

WATER TANK CAPACITY
WASHABLE FILTERS
AVAILABLE SETTINGS
PORTABLE DESIGN
SPACE SAVING DESIGN
EMITS HEAT WHEN IN USE
ENERGY STAR RATING
MECHANICAL / ELECTRONIC CONTROLS
POWER CORD LENGTH
DIMENSIONS
WEIGHT
WATTS
Amps

CONCLUSION
DEHUMIDIFICATION PINT PER DAY
Yes
Dehumidifies 50 pint of moisture per day. Uses an average airflow of 118 CFM to gather moisture from the air.
ROOM COVERAGE
Yes
For rooms with 3000 square feet coverage. Built for medium to large sized rooms.
FULL WATER TANK ALERT
Yes
Alerts at full water tank – continuously alerts to remind you to empty once water tank is almost at full capacity.
ELIMINATES BACTERIA
Yes
Makes breathing easy by eliminating airborne bacteria caused by excessive moisture
PROTECTS HOME FROM MILDEW & BACTERIA
Yes
Effectively takes away excess moisture – protects homes from mildew and bacteria, caused by allergy and odors.
IDEAL FOR BASEMENT
Yes
Ideal for basements within 41 degree F to 89 degree F room temperature.
IDEAL FOR BEDROOM
Yes
Quiet operation ideal for bedrooms – eliminates moisture without sleep noise interruption.
IDEAL FOR ENCLOSED SPACES
Yes
Built with enclosed spaces in mind. Cleans air in between walls of about 3000 square feet only.
EFFORTLESS HUMIDITY CONTROL
Yes
Smart digital humidistat control – helps automatically activate dehumidification according on the pre-set room conditions.
MOSITURE REMOVAL ''GALLONS''
Yes
6.2 gallons of moisture removal per day.
FAN SPEED
Yes
Features two fan speeds – low and high speeds
ANTI-BACTERIAL MESH FILTER
Yes
Contains a washable mesh filter – eliminates bacteria and unwanted dust particles to a tiny size.
FEATURES & SPECS
Yes
Smart digital humidistat control, confort grip handles, smooth gliding wheels, Auto restart and shut off, 24 hour energy saving timer, low temperature operation, thermal overload protection, motor fuse protection, washable mesh filter, full tank and filter alert and cord winder.
EASY TO MOVE FROM PLACE TO PLACE
Yes
Comfort grip handles and smooth gliding wheels for easy movement. Carry it up or ride on multiple grounds to move from place to place.
EASY TO EMPTY
Yes
Effortless emptying – built with a patent pending splash guard to prevent messy spills and drain tube for long unattended usage. Or remove water tank with comfort handles and empty.
EASY TO CONTROL
Yes
Effortless operation through smart digital control. Built with a front mirage display unit that allows you monitor humidity changes from across a room.
AUTO RE-START
Yes
Automatically restarts itself – happens after a power outage. It will start automatically and resume removing moisture from rooms.
AUTO SHUT OFF
Yes
Shuts off automatically when the water tank is full and not emptied.
FULL WATER TANK INDICATOR
Yes
Light indicator for full water tank. Lights up to show that water tank requires to be emptied.
REMOVABLE WATER TANK
Yes
Detachable water tank – has a comfort handle to hold it.
WATER TANK CAPACITY
Yes
3.2L water tank capacity – can take it an entire room moisture before reaching full capacity.
WASHABLE FILTERS
Yes
Has a filter alert – alerts to inform you to maintain filters by cleaning. Clean filter using clean water and little soap. Insert back after complete dry up.
AVAILABLE SETTINGS
Yes
Low temperature defrost control, sleep mode, child lock mode and automatic humidity control
PORTABLE DESIGN
Yes
Portable design with caster smooth gliding wheels. Makes it light to move device from room to room.
SPACE SAVING DESIGN
Yes
Compact design with cord winder for easy storage. Stands upright and takes smaller space for storage.
EMITS HEAT WHEN IN USE
Yes
Heat is emitted from the fan as it dehumidifies. Heat dissolves the ice and moisture from the air to the water tank.
ENERGY STAR RATING
Yes
Energy star qualified – eliminates room moisture with less energy so save you from high bills. Has a 4.0 energy efficiency certification according to UL.
MECHANICAL / ELECTRONIC CONTROLS
Yes
Electronic controls with smart digital control unit
DIMENSIONS
Yes
267mm x 335mm x 511mm (L X W X H)
WATTS
Yes
Uses approximately 518 watts
PROS
Yes
• Ideal for all enclosed spaces – basements, crawl spaces, kitchens, cellar etc • Has a front mirage display unit easily seen from a distance • Easy maintenance through filter change alert • Contains a heavy duty handle that can withstand up to 150lbs of weight
CONS
Yes
• Doesn't feature a built-in water pump
WAS THIS REVIEW HELPFUL TO YOU? IF YES, PLEASE SHARE IT WITH A FRIEND.