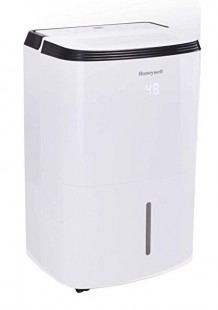 Reasons to buy Honeywell TP70WK 70 Pint:
Ideal for Basement & Large Room
Coverage - 4000 Sq Ft
Anti-Spill Design
Energy Star Dehumidifier
Check price here....
summary Review:
PERFORMANCE

Honeywell TP70WK 70 Pint

DEHUMIDIFICATION PINT PER DAY
ROOM COVERAGE
FULL WATER TANK ALERT
ELIMINATES BACTERIA
PROTECTS HOME FROM MILDEW & BACTERIA
IDEAL FOR BASEMENT
IDEAL FOR BEDROOM
IDEAL FOR ENCLOSED SPACES
BUILT-IN WATER PUMP
EFFORTLESS HUMIDITY CONTROL
MOSITURE REMOVAL ''GALLONS''
FAN SPEED
ANTI-BACTERIAL MESH FILTER
FEATURES & SPECS

USABILITY

Honeywell TP70WK 70 Pint

EASY TO MOVE FROM PLACE TO PLACE
EASY TO EMPTY
EASY TO CONTROL
AUTO RE-START
AUTO SHUT OFF
FULL WATER TANK INDICATOR
REMOVABLE WATER TANK

DESIGN

Honeywell TP70WK 70 Pint

WATER TANK CAPACITY
WASHABLE FILTERS
AVAILABLE SETTINGS
PORTABLE DESIGN
SPACE SAVING DESIGN
EMITS HEAT WHEN IN USE
ENERGY STAR RATING
MECHANICAL / ELECTRONIC CONTROLS
POWER CORD LENGTH
DIMENSIONS
WEIGHT
WATTS
Amps

CONCLUSION
DEHUMIDIFICATION PINT PER DAY
Yes
Powerfully removes approximately 70 pint of moisture per day.
ROOM COVERAGE
Yes
Built for 4000 square feet rooms within a temperature range of 41F to 89F.
FULL WATER TANK ALERT
Yes
Full tank alert – reminds you to empty water tank when it's full.
ELIMINATES BACTERIA
Yes
Reduce bacteria from room air – improves breathing conditions within its room coverage.
PROTECTS HOME FROM MILDEW & BACTERIA
Yes
Protects curtains, appliances, curtains and walls from bacteria, mildew and mold. Also keeps food from going bad for a certain period through maintaining dry air.
IDEAL FOR BASEMENT
Yes
Built with Auto defrost and low temperature operation suitable for basements and other cooler rooms.
IDEAL FOR BEDROOM
Yes
Slightly quiet operation ideal for bedrooms. Provides sound sleep without loud operation noise.
IDEAL FOR ENCLOSED SPACES
Yes
Provides drier air in enclosed spaces – kitchens, bedrooms, basements, laundry rooms, gym etc
BUILT-IN WATER PUMP
Yes
Built in drain pump – uses a hose to drain out water. Connect hose to sink or window for nonstop water drainage.
EFFORTLESS HUMIDITY CONTROL
Yes
Features smart digital humidistat control – activated dehumidification automatically depending on pre-set room conditions with RH of 30% to 90%. Comfortable to stay in the room as the unit runs.
MOSITURE REMOVAL ''GALLONS''
Yes
Removes approximately 9 gallons of moisture in a large sized room coverage.
FAN SPEED
Yes
Dual fan speeds – low and high fan speed. Adjust to appropriate speed.
ANTI-BACTERIAL MESH FILTER
Yes
Lessens bacteria, dust and other impurities found in the air.
FEATURES & SPECS
Yes
Smart digital humidistat control, auto restart and shut off, auto defrost, sleep mode, front housing LED, full water tank and clean filter alert, wheels, built-in drain pump, big handle and 2 fan speeds.
EASY TO MOVE FROM PLACE TO PLACE
Yes
Easy movement using smooth gliding wheels. Can be moved by a single person without any struggle from place to place.
EASY TO EMPTY
Yes
Features continuous and manual emptying. Use the hose drain for effortless drainage or take out the bucket using handle and pour out the content.
EASY TO CONTROL
Yes
Effortless control through smart digital controls – has an exclusive front mirage display that allows you monitor any humidity changes from across a room.
AUTO RE-START
Yes
Auto restart after a power outage – saves settings and continues cleaning with saved settings when power returns.
AUTO SHUT OFF
Yes
Automatically shuts off immediately the bucket reached full capacity. Avoids creating messes of water overflow.
FULL WATER TANK INDICATOR
Yes
Indicates on full water tank. Lights nonstop to remind you about emptying water tank.
REMOVABLE WATER TANK
Yes
Detachable water tank built with comfort grip handle and anti-spill tank guards.
WATER TANK CAPACITY
Yes
Takes in 14 pints of water at full capacity.
WASHABLE FILTERS
Yes
Filter clean alert – informs you when to wash the filters. Easily cleaned under a faucet and doesn't require filter replacement
AVAILABLE SETTINGS
Yes
Sleep mode, 24 hour energy saving timer, Auto defrost mode, 2 fan speed and adjustable humidity display.
PORTABLE DESIGN
Yes
Wheeled portable design – easy to move to another room.
SPACE SAVING DESIGN
Yes
Compact design with cord winder – easily fits in any room size without taking much space
EMITS HEAT WHEN IN USE
Yes
Produces heat after prolonged use. Features thermal overload protection on the compressor plus fuse protection on its motor to guard them for overheating.
ENERGY STAR RATING
Yes
Energy star qualified with 4.0 rating. Eliminates moisture using minimal energy. Saves both energy and your money.
MECHANICAL / ELECTRONIC CONTROLS
Yes
Electronic controls with LED smart digital controls.
DIMENSIONS
Yes
15mm x 400mm x 645mm (L X W X H)
PROS
Yes
• Suitable for most enclosed spaces with relative humidity of 30% to 90% • Automatically dehumidifies based on preset conditions • 24 hour energy saving timer and sleep mode • Can dehumidify in areas with low temperatures • Smooth gliding wheels for portability • Water tank with splash guards and comfort grip handles
CONS
Yes
• No automatic speed increase through turbo mode
WAS THIS REVIEW HELPFUL TO YOU? IF YES, PLEASE SHARE IT WITH A FRIEND.